Music in the Round #20 Sidebar: Recordings In The Round
Sidebar: Recordings In The Round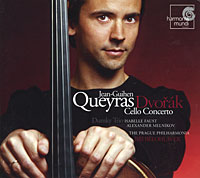 DVORÁK: Cello Concerto; Piano Trio 4, "Dumky"
Jean-Guihen Queyras, cello; Isabelle Faust, violin; Alexander Melnikov, piano; Jiri Belohlavek, Prague Philharmonic
Harmonia Mundi HMC 801867 (SACD)
I can't recommend this one highly enough. Not only are these the best-sounding recordings of the Cello Concerto and the "Dumky" trio available today, they're becoming my favorite performances of these popular works. Too many recordings of the concerto emphasize the work's dramatic sweep almost to the point of vehemence; this one, thanks equally to cellist Queyras and conductor Belohlavek, suffuses it with grace and humanity as well. The trio, too, benefits from equal measures of virtuosity and warmth.
STRAVINSKY: Petrouchka (1947 version)
RACHMANINOFF: Symphonic Dances
Mariss Jansons, Royal Concertgebouw Orchestra
RCO Live RCO05004 (SACD)
Finally, a modern multichannel version of Petrouchka that can stand with the classic Ansermet and Monteux recordings. Jansons and the RCO avoid superficial flash to present a truly danceable and enjoyable rendition. The accompanying Symphonic Dances of Rachmaninoff also eschew bombast (which may disappoint some), in favor of breadth and atmosphere. Polyhymnia's engineering team has captured the RCO with size and space but has retained exquisite instrumental character and flavor—an advance on the RPO and LSO series.
DEBUSSY: La Mer
RESPIGHI: Fountains of Rome, Pines of Rome
Fritz Reiner, Chicago Symphony Orchestra
RCA Living Stereo 82876-71614-2 (SACD)
ARTHUR FIEDLER & THE BOSTON POPS: Pops Caviar: Russian Orchestral Fireworks
RCA Living Stereo 82876-71618-2 (SACD)
COPLAND: Billy the Kid Suite, Rodeo Suite
GROFË: Grand Canyon Suite
Morton Gould and His Orchestra
RCA Living Stereo 82876-67904-2 (SACD)
From the latest batch of Living Stereo reissues I've selected my three favorite three-channel releases. The Reiner/CSO compilation needs no introduction, but the third channel opens up the sound of Chicago's Orchestra Hall as has no other prior release of these audiophile favorites. The zesty Fiedler disc of concert pleasers is also spacious yet detailed in ways not heard before. My longtime guilty pleasure, the Copland-Grofé program, lets us revel in its brilliant performances, overblown reverberation, and artificial tricks. Don't take it seriously and you'll get a real kick out of it.
FRANKIE GOES TO HOLLYWOOD: Rage Hard: The Sonic Collection
ZTT Records ZTT177SACD (SACD)
I missed this when the multichannel remastering was released in 2001 because, despite good talk on the Web, it was not distributed in the US (ZTT is still dithering about that). But I am very glad I bought it—it's a brilliant and fun experience with some OTT performances matched by liberal use of the surround channels, though the music is anchored at the front center. Turn it up when the neighbors are out—as long as your system can handle the aggressive balance and mix.
TCHAIKOVSKY: Orchestral Suite No. 3
STRAVINSKY: Divertimento
Vladimir Jurowski, Russian National Orchestra
Pentatone PTC 5186 061 (SACD)
Pentatone is dedicated to and has become the most reliable source of multichannel SACD recordings. This disc combines their consistent technical excellence with two stylish performances. I particularly loved the last movement of the Tchaikovsky, which improves on the classic Boult DTS release in transparency and balance. The Stravinsky, a neoclassic gem, is performed with elegance by the RNO. From this and other Pentatones, Vladimir Jurowski is a talent with a future.—Kalman Rubinson