(Mostly) Analog Adventures By the Bay
It was a first-time venture for Elite Audio Systems, San Francisco's newest and unique fine-audio emporium. On June 29, 2013, proprietor Michael Woods opened his doors to an event, co-organized with Peter Truce of the Bay Area Audiophile Society's Analog Committee, that drew close to 60 folks to two mainly analog listening sessions.
The event gave me another opportunity to visit what is likely America's most innovative fine-audio/video emporium. At the entrance to Elite Audio Systems resides the Elite Coffee Bar. Outfitted with four Kharma Matrix One speakers mounted over its barista area, as well as various small audio items (headphones, DAC, and iPod docking music systems) in the seating area, the coffee bar is designed to both keep the high-tech sector stoked on coffee and sugar, and to entice a young, hip, and intellectually sophisticated clientele from San Francisco's South of Market high-tech zone with high-quality sound.
Those whose curiosity leads them beyond the bar itself discover, behind a door whose hideous squeaks suggest a previous lifetime in the Cabinet of Dr. Caligari, a one-of-a-kind emporium. Elite Audio Systems isn't just about music and java. In addition to a large downstairs space that offers up to eight audio and A/V systems in various configurations, and a mezzanine hosting two to three additional systems with more brand names than you can shake a vinyl platter at, the store showcases furnishings and art from Cardenio Petrucci's high-end design emporium, Dsegnare.
When set up ideally, as it was when it opened in November, 2012, Elite Audio Systems offers a generous taste of what a high-end lifestyle can deliver. It's an exceptional, forward-looking foray into fine audio entrepreneurship whose coffee bar has already lured several audiophile newbies into five-figure purchases, and generated a number of smaller sales bonanzas.
As fate would have it, however, Cardenio Petrucci decided to rotate furnishings and artwork the same week as the event. The store wasn't in total chaos, but spaces that would have been ideal for seating a large group of audiophiles were crammed with boxes. Hence close to 30 people/session filed into a deep, relatively narrow space, with some folks resting against a dividing wall. Michael expects the store to again look gorgeous by the time he hosts the next BAAS event.
The Systems
With the assistance of Allen Perkins of Spiral Groove and George Counnas of Zesto Audio, both of whom addressed attendees, Michael and Peter assembled three vastly different systems. For lower-price-point analog, Michael placed, atop an older Reference rack, a Clearaudio Emotion turntable with Verify tonearm ($1995 total) and Dynavector 20X2L moving-coil cartridge ($850). A solid-state Lehmann Black Cube SE ($399) served as phono preamplifier.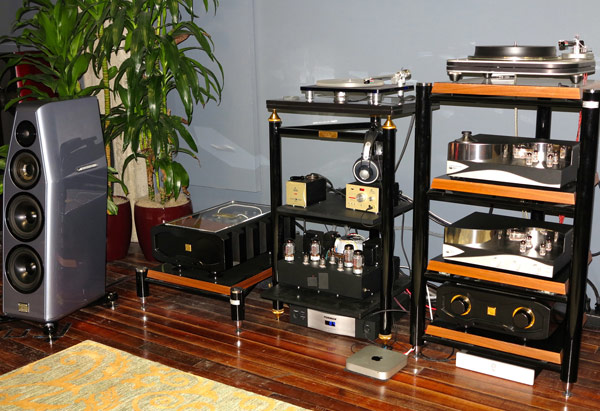 At a much higher price point, on Michael's commercially unavailable, custom-designed German Copulare rack, sat the excellent Spiral Groove SG-1.1 table ($25,000), whose Centroid tonearm ($6000) was outfitted with another Dynavector 20X2L cartridge. The tube phono preamp was the fine Zesto Audio Andros PS1 ($4300).
Both systems fed Zesto's Audio Zeto tube preamp ($7500) and prototype 50Wpc stereo tube amplifier (hopefully debuting at October's Rocky Mountain Audio Fest). Using Spiral Groove phono cables, and Claris Crimson interconnects (approx. $1000/each) and speaker cables ($1200/10 ft. pair), the system terminated with the handsome Kharma DB9 Signature Edition loudspeakers ($33,000/pair).
BAAS also set up a somewhat lame digital vs analog comparison in which a Mac mini, outfitted with Amarra 4.5 and loaded with hi-rez files of the same music played on LP, used an MIT StyleLink Plus USB cable ($149) to feed the excellent Antelope Audio Zodiac Gold 348kHz DAC with optional Voltikus power supply ($4495 combined). I say "lame," not only because the provenance of at least one of the digital files was unknown, but also because the cost of the digital set-up was also one sixth that of the finer analog rig. Hence, any conclusions about the sound of analog vs digital were speculative at best.
Then again, as an attendee at the first of the two listening session pointed out, the only constant between the two analog front ends was the Dynavector cartridge. Michael's equipment choices were predicated on the belief that consumers who buy $1995 Clearaudio tables are far more likely to buy a $399 Lehmann than a $4300 Zesto. That may be true for budget-conscious folks who purchase equipment in an equal-price-point manner. But how many of us really do that?
Besides, in this case, even those lower-budget audiophiles found themselves with a system that included a $7500 preamp, an even more expensive prototype amplifier, and $33,000/pair speakers. So much for consistency. However you parsed the dollars and cents, the net result of the set-up choices was that it was impossible to tell how much of the vastly superior sound of the higher-priced analog set-up was due to the superior Spiral Groove turntable/arm, and how much was due to the Zesto.
What We Heard
"We have two very different turntables here," said Michael Woods before the music began. "If your system is not very high-resolving, this $1995 machine can give you a glimpse of audio heaven."
Michael then introduced Allen Perkins, whose $31,000 Spiral Groove combo sounded far up the stairway to heaven, by calling him a genius. "I used his table at T.H.E. Show Newport Beach," Michael said, "and was completely blown away by the simplicity of design and set-up, and how good it sounds."
Allen, who introduced himself as a "tinkerer," noted that the Spiral Groove SG-1.1 has the same fundamental design as the RPM 'table he designed 20 years ago. But one crucial difference, not visible from the outside, is the SG's far more stable bearing. "If you execute this design at a lower price point, you can't achieve the same quality of playback," he explained. "This bearing was manufactured by a computerized machine with a three-point laser system. You can hear the difference because of its significantly tighter tolerances. Another difference is a 70 lb platter, whose mass loading helps keep noise out."
Noise was also one of the George Counnas's big concerns. When he initially worked for Decca Navigator (now Raytheon) in the UK, he learned how to build tube equipment that remained quiet even when he turned the preamp's volume all the way up.
"My philosophy is that the least number of parts used, the less the sound of the source will be compromised," he said. "My goal is to get the equipment out of the way. As for why I use tubes, I like their sound. The best tube equipment can sound open without sounding 'tubey'."
The sound in the analog comparisons came as no big surprise. A Blue Note LP 4003 of Art Blakey and Jazz Messengers' Moanin, on a 45 rpm pressing from Acoustic Sounds, sounded really nice on the Clearaudio/Lehmann set-up, but bloomed in every way imaginable through the Spiral Groove/Zesto. For starters, every instrument had far more body, Bobby Timmons' piano sounded fuller and more like the real thing, and Blakey's percussion was noticeably tighter and fleshed out.
"There's More There There," I wrote in my notes. The more realistic searing quality of Lee Morgan's trumpet, and the taughtness of Jymie Meritt's bass, also made for a far more musical presentation. "You can hear the reed on Benny Golson's sax," was yet another clincher as far as George was concerned.
I thought it ridiculous, in the first session, to use an audiophile pressing of the Dallas Symphony's recording of Rachmaninoff's Symphonic Dances. Not only is the recording abysmally flat and dry, and the conducting vitiated, but the engineering also manages to reduce the sound an entire symphony orchestra to that of an octet.
Far more revealing, in the second session, was Rossini's Overture from L'Italiana in Algeri, from the Classic Records pressing of Georg Solti's Venice. The higher-priced rig moved beyond the Clearaudio/Lehmann's somewhat monolithic blocks of sound to reveal more musical detail, tighter bass, a fuller midrange, and impressive air. The air around the oboe was ear-opening.
How did high-rez digital files, played through a front end one sixth the price of the Clearaudio/Zesto duo, sound in comparison? While the soundstage may not have been as wide, deep, and airy (although the air improved noticeably in the second session after Michael, at my request, put some half-decent equipment supports under the Antelope Zodiac Gold and Voltikus power supply), and while the presentation lacked the alluring glow of tubes, the sound shifted closer to neutrality. To my way of seeing things, it was far more a case of apples vs oranges than a clear slam-dunk. But the bottom line, as far as analog was concerned, was that the sound of both systems was captivating, with the Spiral Groove SG-1.1 and Zesto Zeto'a extremely beautiful and satisfying.
Here is a video of my first tour of the store, in November 2012, less than a week after the official opening. I had never shot video before, and naively thought that when I turned the camera 90°, from horizontal to vertical, the video would remain upright. While some of the footage thus offers rare opportunities to view the showroom from the vantage point of a high-end ant crawling up the wall, it does show the vastness of the store, with its many nooks and crannies, and allows Michael to cogently expound upon his intentions. You also get an opportunity to hear JVS in ultra-intellectual, "oh wow" mode as I discover one more impressive system after the other.