Luxman DS-200 DAC and M-200 amp
At CES and other hi-fi shows, most exhibitors give pride of place to their larger, more expensive systems, which makes perfect sense—they want to highlight their best. But often, there are smaller, more modest systems to be found tucked into a corner of the room, on a desktop. To me, these smaller systems are always far more interesting and often even more enjoyable, not only because they're less expensive, but also because, despite their lower cost and smaller size, they nevertheless offer exceptional performance.
While the sound and music in Philip O'Hanlon's On A Higher Note systems is uniformly excellent, I had an especially good time listening to his smaller desktop system: MacBook running Audirvana, a pair of passive Eclipse desktop speakers, and Luxman's new DA-200 USB DAC/preamp and M-200 stereo amp ($2790 each). The DA-200 DAC, available now, handles resolutions up to 24-bit/96kHz via USB and 24/192 via S/PDIF and includes a class-A headphone amp. The M-200 stereo amp, available this May, will offer AES/EBU and S/PDIF inputs, a choice of digital filters, and is rated to deliver 25Wpc into 8 ohms.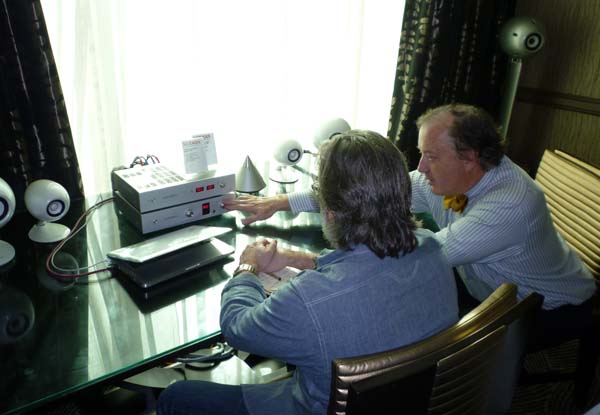 We listened to something from Peter Gabriel's Scratch My Back, and the sound was sumptuous—warm, detailed, spacious, altogether involving, and intensely emotional. I could have stayed and listened for hours.