Music Hall: Hi-Fi for Everyone
Earlier in this show report, I mentioned that the excellent music played in
Jeffrey Catalano's High Water Sound room
served as a reminder of my passion for the high-end audio hobby. And it's true: From time to time, I do need those gentle reminders. So much of high-end audio remains so completely foreign and unobtainable that I sometimes feel entirely out of place. And this is coming from
me
—a guy who's spent the last decade of his life devoted to this stuff.
I
, of all people, feel out of place at a hi-fi show. Imagine how the rest of the world perceives the hobby.
And the fact remains: Even in those rooms where I can relate to the music, I often can't relate to the gear. I can't afford it and, quite honestly, even if I could, I doubt I'd ever want to spend so much of my money on hi-fi equipment. There are things I love more: family, friends, music, and food, for instance. (Not to mention hanging out with family and friends, while listening to music and eating food.)
Thank goodness, then, for Music Hall, a company that consistently provides good sound and great music through products that almost invariably represent outstanding value—products that bring the hi-fi hobby down to earth, products that my family, friends, and I can actually afford.
While many exhibitors highlight their expensive systems and relegate their more affordable products to dark corners and silent displays, Music Hall consistently takes a different approach. The company's Roy Hall and Leland Leard were anxious to show off their most affordable products. In the context of any hi-fi show, but especially the Consumer Electronics Show, this approach seems courageous, bold, and extremely cool. Leard eagerly directed me to a system fronted by Music Hall's USB-1 turntable ($249.99) equipped with the company's new Magic 2 MM cartridge ($150). The 'table sent signals directly into the phono stage of Music Hall's A70.2 integrated amp ($1499). Speakers were Music Hall's mighty Marimbas ($349/pair), which were placed on the company's new, American-made speaker stands ($250/pair).
The sound was excellent—warm, detailed, engaging, and, most of all, fun.
Music Hall also introduced their compact, attractive WCS-2 record-cleaning machine ($595). Roy Hall admitted that the WCS ("Wets, Cleans, Sucks") runs very loud, but joked: "Do we sell a product that really works, but makes audiophiles deaf? I'm considering including earplugs with every unit." According to Hall, what makes the WCS-2 special is its powerful, 1200W motor, which enables the machine to dry records with only a single revolution. So, while it may be loud, at least it gets the job done fast.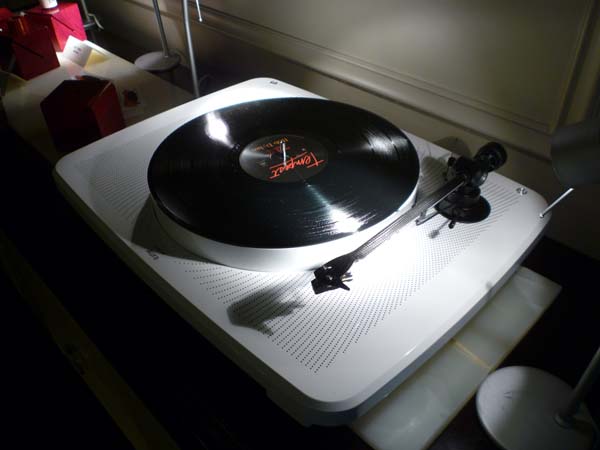 You may want to play those just-cleaned records on Music Hall's beautiful new Ikura turntable. James Kyroudis, Music Hall customer and Chicago-based industrial designer, is largely responsible for the turntable's sleek, modern look. Says Hall: "We wanted a design that better distinguished us from everybody else."
In NYC, Ikura is a great little Japanese restaurant on 1st Avenue in the East Village. In cuisine, ikura refers to salmon roe (yum); the turntable, then, takes its name from the spiraling patterns of dots that decorate the uppermost level of the split-plinth design. The Ikura uses a Pro-Ject carbon-fiber tonearm and will be available in either black-on-black or black-on-white finishes. Look for it sometime this April with a price tag of around $900-$1000.
People sometimes ask if I'm satisfied reviewing affordable equipment or whether there's even enough of it out there to keep me busy. Happily, thanks in part to Music Hall, the answer to both those questions is yes—without a doubt yes. Sam Tellig raved about the Music Hall Marimbas in our December 2012 issue, and I'll do a "Follow-Up" in a future issue. I've got a pair of the new Music Hall speaker stands coming in, and I'll keep the Magic 2 phono cartridge in mind for my friends Natalie and Kristen, both of whom have been spinning lots of used and new vinyl on their USB-1 turntables. Birthdays are coming up. With the money saved, I'll take the girls out for dinner. Japanese, perhaps.