Absolare = Absolutely Riveting
With so much new equipment to cover, and so little time, I only listened to a handful of systems at CES. One of the few that really wowed me to the core was in the "Made in the USA" Absolare room at T.H.E. Show. The system mated the parallel single-ended 52W Absolare Passion 845 monoblock amplifiers ($37,500) and single-ended Absolare Passion preamplifier ($25,000)—both manufactured in New Hampshire—with a full MSB digital system—MSB Signature DATA CD IV transport ($7995), MSB Diamond DAC Plus with Femto Second Galaxy Clock ($38,950), MSB Signature Transport Powerbase ($3495), and MSB Diamond Power Base ($5995)—Rockport Technologies Altair II loudspeakers ($100,000/pair), Absolare Bybee Purifier ($7250), Absolare Speaker Bullets ($3750/set of four), and Echole cables. (Due to lack of time, I did not listen to the analog section that was dominated by a Steve Dobbins Kodo The Beat turntable ($24,000) with Reed 3P tonearm ($6500), Lyra Atlas cartridge ($10,000), and Allnic Audio H-3000 phono stage ($11,900—the only product not made in the USA).
When I entered the room, one of my former editors, Clement Perry of Stereo Times, was having a ball listening to a reportedly unavailable track of Sarah Vaughan live in 1968. Inspired, I followed suit with one of my reference recordings, the JVC XR-CD transfer of the sassy Ms. Vaughan's 1981 recording of Sondheim's "Send in the Clowns" with the Count Basie Orchestra.
The Divine One sounded gorgeous. Everything was there—the guttural lows, the pinched but mesmerizing highs, the occasional edge that crept into the longtime smoker's instrument—in short, the truth of her voice and the full measure of her interpretive genius. The sound was warm, clear, fully controlled from top to bottom, and rich without ever becoming overly euphonic. Trumpets blasted, and percussion slammed with a tightness that most people attribute to solid-state. If this had been a home system, and I had received an open-ended invite, I would have remained until bedtime.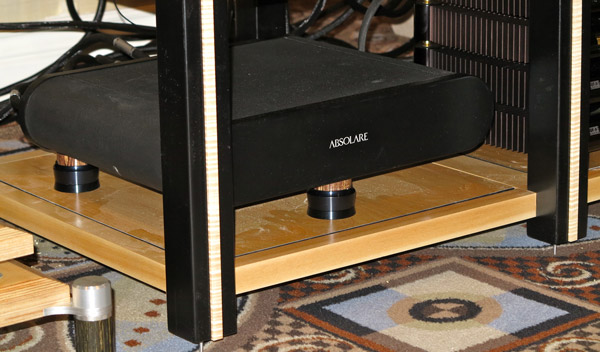 Absolare and Echole's Kerem Küçükaslan explained that the Echole cabling included three Echole Obsession Signature interconnects ($7500/6 ft pair), eight Echole Obsession Signature powercords ($6900/6 ft), and Echole Passion speaker cable ($6000/8 ft pair). Put it all together, and in an air-walled conference room that wrecked havoc with most set-ups, and you had the kind of system synergy and performance that we all long for. Bravo, or in the case of Ms. Vaughan, Brava!