Linear Tube Audio ZOTL40 Mk.II power amplifier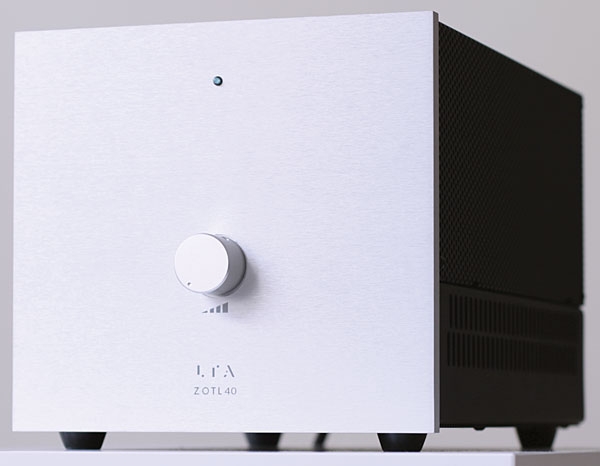 I have always been fascinated by audio power amplifiers. I even tried building about a hundred of them. My best friend in high school, Bill Brier, taught me the basics of soldering, wire management, and reading schematics. He loaned me his Dynaco Stereo 70, and gave me a hot-running, 20W, class-A transistor amp that he'd built on his mother's kitchen table. Bill took me to concerts, and taught me about classical and jazz music. He had perfect pitch, tuned pianos for money, played every instrument in the orchestra, and had memorized the complete keyboard works of J.S. Bach before he turned 16. And this stuff was all on the side—mainly, we built drag race cars together.
Bill taught me to judge audio components by how realistically they reproduced the impact and tone of voices and solo instruments, especially piano. He said that nothing could reproduce the sound of a whole orchestra. Bill was a supersmart science guy who quickly came to believe that the new Dynaco Stereo 120 transistor amplifier outperformed my old tubed Stereo 70. He said that the 120 had "lower distortion," and that I could keep the 70 because it was now "obsolete." Unlike Bill, I was much slower to embrace this new form of lower distortion—especially after his home-made transistor amp set fire to my living room.
Nowadays, I prefer either type of amplifier, solid- or hollow-state, as long as it's been created by a maverick designer who knows what a good amp should sound like when driving a range of quality loudspeakers.
David Berning (www.davidberning.com) is just such a maverick designer, and his highly original design for Linear Tube Audio's microZOTL2.0 preamplifier, headphone amplifier, and integrated amplifier ($1235) sounds so extraordinarily transparent, lively, and soulful that it gave me no choice but to add him to my short list of Ch'i Masters, which also includes such legends as John Curl, Mike Moffat, and Nelson Pass. And because the microZOTL2.0 remains an important cornerstone of my current reviewing practice, I had great expectations of Linear's new ZOTL40 Mk.II power amplifier ($5800).
Description
The ZOTL40 Mk.II is a class-AB tubed power amplifier in an anodized aluminum case that's available in silver or black. Almost shoebox-shaped at 9" wide by 8.5" high by 14.5" deep, it's very light at 9.7 lbs, and runs cool for a tube amp that can put out 40Wpc into 8 ohms.
The ZOTL40 Mk.II is so light because it doesn't need heavy, impedance-matching output transformers. Instead, it uses an amplifier-load interface, designed and patented by David Berning, that superimposes the antiphase waveforms of the push-pull output tubes on a 250kHz carrier wave, and subsequently on pairs of diminutive, hand-wound RF transformers. The result: push-pull power pentodes without bulky, audio-frequency output transformers.
According to LTA's website, the ZOTL40 Mk.II automatically biases its four KT77 tubes (an EL34 substitute). No user adjustments are required, and LTA predicts a tube life of 10 to 20 years. The ZOTL40 further maximizes tube life with a high-voltage turn-on delay, and a form of automatic protection circuitry.
The ZOTL40's perforated tube cage triggered memories of my old Dynaco Stereo 70, but tubes aside, what was under it reminded me more of a 1970s receiver than a vintage tube amp: an electronic landscape dominated by hordes of small chokes and high-frequency inductor coils. There are two green circuit boards, one each for the power-supply and audio circuits. On the audio board are the eight ceramic tube sockets (this includes the ZOTL40's two 12AX7 and two 12AU7 small-signal tubes), as well as a plethora of generic surface-mount polypropylene capacitors, some Rubycon electrolytic caps, generic film resistors, and two remarkably small power-supply transformers.
On the front panel are a red On light and, far below it, a knob connected to an Alps volume control. On the rear panel are two pairs of RCA input jacks, one connected to the Alps control and the other for a direct input. (The user's guide stresses that only one input can be used at a time.) I used the direct inputs for all of my listening. Also on the rear are two pairs of good-quality speaker binding posts, and an IEC inlet with an On/Off rocker switch.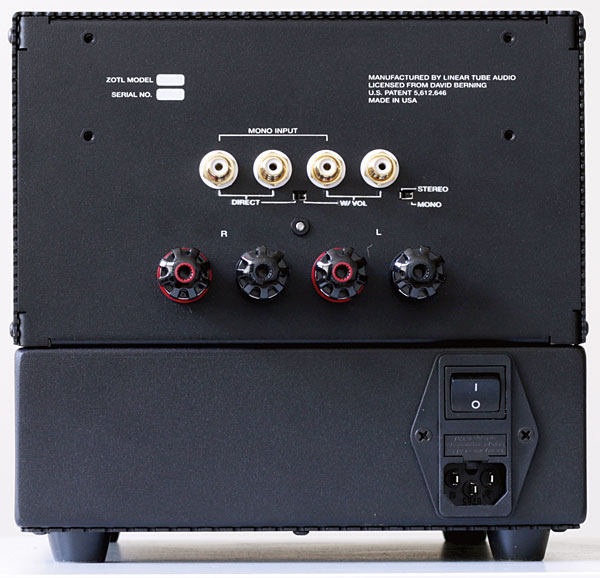 Listening
These days, I begin every review of an amplifier by listening to it through the Zu Audio Soul Supremes ($4500/pair)—not because the Zu Souls are the most accurate (I hate that word) or neutral (what is that?) speakers, but because they let me to listen through their full-range paper cones, directly into the electronics behind them.
In my room, the Soul Supremes have a slight bump in the midbass, a conspicuous rise in the presence region (2–4kHz), and something unnamable but audible in the top frequencies. Nonetheless, the Zu Soul Supreme remains on my short list of all-time favorite speakers, along with the Falcon Acoustics LS3/5a ($2195/pair) and the DeVore Fidelity Orangutan O/93 ($8400/pair). All three speakers are useful in showing me what an amplifier really sounds like when driving a benign load of high impedance. With each, Linear Tube Audio's ZOTL40 Mk.II sounded exceptionally lively and clear, and precisely detailed.
I played Varèse's Ionisation, with Robert Craft conducting 13 musicians playing woodwinds, brass, a piano, and 37 percussion instruments, including two sirens and several large timpani (from Music of Edgard Varèse, "six eyes" LP, Columbia Masterworks MS 6146). To my surprise, the ZOTL40 sounded a lot like my reference high-power amplifiers, Bel Canto Design's REF600M monoblocks ($4990/pair). Both amps delivered six octaves of high-energy, strategic-force impact and strong, articulate bass. With both, the surprise entrances of the various percussion instruments was startling and precise—just as Varèse intended.
The ZOTL40 rendered the dynamic contrasts in Ionisation, grand et petit, with a captivating vitality I won't soon forget. But strangely, and to my complete surprise, the Bel Cantos sounded more colorful and real in the top three octaves. Driving the Soul Supremes, the LTA ZOTL40 exhibited a sound that was direct, fast, and detailed, if somewhat deadpan in its stark evenness. How could a class-D amp sound more airy and colorful than one using push-pull KT77s?
I played Ionisation one last time, carefully comparing the ZOTL40 Mk.II ($5800) with Woo Audio's WA5 integrated amplifier-headphone amplifier ($5899). The Linear gave a distinctly better impression of percussion scale, bass character, and empty space. Timpani had realistic size and impact. Musical drama was well presented. The WA5's 300B triode tubes sounded a bit less dramatic, but achieved a greater amount of density and spatial reality. The Woo's midrange was jam-packed with what seemed an infinity of low-level information. The WA5 materialized the Varèse with a magical vibrating presence, while the ZOTL40 produced an emptier, more diagrammatic expression.
Recording after recording, the ZOTL40 Mk.II delivered joy and excitement through impact, momentum, detail, and control. With the same recordings, the more engaging wholeness of the Woo WA5 comprised extremely realistic timbres, a plush fabric of low-level dynamic contrasts, and something intangible but akin to blue skies reflected by still water. The ZOTL40 was less good at such poetic intangibles.