LG V30 Hi-Res smartphone with MQA Measurements
Sidebar 3: Measurements, from July 2018 (Vol.41 No.7)
When Jason Victor Serinus reviewed LG's MQA-capable V30 smartphone in our May issue, he was mightily impressed. "LG's implementation of its Hi-Fi Quad DAC is a work of genius," he wrote, concluding that "If ever there were a device that could bring the experience of high-end sound to millions of music lovers, the hi-rez V30 with MQA is it. It's more than a game-changer." JVS added that the V30's combination of audiophile sound quality and smartphone portability "may prove unbeatable." However, our publishing schedule didn't include enough time for Jason's review to be accompanied by our usual evaluation of its measured performance. This Follow-Up corrects that omission.
I measured the LG V30 DAC with my Audio Precision SYS2722 system (see the January 2008 As We See It"), using test-signal files I copied to its internal memory using the Mac Android Helper app. (Our V30 sample was running Android OS v7.1.2.) The V30 played every AIFF, ALAC, FLAC, WAV, DSD64, and DSD128 file I tried, displaying on its screen the PCM sample rate (up to 192kHz) and bit depth (16 or 24), and whether the file was MQA- or DSD-encoded. The maximum output level at 1kHz from the headphone output was 1.04V with both PCM and DSD data, and the output preserved absolute polarity. The output impedance was very low, at 1.5 ohms across the audioband.
Fig.1 LG V30, Sharp filter, impulse response (one sample at 0dBFS, 44.1kHz sampling, 4ms time window).
Fig.2 LG V30, Short filter, impulse response (one sample at 0dBFS, 44.1kHz sampling, 4ms time window).
The V30 offers a choice of three reconstruction filters for playback of PCM files: Sharp, Short, and Slow. The Sharp filter's impulse response with 44.1kHz data (fig.1) indicates that it is a conventional, linear-phase, FIR type, with time-symmetrical ringing to either side of the single full-scale sample. The Short filter (fig.2) is a minimum-phase type, while the Slow filter (not shown) is again a linear-phase type. I couldn't examine the time- or frequency-domain behavior of the V30's MQA filter, as filter switching is automatic. And as I have no MQA-encoded test-signal files, I couldn't switch that filter on.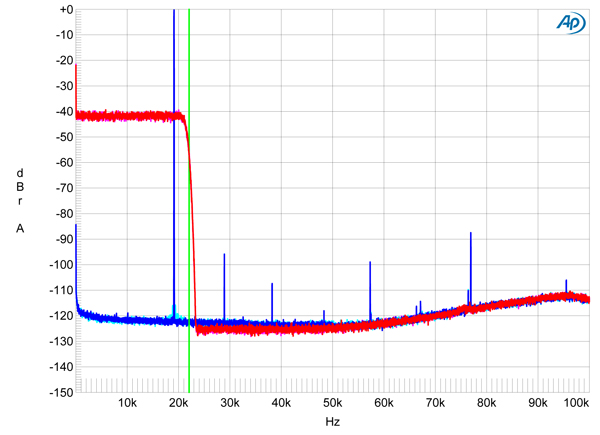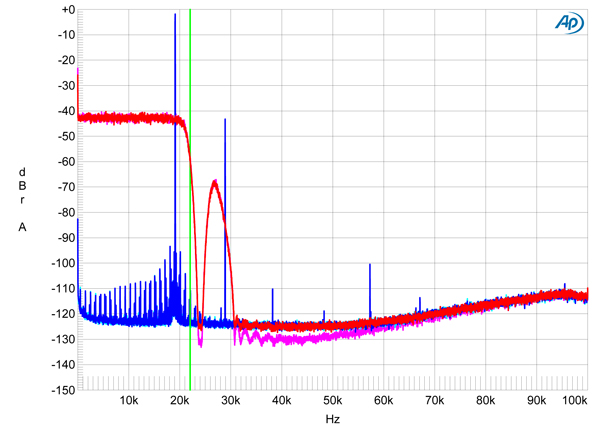 Tested with white noise sampled at 44.1kHz (fig.3, red and magenta traces), the Sharp filter's output rolled off rapidly above 20kHz, reaching full stopband attenuation just above half the sample rate (indicated by the vertical green line). This filter completely suppressed the image of a full-scale tone at 19.1kHz (blue and cyan traces), and the harmonics of this tone are all low in level. Although a spurious tone at 28.9kHz can be seen, this lies at almost –100dBFS. While the Short filter behaves very similarly in the frequency domain (not shown), the Slow filter has a peculiar scalloped ultrasonic rolloff (fig.4). Some low-level audioband spuriae can now be seen, and that spurious tone at 28.9kHz lies just below –40dB (1%).
The Sharp Filter's frequency responses with data sampled at 44.1, 96, and 192kHz are shown in fig.5. As expected from fig.3, the output rolls off very rapidly just below half of each sample rate, but a slight passband ripple is visible before that rolloff. Channel separation was superb, at 100dB in both directions in the midband, and still 101dB at 20kHz.
The V30's noise floor was clean, but higher than I'd anticipated. With file playback paused, there was about 5.3mV of noise on the output with a center frequency of 450kHz. The presence of this noise meant that when I increased the bit depth from 16 to 24 with a dithered 1kHz tone at –90dBFS, there was only a slight reduction in background noise (fig.6). Peculiarly, some second-harmonic distortion was present with 16-bit data (cyan and magenta traces); this disappeared with 24-bit data (red, magenta). The noise also obscured the waveform of an undithered tone at –90.31dBFS (fig.7), which should appear with three well-defined DC levels.
Harmonic distortion was extremely low (fig.8), the primary component being the subjectively innocuous second harmonic, at just –100dB (0.001%). Intermodulation distortion was also vanishingly low (fig.9).
Finally, tested for its immunity to word-clock jitter, the V30 produced a clean output spectrum (fig.10), though once again that higher-than-expected level of analog noise makes its presence visible.
Overall, LG's V30 measures well—not only for a smartphone, but for a legitimate hi-rez player.—John Atkinson