LG V30 Hi-Res smartphone with MQA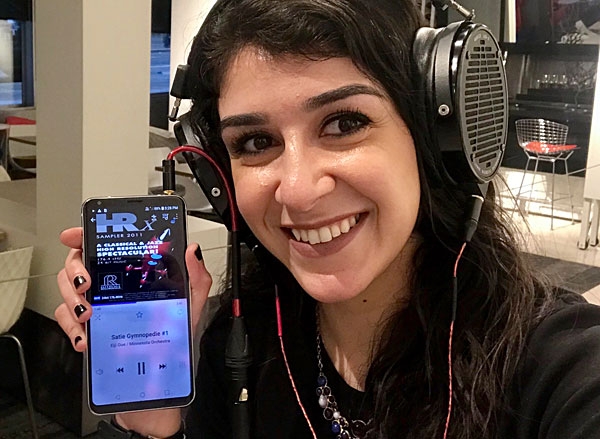 "Phones are the gateway device," proclaimed Marc Finer, executive producer of the
Hi-Res Pavilion
, at the start of the 2018 Consumer Electronics Show. When he pointed to LG Electronics' V30 Hi-Res+MQA smartphone, which includes streaming apps for Qobuz, Tidal, and YouTube, I sensed the truth in his words. The latest stats from survey company MusicWatch confirm that at least 87% of smartphone owners use a music-streaming service, including the largest, YouTube. Twenty percent of owners said that they stream music/music-related content daily, and 39% stream five or more days per week. In fact, 92% of 18–34-year-olds stream music at least one day a week (compared to 52% of those 55 or older), and 96% of 18–34-year-olds listen to music every day, in one form or another (including physical media).
If the LG V30 ($799) can deliver audiophile-grade sound, I thought, it has the potential to bring awareness of high-end audio to entire generations of smartphone users. The LG V30 could be the answer to the oft-asked question: "How is the High End ever going to reach all those people who are listening to lossy MP3s on their phones for hours on end?"
I had to review an LG V30.
Audiophile Bonanza
LG offers two models of the phone: the V30 ($799), which has 64GB internal memory, and the V30+ ($929.99), which has 128GB. Both offer expandable storage to 2TB via an optional microSD card, and both sport the same 32-bit "Advanced Hi-Fi Quad DAC," whose ESS Technology Sabre ES9228 chip can process PCM files, with or without MQA, up to 24-bit/192kHz, and DSD up to 256. According to MQA Ltd.'s Bob Stuart—his company partnered with LG in implementing and tuning the V30's MQA decoder—the only other phone he knew of, as of mid-February 2018, that included a comparable high-performance DAC was Onkyo's Granbeat, which is available only in Japan.
In an e-mail, Stuart added: "The LG V30's [Qualcomm Snapdragon system processor] is a powerful processor which has a DSP core. Most phones would do things like decoding MQA in an App. In the App you would be using high-level processing (meaning closer to the customer), but the code is less efficient. By pushing the high-performance audio down into the DSP part of the Snapdragon, we get higher performance with much lower power consumption, and a clean signal path to the DAC and no vagaries, because the decoder is there all the time and the stream need not be interrupted by other applications."
The V30 also supports Bluetooth wireless aptX HD, and has a 6" display and camera and video features galore. As I used the phone solely for audio, I couldn't assess how long the battery will last in normal use. However, using the V30's battery-saver settings, an engineer at MQA reports that he "plays MQA all day and normally charges the phone every two days."
Up and At 'Em
My plan was to load up the LG V30 with a treasure trove of well over 100 high-resolution files of the same recordings in both PCM and MQA—generously supplied by Bob Stuart, John Atkinson, Wilson Audio's Peter McGrath, and David Chesky—and compare them. I'd also listen to Tidal HiFi Master Audio streams through Audeze LCD-X headphones equipped with Nordost Heimdall 2 cables, or, in noisy environments, Thinksound On2 closed-back 'phones. Then, using a stereo 3.5mm-to-RCA adapter from RadioShack, I'd also listen to the V30 through my reference system (Lamm Industries L2.1 linestage, Pass Laboratories XA200.8 monoblocks, and Wilson Audio Alexia 2 loudspeakers with Nordost Odin 2 cables).
To load the V30 with audio files, I installed the Android File Transfer app on my Mac laptop and copied the files to the LG phone. After that, it seemed simple: open the V30's Music app, scroll through my carefully sorted files, hit Play, adjust volume.
Simple? Almost. Because I'd contented myself with a quick tutorial from an LG specialist named Tyler Worth, who manages the local Verizon store, I hadn't navigated the multiple layers of the V30's Help app to discover that, if you go to Settings>Sound>Hi-Fi Quad DAC>Sound presets, you will find there five predetermined response curves: Enhanced, Detailed, Live, Bass, and Normal (flat). Happily, my sample was set to Normal. There are also three digital filters for non-MQA PCM: Short, Sharp, and Slow. The default setting, Short, is described as producing "a more spatial and ambient sound." What I heard was a lovely if soft top and a warmer, fatter-than-normal midrange. This setting may be safest for those who listen through earbuds while crossing the street preoccupied, but it's not the ideal filter to use to compare with the sound of the phone's single MQA filter. The menu describes Sharp as "a more natural sound" and Slow as "a clearer sound." I found Sharp extremely neutral, notably quiet, and gratifyingly colorful, so that's what I used for most of my comparisons of MQA with non-MQA files. That said, differences between PCM and MQA (see later) were consistently audible, regardless of choice of non-MQA filter.
After I'd set the filter, I opened the Music folder and scrolled to the desired track. To the right of each track listed appears one of three provenance indicators: HiFi (PCM), MQA, or DSD. Tap a track and it begins to play. The bit depth and sample rate appear next to the provenance icon; tap the Play bar at the bottom of the screen to display album-cover art (if available). If the V30 goes to sleep, a tap of the Power button followed by a screen swipe wakes it up.
Listening
I began by comparing versions of "Get Lucky!," from Daft Punk's Random Access Memories (24/88.2 FLAC & 24.44.1 MQA.FLAC, Columbia 88883716861). I thought it sounded extremely smooth, musical, and enjoyable through the Audeze LCD-Xes, the bass fairly fast if a teeny bit lazy. Without MQA, the hand claps weren't as vivid, and the overall experience was less lively and involving.
Dave Wilson's classic recording of violinist David Abel and pianist Julie Steinberg playing Beethoven's Violin Sonata in G, Op.96 (24/176.4 FLAC & 24/44.1 MQA.FLAC, Wilson Audiophile W-8315), confirmed that MQA delivered more believable dimensionality, air, and overtones. With Amber Rubarth singing "Storms Are on the Ocean," from Dr. Chesky's Sensational, Fantastic, and Simply Amazing Binaural Sound Show (24/48 FLAC & 24/48 MQA.FLAC, Chesky), MQA better conveyed the breathy edge of Rubarth's voice, and delivered greater color saturation. MQA simply sounded more musical.
After taking the ferry to Seattle, to review for ClassicalVoiceAmerica.org what turned out to be an extraordinary concert by violinist Vilde Frang with the Seattle Symphony Orchestra and guest conductor Cristian Macelaru—and, during my travels, enjoying via the LG V30 the sounds of everything from Mozart to the Brooklyn Funk Band—I had tea with SSO publicist Shiva Shafii. Although she pursued majors in musical performance (violin), music administration, and PR and marketing, Shafii is not well versed in audiophile jargon. Nonetheless, when I played for her Eiji Oue and the Minnesota Orchestra's recording of Debussy's orchestration of Satie's Gymnopédie 1, from HRx Sampler 2011 (24/176.4 FLAC & 24/44.1 MQA.FLAC, Reference HR-2011), and Gregory D'Agostino's performance on pipe organ of the excerpt from J.S. Bach's Toccata and Fugue in d on the Dr. Chesky compilation (24/192 FLAC & 24/48 MQA.FLAC), she declared, "The MQA has more color, more depth, and is more multidimensional. The other versions just don't resonate with me the same way. I was visualizing vibrations on a string, and without MQA, they're funneled into one dimension."
Although I've never been one for wearing headphones while working out, I brought the LG V30 along to the Port Townsend Athletic Club and tried to use the close-backed Thinksound On2s to compare MQA and non-MQA versions of Peter McGrath's live recording of pianist Martha Argerich performing J.S. Bach's Partita 2 (24/44.1FLAC & 24/44.1 MQA.FLAC, unreleased). Within 30 seconds, someone jumped on the noisy treadmill to my right and I threw in the towel. No wonder so many people are experiencing hearing loss—to hear this recording over that din, I'd have had to turn the volume way up. But listening at home, through the Audezes, I discovered that Argerich's notes sounded rounder and more lifelike with MQA, and were less fatiguing.
"I love this phone," I wrote while scribbling down how MQA let me hear more of the distinctive texture of pianist Kyoko Tabe's touch in her heartfelt rendition of the Adagio of Beethoven's Piano Concerto 5, "Emperor," with Martin Sieghart conducting the Bruckner Orchestra Linz (24/192 & 24/48 MQA.FLAC, from a Denon DVD-A released in 2000). The MQA version touched me more deeply—the sound was clearer and more direct, the spatial envelope surrounding the piano more lifelike, and colors were far more naturally saturated and satisfying.