Jason Starts AXPONA with Small and Not Small at All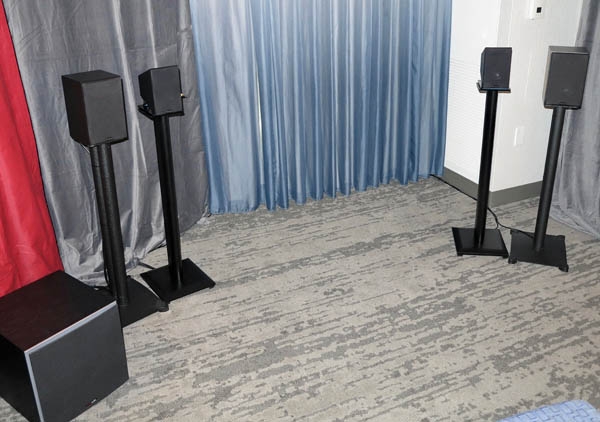 If AXPONA seemed to get off to a slow start on the 4th floor of the Renaissance Schaumburg Hotel & Convention Center, it was only because, the second the clock struck 10am, huge numbers of people made a mad dash for the first level Marketplace. It was only after they had sated themselves with all the rare LPs and other paraphernalia they could find that they ventured forth into the great unknown.
It wasn't just the many equipment premieres that were unknowns; the spaces themselves were unfamiliar entities. As audiophiles traversed a good 165 active exhibits scattered across nine packed floors, they discovered that the Schaumburg's standard size hotel rooms, arranged around a central open atrium, were not very big at all. With an unmovable built-in granite counter/credenza on one side of the room, there was often only space for two rows of three to four chairs each. Many of my photos were taken standing on a chair in the back corner of the room, for the simple reason that it was the only way to fit everything into the shot without photographing multiple heads and feet.
Nonetheless, most of the 4th floor exhibitors I visited on Day One—I made it to 18 rooms—coped well with cramped conditions and reflective surfaces. The companies that probably had the easiest time of it were those like Seattle-based Vanatoo, makers of wireless powered speakers that may have been some of the smallest shown in hotel rooms. Shown were Vanatoo's Transparent Zero ($359/pair) and, at their side, prototypes of the larger Transparent One Encore ($TBD). Due this summer, the Transparent One Encore is an update of the older Transparent One ($499). The new speaker, rated at 60Wpc, is a two-way that contains four class-D amps plus a DSP crossover.
Given their price, and all the negatives associated with Bluetooth technology, these speakers sounded shockingly good. The Transparent One Encore represented a big musical leap forward in terms of refinement, smoothness on top, and image size, but the little Transparent Zero did quite well on the satisfaction scale. Given the speaker's extension and sound, and the fact that it produced bass without aid from a subwoofer (such as the one in the photo, which was not in use), Vanatoo earned my "Bargain Price Powered Loudspeaker of Day One" Award.
Amped America, based in New Jersey, has just released the poetically titled AMP 2400 power amplifier ($3500). Boris Meltsner's new 400Wpc Class D stereo amplifier joined with an Adcom GFD-815 preamp ($499), LA Audio CD player ($2200), KEF Q950 speakers ($1800/pair on Amazon), and Triangle Art turntable ($7500 including arm and cartridge) to produce a very lovely sound with a fine midrange and mellow top. Although the system did not plumb the depths, and bass was less than super tight, bossa nova great Rosa Passos and bass giant Ron Carter sounded mighty fine together. Most important, I heard lots of mellow goodness, and none of the gray, colorless sound that spoiled most early class-D presentations.
Bryston's Gary Dayton won my first Gold Star of Show for Musical Exploration when he played, instead of some gem by Ella & Louis or Bill Evans (great though they may be), Joshua Redmond's "Jazz Crimes" and Bill Frissell's equally adventurous take on "I Heard it Through the Grapevine." In a system that featured the world premiere of Bryston's 24B Cubed 6-Channel (300W times two, plus 75W times four) amplifier (est. $10,995), Bryston's "get down to business" sound was intriguingly disembodied, with a lively top, somewhat dry midrange, and less than perfectly controlled bass. Contributing to the sound: Bryston BDP-3 player ($3945), BDA-3 DAC ($3495), BP-17 Cubed preamp ($3995), BAX-1 active speaker crossover with built-in EQ ($3495), paired with Mini T speakers ($3700/pair), BIT20 AVR power conditioner ($5995), Straight Wire cabling, and Target equipment and speaker stands.
For a very different sound, one had only to venture around the corner to the room shared by the Vinnie Rossi LIO preamplifier ($12,500 as configured) and pre-production L2 Signature monoblock amplifiers (shipping in June), Harbeth Monitor 40.2 40th Anniversary Edition speakers ($17,990/pair), and Triode Wire cabling. The beautiful, liquid warmth on SoundMirror's DSD256 Pittsburgh Symphony Orchestra recording of Shostakovich Symphony No. 5 (Reference Recordings Fresh!), as well as the system's realistically lively depiction of piccolo, were a joy to listen to. My just-met listening partner, Franklin Winston of Bowling Brook, IL, insightfully called this a "melt into the music" system.