Hegel Music Systems H160 integrated amplifier Page 2
Because I've been reviewing mostly class-D amplifiers and the Hegel is a more traditional class-A/B bipolar type, I was curious about any potential audible differences. All of those digital amps have driven low-impedance speakers with gratifying authority, but I've harbored suspicions about their capabilities into speakers of higher impedance—such as my 15-ohm Falcon and
Rogers LS3/5A
s and 10-ohm DeVore Fidelity Orangutan O/93s. Sometimes, the class-D amps have sounded somewhat flat or slightly gray into these high-impedance loads. But now, after several weeks of listening with the Hegel, I can confidently say that it is the most vigorous- and supple-sounding amp I have used with the DeVores. And through the LS3/5As, the H160 breathed fire with dragon-like force.
Remembering: The best thing about buying old records is the rediscovery of forgotten experiences from the past. One such moment was finding David Byrne's songs from the 1981 Broadway production of The Catherine Wheel (LP, Warner Bros. 3645). This demanding recording reminded me of being pulled into the chambre noire of the Winter Garden Theatre. It made me close my eyes and see Twyla Tharp's dancers spinning fiendishly on the breaking wheel of torturous execution. I played this record through the Orangutan O/93s and the new Falcon LS3/5As (made in Oxford, UK). The effect with both speakers was delirious and intoxicating. The Falcons projected a soundstage with holographic images that made me exclaim "Wow!" over and over. The O/93s played Byrne's voice—"I got my mojo workin' / I got the back door open / I got the screen door open / Aieeeee!"—in the most perfectly toned and provocative way. I'm listening to The Catherine Wheel for the tenth time right now, and all I can say is, I'm fine, this is wonderful, and I'm going to step away from the typewriter so I can go over and experience Byrne's "Big Blue Plymouth (Eyes Wide Open)" and "Light Bath" with a full-on, completely focused mind.
Recorded music that feels stunning and tangibly alive is always a big turn-on—but it mostly happens only with certain enchanted LPs played through uniquely magical systems. I'm experiencing that stunning magic right now with Byrne's voice, the Soundsmith Carmen cartridge, the Acoustic Signature Wow XL turntable, the LFD phono stage, the Hegel H160, and the DeVore O/93s. But it's not only the gear I'm using. When David Byrne gets it all fully wound up and sprung out, as he does on this record, no one can touch his rocking soul—not even Jerry Lee Lewis.
I can't imagine wanting or needing more from a hi-fi.
Listening to CDs: The next disc I spun was silver: Navajo-Ute flute virtuoso R. Carlos Nakai's Island of Bows, with Japanese traditional-instrument masters Oki Kano on ainu and tonkori, Shonosuke Ohkura on kotsuzumi, and the Japanese folk ensemble Wind Travelin' Band featuring Hiroko Okani on shamisen, percussion, and vocals (CD, Canyon CR-7018). The liner notes say this recording is about our "shared journey to the Morning Star." It is also about the august R.C. Nakai embracing another antique folk culture from seven time zones away. The sound of the Hegel H160's DAC, fed data by my Puresound A-8000 CD player, reproducing "Cloud Temple" and "Night Forest" was big, open, supremely airy, and highly precise—in a way that honored the animistic spirit of this meditative music.
I used to disparagingly call her "Shave Head," but now I'm more loving and respectful. Singer-songwriter Sinéad O'Connor's superstrange reggae recording of 2005, Throw Down Your Arms (CD, Rocket Science 101184), is always in my "Need to Study" pile of CDs. To shift gears and re-contact with my own forgotten anima, I played her angel-voiced a cappella rendition of Burning Spear's classic "Jah Nuh Dead," followed by the thumping "Marcus Garvey."
With the Hegel, my experience of O'Connor's sincere voice was one of purity and unadorned richness. The H160 generated a full palette of subtle feminine tones. Of course, when I finished with these appealing (but slightly vapid) covers, I had to play Burning Spear's more authentic and Åbermasculine "Marcus Garvey" (12" 45rpm EP, Island 12 IS 332-A). Irie, Bredren and Sistren! I played this powerful track via the Falcon LS3/5As, the Morel Octave 6s, and the DeVore O/93s. Through each pair of speakers, the structural balance between the visceral reggae bass sounds and the ganja-stained vocals was striking in its naturalness. Playing this recording caused me to realize: this natural timbral and structural "balance" was surely a big part of what I imagined the Hegel amps were "fixing."
Headphones: I've come to realize that listening to music via high-quality headphones offers several important advantages over loudspeakers screeching from the floor. First: Headphones enable me to better focus on the song itself, its lyrics, and, surprisingly, on the poetic intentions that generated the lyrics. I can listen more deeply into the song. All of my life, I've paid little attention to the actual words sung on records. I preferred to observe and ponder the gestalt of the entire song at once. But my attitudes are evolving, and I'm discovering that headphones are the perfect doorway into the myriad verbal intimacies hidden in every recording.
The H160 is the first Hegel to have a headphone output, and, as in most integrateds, its headphone "amp" is not really a discrete or separate amplifier, but a voltage divider appended to the H160's output stage. According to Anders Ertzeid, the circuitry around this divider is "tweaked to have extremely low noise and good power into difficult loads."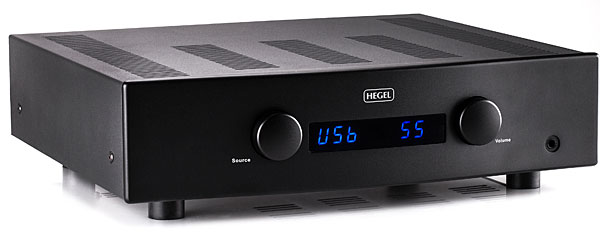 Stepping as far away from O'Connor's faux reggae as I possibly could, I used the excellent AKG K812 and Grado RS-1 headphones to enjoy Lucinda Williams's newest, Down Where the Spirit Meets the Bone (CD, Highway 20 H2 001; see Fred Mills's "Records to Die For" in the February 2015 issue). I'm crazy for Williams's whisky-burnt face and drawling, hypertextured singing: "Ann' thaa's the way wee do things in Wes' Memphis." The Hegel's layered resolution let her twanging voice dig so deeply into my psyche that, after only two songs, I felt oversaturated—as if I'd been exposed to something radioactive. From the H160's headphone output, I could not only hear every stretched and bent word, I could sense why she'd written it.
For comparison, I played Down Where the Spirit Meets the Bone again, this time using my Halide HD DAC and Schiit Asgard headphone amp. The Halide-Asgard combo was more liquid, more colorful, less hi-fi sounding than the Hegel, but it seemed also to skim and stick to the surface of Williams's songs; the H160 let me dig deeper into her artistic intent.
Back to the DeVore Orangutans: The voice of British folksinger Rachel Unthank was surely touched by the divine. On her album with the Winterset, The Bairns (CD, RealWorld USCDR W 158 884108), she and her sister Becky Unthank sing and tap their feet on a wooden floor as Belinda O'Hooley accompanies them on piano and Niopha Keegan's fiddle electrifies the room. This record revealed every good thing about the Hegel and its exceptional DAC. The scale and tone of the piano were full and viscerally real. The soundspace and imaging were half the joy of song. Most important, the H160 allowed these women's voices to inspire love, tears, and Gaelic reverie.
Conclusion
When I listen to a component I'm reviewing, I aim to stay mindful, but not so analytical that I suppress my feelings or intuition. I never want my audio prejudices to trump my curiosity. I do my best to report my pleasures and my disappointments—not my opinions. I believe it is my job to find worthy components and report to readers about their fundamental character. My reviews should reveal a component's potential for generating musical enjoyment in a wide range of audio systems. Most important, I need always to remember that my taste in music playback is unlikely to be the same as yours.
My experiences with Hegel Music Systems' H160 made all of the above easy. I used it with a wide range of loudspeakers, recordings, and source components in order to boil this sturdy integrated down to its essential base character, which sounded to me ardent and visceral, but never overblown or unrefined. It didn't play as captivatingly or as colorfully as my Line Magnetics LM518 1A amplifier, but its sound wasn't too dark or too light or unfun in any way. On a scale of thick to thin, the H160 tended toward the corporeal—but in a very appealing manner. It wasn't fast or slow. Its way with rhythm and tempo was unerringly natural and enjoyable. Forced to pronounce a negative, I'd say that the H160 could occasionally seem a little hesitant off the starting line, and a smidgen less invisible than the very best.
What the Hegel H160 did better than any but the absolute best amps I have heard was to generate correct-feeling tonal and structural balances in every loudspeaker I connected it to. If I were a nascent speaker designer en route to the Consumer Electronics Show in hopes of finding dealers, or a blossoming audiophile exasperated by all the advertising hype and reviewer hyperbole, I'd be studying Hegel's website now. The H160 is ready to make a diverse lot of audiophiles very happy—maybe even Class A in Stereophile's "Recommended Components" happy!