EveAnna Manley & the Manley Labs Absolute Tube Headphone Amplifier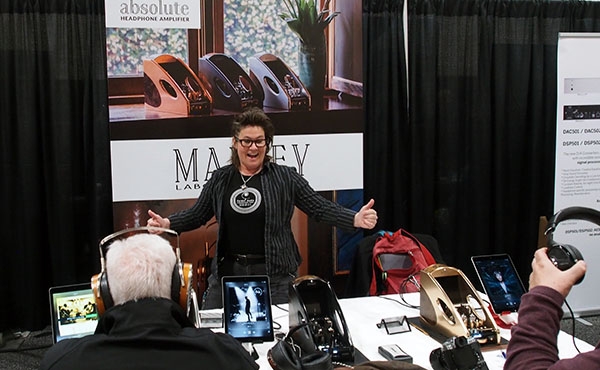 Manley Labs' firebrand CEO EveAnna Manley always seems to enjoy audio shows and AXPONA was no exception, where she was showing off the Absolute Tube headphone amplifier ($4500) in the Ear Gear Expo.
I first heard this unusually styled amplifier at the January 2016 Consumer Electronics Show. The production version on display here at the 2019 AXPONA, looks gorgeous in silver, copper, and black finishes. It uses two 12AX7 drivers and four triode-strapped 6AQ5 output tubes with custom, hand-wound, air-gapped output transformers. These transformers are user-configurable to drive three ranges of headphone loads, from 12 to 600 ohms. The output stage can be switched on-the-fly between all-triode push-pull and single-ended modes and XLR and ¼" jacks allow both balanced and unbalanced headphones to be driven.