AXPONA 2019: It's a Wrap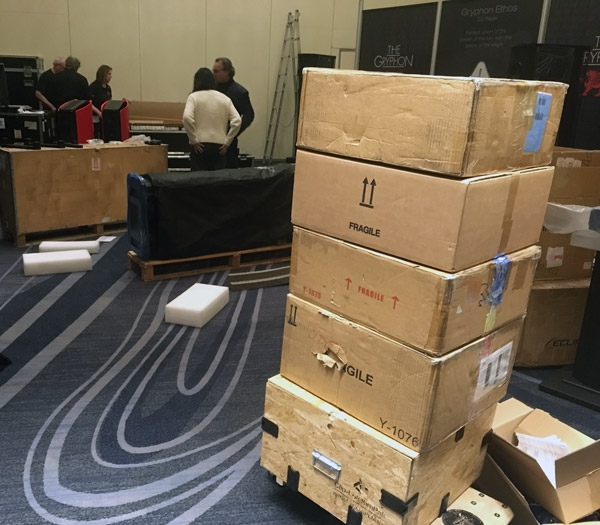 AXPONA 2019 was a good show—I'm tempted to say an important show. It's just an intuition, but I sense renewed vitality.
I wasn't able to visit as many rooms as I wanted to—too many meetings! Those meetings, though, had their own rewards—indeed, they were the highlight of the show for me. What a privilege to meet so many talented and enthusiastic people who share my passion for hi-fi. I met Sandy Gross of GoldenEar, who, years ago at Polk Audio, designed my first serious pair of speakers, Polk's Model 7Bs, bought when I was 16. I met Tim de Pavaracini, who designed the EAR 834P preamplifier I've been using for at least a decade. I met Rune Skov from Gryphon Audio (which is reentering the United States after many years' absence), Alon Wolf from Magico, Manger's Daniela Manger, Weiss's Daniel Weiss, MBL's Jeremy Bryan, Jim Whithorne of Butcher Block Acoustics, Eikon's Gayle Sanders, and many others. All are genuine audio enthusiasts, sincerely sharing a passion for well-reproduced music.
And what a pleasure to spend time with my colleagues: Herb Reichert, Jason Victor Serinus, John Atkinson, Rosemarie Torcivia, Ed DiBenedetto, Keith Pray.
Trends? While not exactly new, there's clear movement toward integration—toward a "systems" approach to hi-fi. Perhaps the best example is the Eikon speaker from Gayle Sanders, the founder of MartinLogan, back from retirement; the Eikon includes everything you need except the data source, in two loudspeaker boxes; it takes care of room correction on its own. Another example of this trend is the reemergence of integrated components, including digital preamps and integrated amplifiers from high-end companies like Krell, Mark Levinson, and T+A. The hefty T+A SDV 3100 HV DAC/preamp—$37,500—has two analog inputs, accepts every digital format you're likely to consider, streams, and does BlueTooth. It even has an FM tuner—and two power cords!
Of the rooms I visited at AXPONA, most sounded good. Some were outstanding. A lot of people obviously worked hard optimizing their systems. The big Gryphon room combined huge scale with subtle shadings, sounding good despite the racket from the room next door. Driven by Quad electronics, the Wharfedale Lintons, at just $1500 / pair, sounded rich and full and amazing. The Trilogy/CAD/Verity room was remarkably musical; I could have sat there for hours. The best sound I heard—the room I most regret not making it back to after spending only a few minutes there—was shared by MBL and Kyomi Audio, with turntable by TechDas and loudspeakers and amplification from MBL, which John Atkinson also named best-in-show.
Until next year then—signing off.