Coleman ComfortSmart Cots, Target WaffleWeave Lightweight Blankets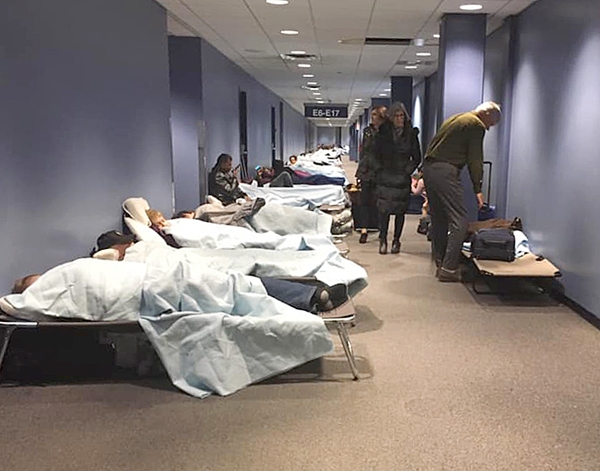 By the time I knew they were handing out cots, it was too late: They had already run out. The person at the Help Desk at Chicago's O'Hare International Airport said he'd never seen so many people camping out there. (Thanks to Mike Trei for the above photo.)
The day had begun on a less dire note. When I woke up Sunday morning at the Renaissance Schaumburg Hotel, I looked out the window and saw some pretty snow flurries.
Not long after, it was a snow squall, and soon after that, it was a snow bomb: a complete whiteout. I thought it was charming: The hotel is mostly glass, and everywhere I looked I saw a bright and white and glorious spectacle. Then people in the elevators started saying their flights were canceled—or seriously delayed. I got worried, so I called the airport.
They said my flight was running on time, so I headed for O'Hare. But the minute I got to Gate E17, I received a bad-news text from the airlines—the first of more than twenty.
Twenty-nine hours later, my two-hour flight was completed, and I found myself back home, typing this story.
At one point, while looking for a cozy floor spot to sleep on, I got an email from Technical Editor John Atkinson, saying his flight was canceled. John being John, he decided to rent a car, but there were none to be had. But John is smart, he did something that a thousand other stranded people didn't think of: He took a train-from Chicago to New York City. I was completely impressed (and jealous) that he thought of it, and more jealous, still, that he pulled it off. John was in Brooklyn before I got out of the airport.