The Entry Level #4 Page 2
Indeed, the Soft Machine seemed to have become a tighter unit, as if they'd been on the road for a couple of weeks honing their skills. In the process, however, they'd lost some of their power and urgency, forfeited some of the danger and madness that is essential to any good rock band. Through the Wharfedales, there was more nuance, detail, and resolution to the sound, but less rock'n'roll: The Soft Machine had become jazzy.
This was an interesting and unexpected development, and it wasn't exactly wrong—after all, the Soft Machine's sound contained jazz elements, most notably in Wyatt's effervescent percussion. The Wharfedales were simply highlighting those elements—the poetry of Wyatt's rhythmic patterns, the long decays of horns and keys—at the expense of what was, through the PSBs, a more chaotic sort of improvised rock. The PSBs, with their more forward balance, occasional brightness in the mid-treble, grittier brass textures, and slight lack of overall clarity, painted a more aggressive picture of this music.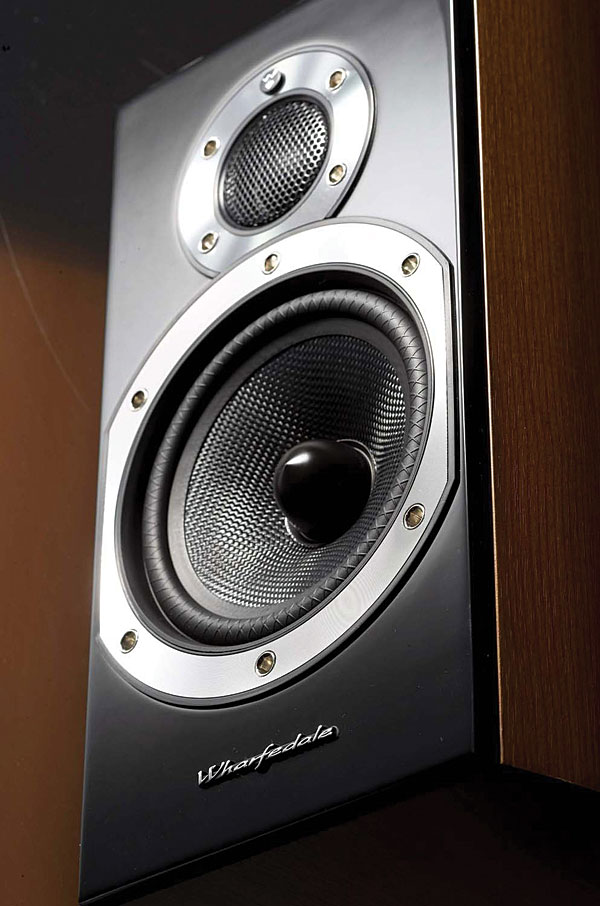 Those differences were also evident when I turned to Henry Cow's Unrest (LP, Red 002). The closing track, "Deluge," opens like a free-jazz exploration and features a simple but lovely two-note bass repetition and scintillating cymbal work; together, they create a frame for a twisting, turning tenor sax solo. Through the Wharfedales, the percussion and brass sounded so sweet and compelling that I couldn't help but think again that the Diamond 10.1 is a great jazz speaker. But when the violin and clarinet came waltzing in, sorrowfully and methodically, to flood my listening room with pure emotional intensity so rich and sumptuous I could cry, I realized that the Wharfedales weren't performing only as great jazz speakers, providing nuance and resolution, but also as great emotional conductors. The Diamond 10.1 had a way of letting go of the music that the PSB Alpha B1 couldn't match.
But before I could get too wrapped up in this sudden wave of overpowering emotion, the music took another turn. The strings floated away and left open a path for a lilting vocal: "Don't disturb me while I'm dreaming / Walk softly on my peace of mind." The sky softly brightened, I missed the last two lines of the verse, and the music came to an unexpected end. But this was fortunate because, after all, I had to maintain my composure; Natalie and Nicole were expecting me sometime soon.
The girls! I wish they were here with me to hear this. Would they hear what I'm hearing? Would they even care? Probably not . . . Hmm, wonder what's for dinner . . .
I cleared my throat, straightened myself out, and hooked up the PSBs. Through the Alpha B1s, Unrest took on an overall lighter hue—highs were more present, lows more reticent, and voices and instruments didn't flood my room with the same weight and impact—and in those moments where voices and instruments came together in harmony, the PSB lacked the Wharfedale's fine resolving ability and therefore couldn't quite untangle the intertwining lines with as much clarity and definition. Finally, through the PSBs, the band seemed to play "Deluge" at a quicker pace. Either the PSBs were sacrificing some harmonic richness for greater transient attack, or I was getting hungry. Now that I had a better grip on the Wharfedales' sound, I turned my attention to the Rega RP-1.
In what ways has the RP-1 ($445), Rega's latest turntable, surpassed its predecessor, the popular P1 ($395 when last available)? Like JA's review of the PSB Alpha B1, Art Dudley's review of the P1 appeared in the May 2007 Stereophile (obviously, a great issue; you can buy a copy here); he admired its forgiving nature with poorly recorded material, enjoyed its big, bold images, and praised its ability to convey the tension between musical notes. I subsequently persuaded my Uncle Omar, among others, to purchase a P1 from John Rutan's Audio Connection in Verona, New Jersey, and later scored a Rega P3-24 for myself (heh-heh-heh). Omar has since upgraded the cartridge on his P1 from the humble Ortofon OMB 5E to an Ortofon 2M Red ($99).
To compare the RP-1 and Omar's P1 I used the PSB Alpha B1 speakers, feeling that their more forward presentation would more readily expose any differences between the Regas. Beginning with Henry Cow's "Deluge," I again focused on that dramatic, rising tide of violin and clarinet that precedes the lilting verse—it really was quite somber and lovely. As far as I could tell, the two record players were tonally identical. I was surprised to find, however, that images through the P1 were even bigger and fleshier. And then, with the P1, I heard something I hadn't noticed at all through the RP-1: In the very earliest moments of the song, the sax melody very quietly emerges from the left channel before revealing itself plainly in the right, in a clever and subtle foreshadowing. Paradoxically, the song's generous shift from somber waves to bright skies was more abrupt through the P1, and therefore not as emotionally uplifting or stirring.
Perplexed, I switched to something new: Moondog's 2: Madrigals: Rounds and Canons (LP, Columbia KC 30897). While both players provided solid stereo imaging, good presence, and thrilling impact, the RP-1 did a far better job of illuminating the fast-moving, intertwining vocal harmonies: Whereas the RP-1 knew, without a doubt, that the most exciting thing about life is "L-O-V-E, love, it's love!," the P1 thought it might be "loaf." And though both players produced plenty of air around the shimmering cymbals of "Nero's Expedition," the P1 kept confusing "Nero" with "Neeno."