Classé Delta Mono monoblock power amplifier Measurements
Sidebar 4: Measurements
I tested the Classé Delta Mono with my Audio Precision SYS2722 system (see the January 2008 "As We See It"). I preconditioned the amplifier by operating it at one-third the specified power into 8 ohms for an hour. At the end of that time, the chassis was cool, at 76.9°F (24.9°C), though the grille over the rear-mounted fan vent was warmer, at 105.0°F (40.6°C).
The Classé's voltage gain into 8 ohms measured 28.7dB from both the balanced and unbalanced inputs and the amplifier preserved absolute polarity (ie, was noninverting) with both input signals. At 86k ohms at 20Hz and 1kHz, the balanced input impedance was both usefully high and slightly higher than the specified value of 82k ohms. Though the impedance dropped to 70k ohms at 20kHz, this is still high. The unbalanced input impedance was 79k ohms at low and middle frequencies, 35k ohms at the top of the audioband.
The Classé's output impedance was a low 0.16 ohm at 20Hz and 1kHz, increasing slightly to 0.1875 ohm at 20kHz. (Though these values are higher than specified, they include the series impedance of 6' of spaced-pair loudspeaker cable.) The modulation of the amplifier's frequency response, due to the Ohm's law interaction between this source impedance and the impedance of our standard simulated loudspeaker, will be negligible, at ±0.15dB (fig.1, gray trace). The response into an 8 ohm resistive load (fig.1, blue trace) was flat to 20kHz and down by 1.5dB at 200kHz, which correlates with the Delta Mono's superb reproduction of a 10kHz squarewave (fig.2). Commendably, there was no overshoot or ringing with the squarewave response. Into 2 ohms (fig.1, red trace), the response was –0.7dB at 20kHz and –3dB at 100kHz.
Measured with the unbalanced inputs shorted to ground, the amplifier's unweighted, wideband signal/noise ratio was an excellent 80.2dB ref. 1W into 8 ohms, this ratio improving to 95dB when the measurement was A-weighted and to 119.8dB when referenced to the amplifier's specified maximum power. Low-level spuriae at the 60Hz power-supply frequency and its harmonics were present in the Classé's noise floor (fig.3), though at –110dB or below (ref. 2.83V), these are negligible.
The Delta Mono is specified as being able to deliver 300W into 8 ohms and 600W into 4 ohms (both equivalent to 24.8dBW), and 1000W into 2 ohms (24dBW) with the line voltage held constant, all at 0.1% distortion. Using our definition of clipping, which is when the output's percentage of THD+noise reaches 1%, the Classé exceeded its specified powers into 8 ohms, clipping with a 1kHz signal at 380W into 8 ohms (25.8dBW, fig.4) and at 610W into 4 ohms (24.8dBW, fig.5). The Delta Mono clipped at 950W into 2 ohms (23.75dBW, fig.6); however, it is relevant to note that I don't hold the AC wall voltage constant when I test an amplifier's clipping power. With the Delta Mono idling, the wall voltage measured 121.3V. With the amplifier clipping into 2 ohms, the supply voltage had dropped to 117.5V, which is why I found a slight shortfall in maximum power into this load.
I measured how the THD+N percentage changed with frequency at 20V output, which is equivalent to 50W into 8 ohms, 100W into 4 ohms, and 200W into 2 ohms—high enough to shift the Delta Mono's output stage from class-A into class-AB. The THD+N was very low in the midrange into 8 ohms (fig.7, blue trace) but rose into lower impedances (magenta and red traces). However, as Sergiu Ignat had said when I interviewed him, the usual increase in THD+N in the top audio octave is absent, confirming that the amplifier's open-loop bandwidth is commendably wide.
The Delta Mono's distortion was predominantly the subjectively benign third harmonic (fig.8). This lay at –94dB (0.002%) at 50Hz into 8 ohms (fig.9), and while it rose to –76dB (0.015%) at the same voltage into 4 ohms (fig.10), the higher harmonics are all extremely low in level. When the amplifier drove an equal mix of 19 and 20kHz tones at 50W into 8 ohms (fig.11), the second-order difference product at 1kHz is missing in action and higher-order intermodulation products lay at an extremely low –99dB (0.001%).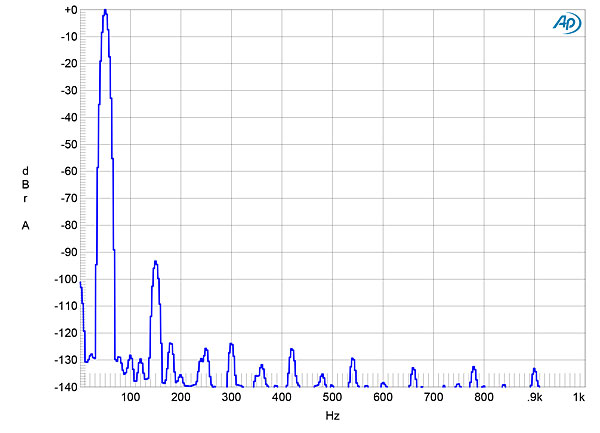 The Classé Delta Mono performed extremely well on the test bench, a testament to its audio engineering.—John Atkinson