Audio Desk Systeme Vinyl Cleaner 45rpm Adapter
Follow-Up from January 2016 (Vol.39 No.1):
In his "Music in the Round" column in this issue, Kal Rubinson nails it: "An accessory is something without which your system would still work just fine." Thus, unless you're one of those Neanderthals who assign to audio cables (footnote 1) that rather dubious distinction, there isn't a single audio accessory on the planet that anyone actually needs (footnote 2).
But because most of my listening is to LPs, I find that a reliably good record-cleaning machine comes closer than any other accessory to being essential to my full enjoyment of music—not to mention the preservation of my record collection.
I didn't feel quite so strongly on the matter until I experienced the German-made Audiodesksysteme Gläss Vinyl Cleaner ($3995, footnote 3), a fully automated, wet-wash/blow-dry machine that uses ultrasonic cavitation to remove contaminants from even the most minute record-groove modulation (footnote 4). Despite my earlier, positive experiences with other cleaning machines, it was the Vinyl Cleaner that put the reliably in reliably good.
Indeed, in the months since I purchased my review sample of the Vinyl Cleaner, examples of its Almost Essential status continue to accumulate. The latest was my newly acquired copy of a 1960s reissue of Ornette Coleman's 1959 album Tomorrow Is the Question (Contemporary S7569). During a recent visit to the Jazz Record Center, on W. 26th Street in Manhattan, my friend Ken Micallef recommended the album as a good starting place for a Coleman newbie. I brought it home, and was so immediately taken with the music that I listened to it twice through. This copy sounded great—JRC doesn't sell junk—with only a few minor clicks: nothing to detract from a record, the (stereo) sound of which was perhaps an 8 on a scale of 10. I was happy!
Then I thought: What the heck, I might as well wash my new record, as long as my $4000 record-cleaning machine isn't busy with anything else at the moment. (I assume this is what goes through Ralph Lauren's mind when he decides to drive one of his Ferraris to the 7-Eleven for a quart of beer.) Ornette took one spin through the Vinyl Cleaner and returned to the platter of my Thorens TD 124, outfitted at the time with the Abis SA-1.2 tonearm, Denon DL-103 cartridge, and Ampliserv (née Neumann Bv33) step-up transformer. Less than a minute into "Lorraine," I wondered, while marveling at the now-total absence of clicks and other surface noise: How could I have mistaken this colorful, touchful, altogether brilliant 10 of a recording for an 8?
Thus the Vinyl Cleaner has earned its keep, in my home and in those of numerous other audio enthusiasts, including at least three Stereophile contributors. Yet even then, a small shortcoming remained: The Vinyl Cleaner couldn't be used with 7" or 10" vinyl discs. To this non-engineer, the problem seemed insurmountable: Records are loaded in the Vinyl Cleaner the way dishes are loaded in a dishwasher—edge-down and perpendicular to the floor, not face-down and flat—and are rotated within the machine by a pair of turnstiles that grip and drive the disc's outermost edge. Because the washing chamber automatically fills itself with water to a level just shy of an LP's paper label, and because the machine's surface-cleaning drums are also sized for the grooved area of a 12" record, a smaller disc just can't work in the Vinyl Cleaner.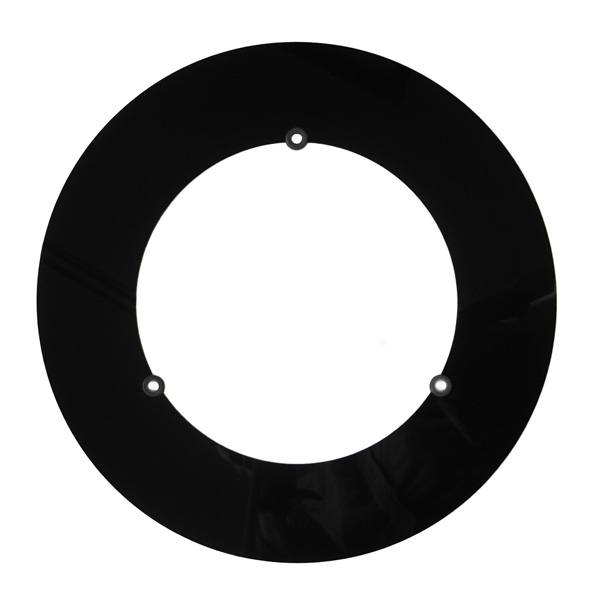 What I didn't imagine was the same sort of adapter that made possible the playing of 3.1"-diameter Mini CD singles (remember those?) in standard-issue CD players, back when the former existed and the latter were still popular (footnote 5). Last summer, word bubbled out that the Vinyl Cleaner's US distributor, Ultra Systems, was about to introduce just such an accessory: The company's A-Rings began shipping in August at a cost of $125 for a set of two: one each for 7" and 10" discs (above). Designed in collaboration with Vinh Vu, of Gingko Audio, the A-Rings are made of 0.06"-thick black acrylic. The A-Ring for 7" records has a diameter of 11¼", while the A-Ring designed for 10" discs is 11½" across. Both dimensions appear to have been chosen so that the modulated grooves of discs inserted in them are completely submerged during the wash cycle, and the labels are not.
The A-Rings' inner diameters are sized to accept 7" and 10" records, with a gap of perhaps 1/32" between record and Ring. Both A-Rings are drilled with evenly spaced, 11>/32" holes—three holes in the case of the A-Ring for 7" records, four for the Ring for 10" discs—whose centers are so close to the Ring's inner edge that the small holes are open to the large, circular opening at the center of the Ring. Inserted in each small hole is an elastomer grommet, and it is the exposed edges of these grommets that hold in place the records whose bath time awaits.
Hobbyists familiar with Mini CDs—the only one I ever bought was XTC's "Thanks for Christmas," which I have since misplaced—will recall the consistently tight fit between those little discs and the adapters made for them. Those same audiophiles may wonder: Why can't we have a Vinyl Cleaner accessory that holds vinyl records with similar precision? The answer: Not only do 7" and 10" records not actually measure 7" and 10" in diameter, but your chances of finding, say, any two 7" records of precisely the same diameter are little better than your chances of grabbing a handful of pennies and finding more than one stamped with the same date.
In describing the development of the A-Rings, Robert Stein of Ultra Systems suggests that finding an inner circumference that was neither too small for the largest record nor too large for the smallest required considerable time and effort. Indeed, the earliest samples of the smaller A-Ring proved to have slightly too large an opening for a small percentage of 7" discs: Current-production A-Rings have an opening marginally but significantly smaller (footnote 6). (I have review samples of both sizes of 7" A-Rings, and while the earlier never proved too big for any of my records, I commend the change.) In the case of too-small records, the grommets can be tugged very slightly away from the centers of their holes and nearer the center of the Ring, to exert a tighter grip.
Jumping through Hoops: A-Rings are supplied with a two-sided instruction sheet, clearly written and illustrated with good photographs. (A pdf file of this sheet can be downloaded from the Ultra Systems website.) While noting some room for improvisation, the instructions suggest that loading a record into an A-Ring is best done on a flat surface, with one grommet hanging over the edge of that surface. The instructions also candidly suggest that, when removing a newly washed record from an A-Ring, one should do so on a sheet of paper towel or similarly absorbent material: Despite good intentions and the Vinyl Cleaner's otherwise fine talents as a Vinyl Dryer, there's no getting around the fact that liquid will collect at those points where grommets grip vinyl. Also, as the record rotates and as each grommet in turn passes through the machine's thin rubber "lips," fluid that collects under the latter is flicked into the air, often landing on the record itself. Your takeaway: This is wet work, so keep at hand a good supply of paper towels, paper napkins, or soft cloths (never facial tissues, which shed their dandruff all over the place).
The A-rings are not a perfect solution, but they did the job effectively and without too much fuss: It's hard for me to imagine how the thing could be better done in the here and now. (Then again, it was hard for me to imagine how the thing could be done at all.) My own doubts were dispelled when I was finally able to really clean my smaller records. I won't soon forget the happy results of my second trial of the A-Rings, when I cleaned the 45rpm single of Paul McCartney's "Another Day" that my sister gave me on my 17th birthday. I despaired of that record ever sounding good—yet, despite the lingering effects of a few severe scratches, the audible effect of removing 44 years' worth of dirt left me somewhat misty-eyed.
I was even more impressed after trying the A-Rings with selections from my growing collection of 10" LPs, including: the Tal Farlow Quartet's eponymous debut (a Japanese reissue of Blue Note 5042); violinist André Gertler, with Paul Kletzki and the Philharmonia Orchestra, performing Berg's Violin Concerto, "To the Memory of an Angel" (UK Columbia 33C 1030); and Charlie Parker's epochal New Sounds in Modern Music, Volume 1 (Savoy MG 9000). The gains heard after cleaning the Parker in particular—more color and impact, much more openness of sound, and, yes, less groove noise—were greater than I'd expected. Incidentally, while I had those three records off the shelf and out of their jackets, I carefully stood them next to each other, edge-down, and compared their diameters: No two were the same, with Parker the smallest, Berg bigger, and Farlow biggest. The differences, though not gross, were noticeable. So there you go.
Hear No Evil: A number of months ago, an industry insider whom I respect offered an unsolicited observation that, if true, could be cause for concern. He suggested that, when ultrasonic cleaning machines of any sort are in use, people in the vicinity can suffer irreparable hearing damage—due in part to the fact that, by definition, ultrasonic soundwaves are inaudible (though this fellow claimed to be able to hear such things without difficulty). Because I found the assertion unconvincing, and because this gentleman is friendly with the manufacturer of a competing, non-ultrasonic record cleaner, I took it with a grain of salt. And yet: To tell a middle-aged man whose livelihood depends on his sense of hearing that his favorite new toy is slowly murdering his ears is to loose a worm of doubt that, left unchecked, can only grow.
So I checked. Consultations with Dr. Google produced various theories, the most alarming of which was a study that suggested the need to protect the users of large, industrial-grade ultrasonic cleaners by enclosing said machines in soundproof enclosures. Yet I know that the Vinyl Cleaner is distinct from such machines—and, apparently, from other record-cleaning machines that use ultrasonic cavitation—in that Audiodesksysteme's product uses only low levels of ultrasonic energy, and during only a portion of the 1-minute, 15-second record-washing cycle.
So I put the question to Ultra Systems' Robert Stein, who had been unaware of any such concern, but took it seriously and promised to investigate. He tested the Vinyl Cleaner with a real-time analyzer and fast Fourier transform but found nothing alarming, reporting that "the increase in noise level at all frequencies is not very large; nothing much happening at all at higher frequencies."
Stein also put the question to Reiner Gläss, the Vinyl Cleaner's designer and manufacturer. Gläss replied that, in accordance with EU regulations, manufacturers are required to have ultrasonic devices tested for safety by an independent laboratory. According to Gläss, the Vinyl Cleaner passed all tests based on pertinent standards (footnote 7) for electromagnetic compatibility (EMC), and he added that the lab technician appended this comment: "There is everything ok and no damage to ears of anybody or even my dog."
Family and close friends know me as a worrier, if not quite a crepehanger; if I harbored the slightest misgivings about the safety of the Audiodesksysteme Gläss Vinyl Cleaner, they have been vanquished. As for the efficacy—and essentialness, and necessity—of this expensive but apparently peerless accessory, I see even less room for doubt.—Art Dudley
---
Footnote 1: I consider
aftermarket
AC cords to be accessories, simply because virtually every commercial audio product that relies on AC power comes with a perfectly good freebie.
Footnote 2: Phono transformers comprise a gray area: Especially in a system in which active preamplification provides sufficient voltage gain for low-output pickups, an outboard transformer could be considered inessential, I suppose.
Footnote 3: Audiodesksysteme Gläss, Seestrasse 1, D 89551 Königsbronn, Germany. Tel./Fax: (49) 07328-7138. Cell: (49) 171-600-1363. Web: www.audiodesksysteme.de. US distributor: Ultra Systems, Inc., 127 Union Square, New Hope, PA 18913. Tel: (215) 862-6570. Fax: (215) 862-4871. Web: www.ultrasystem.com.
Footnote 4: See Michael Fremer's and Fred Kaplan's reviews in the June 2012 and September 2013 issues, and my column in the March 2015 issue.
Footnote 5: Some CD players, most of them drawer loaders, can't sense the presence of a disc whose diameter is less than 120mm.
Footnote 6: Robert Stein of Ultra Systems told me that anyone who purchased an early set of A-Rings, and for whom the smaller Ring has too large an opening, can request a replacement through their dealer or from Ultra Systems.
Footnote 7: EN 55014-1 (2000); EN 55014-1 A1 (2001); EN 55014-1 A2 (2002); EN 61000-3-2 (2000); EN 61000-3-3 (1995); EN 61000-3-3 A1 (2001); EN 55014-2 (1997); and EN 55014-2 A1 (2001).