Au Revoir Dave Wilson (1944-2018)
Wilson Audio founder, Dave Wilson, 73, died of metastatic bone cancer on Saturday evening, May 26. Dave was receiving hospice care at his Utah home, and took his leave with his beloved wife and partner, Sheryl Lee Wilson, and other family members at his side.
Dave's exit came after he had overseen the 2006 expansion of Wilson Audio's factory in Provo, Utah by over 60%; announced, in November 2016, the succession of his son, Daryl Wilson (then 38) as CEO and President of Wilson Audio; and completed his magnum opus/ultimate statement, the limited edition WAMM Master Chronosonic loudspeaker ($685,000/pair). Secure in the knowledge that Daryl, who had already contributed to or taken over the design of at least 32 successful loudspeaker models, he was able to depart with a sense that his legacy as one of the great innovators in loudspeaker design will live on.
Dave was born on September 8, 1944. In interviews conducted in 1990 by John Atkinson, and in 1995 by the late Wes Phillips, Dave explained that he first became fascinated by how LPs can produce sound when he was around 4 years old. On Christmas Eve, 1957, in Sacramento CA, he was unable to sleep because his neighbor, Bob Wills—the co-designer of the Klipschorn—had dragged one of his speakers onto his front porch and was blasting Christmas carols. Thus "infected," Dave soon became fascinated by the first stereo simulcasts, which broadcast one channel on FM, and the other on AM. It didn't take long until he built his first Healthkit and then, his first loudspeaker system.
Dave met his future wife and business/life partner Sheryl Lee in college in Utah. Theirs was a true and enduring union of love and faith, one which produced four children and built one of the world's great loudspeaker companies.
During a period when Dave designed medical equipment at Cutter Laboratories, his audio hobby continued to grow. He started out making "serious" recordings in the late '70s—his first, of James Welch playing concert organ music, was released in 1977—and developed the first generation of the WAMM system, at his home in Novato, CA, by about 1980 as a tool to analyze his recordings. At that time, he had also joined the reviewing staff of The Absolute Sound, with the goal of improving their systems of measurement.
The Wilson Audio Modular Monitor system, aka the WAMM ($88,000/pair), was debuted at Garland Audio in Northern California in 1981. Dave immediately sold two pairs. WAMM was first shown at the 1982 Winter Consumer Electronics Show (WCES). As Dave continued to perfect the design, which was intended as a reference tool for home rather than studio use, Series 3 was released in mid-1983. Seven years later, when WAMM had evolved into the four-tower, 6½' Series 6, Dave had sold 25 WAMM systems in various parts of the world each of which he had personally calibrated, in the space where it resided, for time alignment, equalization, and what he termed "voweling" (to extend transparency).
Not long after Dave released the first WAMMs, Sheryl Lee prompted him to design a smaller and more affordable professional tool that the couple could sell "in reasonable numbers." Thus came the WATT, whose design goals included resolving ability—"low levels of coloration and rapid settling times as measured on the cumulative spectral-decay test"—resolution of dynamic shading, and soundstaging. As with the WAMM, Dave voiced the speaker by starting in the midrange and gradually working up and down, an octave at a time, to extend the window of transparency.
When I visited the Wilson Audio factory in Provo, Utah in December 2016, Sheryl Lee filled in a few more details about the genesis of Wilson Audio. The company began in the couple's garage in Novato, and shifted to three 1000 square-foot rental bays. Plans went askew, however, shortly after Dave had developed the WAMM; he discovered people eager to own a pair, and quit his day job at Cutter to work full-time on loudspeakers.
When Dave dared criticize a pair of amplifiers that a dealer had brought over so that a customer could hear them with the WAMM, said dealer badmouthed Wilson far and wide, and business plummeted. Even after Dave had built two pairs of little location monitors, which he dubbed the White Dwarfs (which morphed into the WATT, or Wilson Audio Tiny Tot), things were slow for a while. The Wilsons lost their house, and took several years until they relocated to Utah, where Sheryl Lee discovered that they could construct a 25,000 square-foot factory just south of Provo for less money than they could rent space.
When the WATT Series I was introduced in 1985/1986—accounts differ—for $4400/pair, it was demmed with a WAMM subwoofer. In 1989, in response to consumer demand, came the Puppy, a far better integrated, dedicated woofer that extended WATT's bass down to at least 30Hz and increased its dynamic range via a fully integrated three-way design complete with built-in passive crossover. The combined WATT/Puppy, whose Series 2 was the speaker of choice of recording engineers Peter McGrath (Harmonia Mundi), Joseph McGee (Los Angeles Philharmonic), and others, eventually became the best-selling over-$10,000/pair loudspeaker in history.
At the time Dave spoke with JA in 1990, Wilson Audio had grown to 15 employees. Nonetheless, Dave still considered Wilson Audio as primarily a recording company. Aware that improvements in WAMM performance were directly related, in part, to improvements in amplification and cable design, he was also contemplating working with John Curl to build an electronic crossover/equalizer to use with the WAMM.
In 1993 came the X-1 Grand SLAMM, which dealers could set up in people's homes. By late 1995, after Wilson Audio had released the WATT Series 5, came the WITT ($8888/pair) and various subwoofers. All told, seven new products were introduced over the next six years, including the WATCH home theater system, MAXX, and Sophia. The X-1's successor, the Alexandria X-2, appeared in 2002. The rest, including Sasha 1 and 2, Alexx, Alexia 1 and 2, Sabrina, Yvette, Alida, Mezzo, Polaris, Duette 1 and 2, Thor's Hammer, and now TuneTot, were released during Dave's lifetime.
Each of us has his or her own memories of Dave, and how his work has enriched our lives. I first met him at his former home in Novato, CA sometime in 1980 or early 1981. I was driven there by Ed Bogas, who had composed a "Skate Song" for me to whistle as "The Voice of Woodstock" in the Fisher-Price storybook & book version of the Peanuts cartoon, "She's a Good Skate, Charlie Brown."
Right after Ed and I recorded "Skate Song," he declared that I had to jump in his car and meet some guy named Dave. Having no idea who Dave was, I soon found myself in a living room dominated, at one end, by the strangest, somewhat haphazard-looking vertical piles of boxes that passed for loudspeakers that I had ever seen. I recall vividly Dave's unbounded enthusiasm, openness and warmth as, upon hearing my music, he excitedly grabbed his decibel meter and declared, "You have a 20dB dynamic range!"
Decades later, after I learned that I had met the Dave Wilson, we reunited at an audio show. That when I discovered that his enthusiasm, warmth, smile, and generosity had remained unchanged. Dave's assistance in helping raise my system to its current reviewer reference level has my undying appreciation.
One of my great joys was when I arranged for Dave, Sheryl Lee, and my husband David, as well as violinist David Abel and pianist Julie Steinberg, whom Dave had recorded, to attend the Vienna Philharmonic's concert in Sonoma State University's Green Hall, which was modeled in part on the Musikverein. The elation we shared that evening in that resounding acoustic will never be forgotten. It is a joy to know that the sound we heard can be accurately reproduced through Dave and Daryl's speakers.
Of his relationship with Dave, Art Dudley writes:
For the longest time, I was out of sync with Dave. I first met him and his family in 1985, in Sea Cliff, NY, when I worked at The Absolute Sound—but I didn't get to know him at the time. And then, for a few years after I left TAS, I became a Linnie—and Wilson Audio loudspeakers were not on the list of things that Linnies were allowed to like. (Looking back, neither were most of the world's other great hi-fi products, but that's neither here nor for there.)
Then two things happened, more or less back to back: In the first half of 2010, I reviewed—and was thoroughly smitten by—Wilson's then-new Sophia Series 2 loudspeaker, which impressed me as the company's most beautiful-sounding product. During the writing of that review, I got to know Dave a little better, and I came to appreciate him not just for having the technical sensibilities of a good recording engineer, but for his sly and at times almost subversive sense of humor. Who knew?
And then, in the second half of 2010, I was diagnosed with eye cancer. I didn't share that news with many people outside of my family, but I did tell my dear friend Peter McGrath, and he passed it on to Dave. And in the months during which I recovered from surgery and acclimated to a regimen of treatments that were decidedly off-putting, there at my side, figuratively, was former cancer patient Dave Wilson, sending me books about people who had fought the same thing (he would always buy one copy for me and one for himself, so that he could read it himself and get up to speed), and calling me regularly to offer encouragement. I learned a lot from his generosity of spirit, his inquisitiveness (and facility with all things scientific), and, yes, his immense, unshakable faith. A dark time was made brighter by Dave's many acts of kindness and friendship.
Those of you who know Dave won't be surprised to hear any of that; those who've missed the opportunity to experience first-hand his warmth and humor and genuineness will still find the same in Sheryl Lee Wilson and the family she and Dave raised together. I can imagine no greater legacy, none more deserved.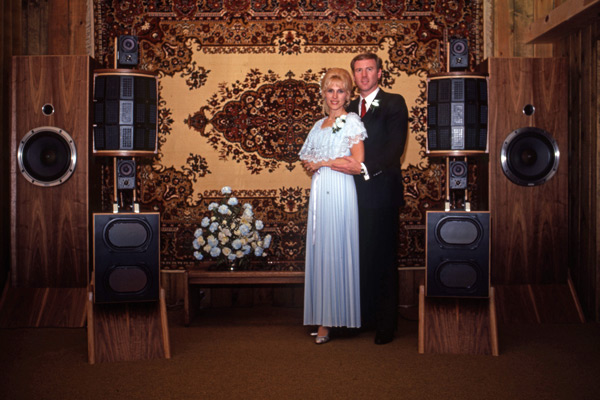 In December 2016, when Dave and I spoke about the WAMM Master Chronosonic at his Utah home, his course as Dave Wilson, recording engineer, had not fundamentally changed. "Frankly, I designed the WAMM Master Chronosonic for me as a tool, and as a thing of beauty," he said. "It was never designed as a product; I intended to build a limited number of them for friends of Wilson who chose to acquire them.
What had changed, however, was Dave's ability to achieve his goals. Discussing his ultimate statement, he said, "The placement of the drivers relative to each other affects the synchronicity of the alignment of the leading edge of the transient. Our patent on how we achieve time alignment dates back to 1984.
"Speed is not a main arbiter of quality; it's just a characteristic . . . It's about time; it's all about time. Flat frequency response, low distortion, extended bandwidth, and accurate timing synchronicity are equally important. It's nice if you have phase coherence, but it is not necessary. What I'm interested in is the synchronicity of the leading edge of each note. If you were to look at what 10 microseconds is on our measuring scale, you'll see that our adjustable driver positioning dissects that line. We are truly splitting hairs."
For Dave, there are no hairs left to split. The Angels, having fine-tuned their harps for his arrival, have welcomed him back home. As he continues his journey, he can rest secure in the knowledge that music recording and reproduction are all the better for his devotion and love.
A formal announcement and obituary, set for release by Wilson Audio on Tuesday May 29, will include funeral information. Sheryl Lee and Daryl have asked that in lieu of sending flowers, contributions be made to a charity.