2009 Records To Die For Page 8
LELAND RUCKER
---
BOB DYLAN: World Gone Wrong
Columbia CK 57590 (CD). 1993. Bob Dylan, prod.; Micajah Ryan, eng. AAD. TT: 43:58
They're calling this the worst economic period since the Great Depression. Fifteen years ago Bob Dylan channeled the Mississippi Sheiks, popular among Great Depression audiences because, as he observes, "their songs are faultlessly made for these modern times." And so they are: Songs of hypocrisy, lust, and economic and political turmoil. Songs blaming the other guy. Songs, written decades ago, that show that, as a species, we haven't changed much. Last week Dylan played a Sheiks song on a radio show organized around the theme of "Blood." "Sitting home alone, you're not gonna write a song like this," he said afterward. We could use more of those these days. (XVII-1)
THE KINKS: Muswell Hillbillies
Velvel 79801SA (SACD/CD). 2004. Ray Davies, prod.; Mike Bobak, Roger Quested, engs. AAD. TT: 44:39
I don't drink that much any more, but when I do, I like to dig out Muswell Hillbillies. I still get the occasional touch of acute schizophrenia disease and find myself screaming something about 20th-century men. In the '70s, we used to catch the Kinks whenever they came to town. Those days, the set was loosely based around Muswell tunes, and reached a climax with Ray Davies' admonition about "demon alcohol." We were sitting right up front one night in 1978 when the guy next to me, already a victim of the demon, splashed his glass of beer right up into Ray's face. Let's just say that Ray didn't react with the same enthusiasm as Country Dick Montana would in years to come. We never saw the Kinks do the "Alcohol" skit again. (XXXI-2)
MARKUS SAUER

---

ÉTHIOPIQUES 10: Tezeta—Ethiopian Blues and Ballads
Buda Musique 82222-2 (CD). 2002. Francis Falceto, series prod.; Wilfrid Harpaillé, remastering. ADD. TT: 74:38
CALVIN RUSSELL: Crossroads
Last Call 3064132 (CD). 2000. Patrick Mathé, prod.; Daniel Laurent, eng. DDD? TT: 68:21
Two faces of the blues for this year's "R2D4," two records from artists with a French connection. Calvin Russell hails from Texas and spent much of his life as a rather shady character, if stories can be believed. Around the age of 40 (he's now 60) he took up music. It's easy to hear where his roots are—there's a deep feeling of the blues in his music, but there's also a lot of country and rock'n'roll. Russell isn't well known in America, it seems, but was discovered by a French producer and regularly tours in France. Crossroads documents an "unplugged" tour, just a man and his guitar. In the liner notes, Russell says he once read one should "Always decorate construction, never construct decoration," and that on this CD the listener can have a look at the construction without decoration and hopefully will find it solid. Solid it most certainly is; an honest record that rewards repeated listening on the strength of both music and lyrics.
The story behind the second CD, Vol.10 in the ongoing éthiopiques series, merits a longer article. Briefly, Frenchman Francis Falceto hears Ethiopian music from the 1970s and tries to contact the musicians, but learns that the music he likes was stifled by the Ethiopian regime. He then discovers Amha Eshèté, the label owner who produced most of the music he likes so much, in exile in Washington. They go to Greece to salvage the master tapes, and are now putting out a series of compilations to international acclaim, while treating the musicians fairly (à la Buena Vista Social Club). This volume collects tracks recorded between 1970 and 1974. The music is accessible to ears that haven't heard much African music; the musicians clearly have listened to a lot of American blues and jazz (John Coltrane would have been proud of some of the sax solos). Fantastic.
JASON VICTOR SERINUS

---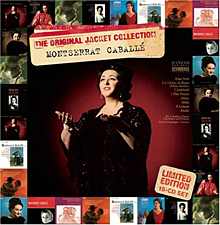 MONTSERRAT CABALLË: The Original Jacket Collection
CD transfers of 15 early LPs, including music by Bellini, Donizetti, Granados, Rossini, Strauss, Verdi
Montserrat Caballé, soprano; various conductors, orchestras
Sony BMG Masterworks 88697270722 (10 CDs). 1964–1972/2008. Charles Gerhardt, Richard Mohr, others, prods.; Kenneth Wilkinson, Edwin Begley, Anthony Salvatore, Robert Auger, others, engs. ADD. TT: 12:04:00

Here she is in her glorious prime, the exquisite soprano with the angelically floated high notes to die for. This surfeit of riches includes Caballé's debut recital on RCA; even earlier albums of Zarzuela arias and songs by Granados and Strauss; the duet LPs with Shirley Verrett and Bernabé Marti; the Donizetti, Verdi, and Rossini "rarities" discs; and complete recordings of Norma and Salome (without translations). There's only one major dud: Caballé's Strauss lieder often misfires, her voice and phrasing horribly unidiomatic, though her Salome is marvelously accented. Otherwise, this counts as one of the great vocal collections of the latter half of the 20th century.
STRAUSS: Don Juan, Eine Alpensinfonie
Mariss Jansons, Royal Concertgebouw Orchestra
RCO Live 08006 (SACD/CD). 2008. Everett Porter, prod., eng., ed.; Matthijs Ruijter, Peter Cerbin, asst. engs. DSD 5.0 Surround. TT: 70:22
Richard Strauss's Alpine Symphony is, I suppose, a guilty pleasure. For some, the +100-piece orchestra and 16 offstage brass, along with cowbells, a wind machine, and a holy organ at the summit, are all too much to be taken seriously. But this 53-minute tone poem, intended as a nature-worshipping exercise in moral purification and a repudiation of Christianity, overflows with lush scoring, thrilling climaxes, and a surfeit of romantic excess. I love it. Even in two-channel CD, the extra resolution afforded by DSD trumps recent efforts from Thielemann and Wit. The symphony is paired with a heroic, sensual Don Juan that rivals Fritz Reiner's. This SACD will highlight every system's glories and shortcomings.
DAVID SOKOL

---

CIRCUS GUY: The Lovely Luna
Culbrain CUBR001 (CD). 1999. John Sharples, prod.; Bruce Hathaway, Greg Frey, engs. ADD. TT: 44:44

This lost gem from late in the last millennium is primarily the work of one guy, singer-songwriter-guitarist Michael Culhane, and his crack New York band. After sold-out gigs at such hotspots as the Mercury Lounge, Culhane and company put together this album of extraordinarily well-crafted, power-pop–tinged confections in the Bill Lloyd and Aimee Mann traditions (yes, it's that good, and yes, there's a hidden track). Each of the first six people I played it for had a different favorite. Culhane, with no sense of irony, names George Harrison, Curtis Mayfield, Blue Oyster Cult, and Glen Campbell among his musical heroes, and writes songs that are simultaneously smart and ridiculously catchy. "I Wrote It Down," inspired by having unexpectedly stumbled, years later, across an old grade-school journal, begins with a Middle East–inflected chorus (Culhane's mom grew up in Baghdad) but quickly vamps into delicious contemporary rock. "Enchanted" is that rare love song that refuses to get gushy. Its video was shot in the shadows of the pyramids (thanks, YouTube). Why Egypt? The band regularly did post-9/11 goodwill tours, sponsored by the State Department, that took them everywhere from Kuwait and Syria to Israel and Palestine. If that indicates how uncynical Culhane is, that's the point. His sweet, unjaded optimism comes through loud and clear on The Lovely Luna, whose songs get better with every listen. A 10th-anniversary reissue is imminent.
NEIL YOUNG & CRAZY HORSE: Ragged Glory
Reprise 26315-2 (CD). 1990. David Briggs, Neil Young, prods.; John Hanlon, eng.; Tim Mulligan, digital eng. DDD. TT: 62:42
It's been a remarkable run from "Cinnamon Girl" to "Let's Impeach the President," but Neil Young has constantly reinvented himself, from starry-eyed folkie to propagator of defiant metal machine music. But it's his electric, electrifying work with the band Crazy Horse that shines the brightest, and Ragged Glory couldn't be more appropriately named. Scorching guitars and cymbals crashing first in one channel, then the other, abound. And he's always saying something. "Love and Only Love" is a jubilant +10-minute ode to what matters most; "F*!#in' Up," not to be played for impressionable young ears, is a self-effacing song from the era of Bush I that could be speaking to 43's presidency if only that one could have admitted to having made a mistake once in a while. Notable is how seamlessly this set flows from track to track, with well-placed feedback screech providing some apt transitions. The only non-original, a cover of the lighter-weight garage-rock staple "Farmer John," breaks the spell, but only briefly. The bottom line: Young Neil (he was an ultra-youthful 45 when this was released) never loses his sense of melody and urgency, and this hopeful, beautiful noise refuses to age. (XIV-2)
JOHN SWENSON

---
THE KINKS: Lola versus Powerman and the Moneygoround, Part One
Reprise 6423 (LP). 1970. Ray Davies, prod.; no engs. listed. AAA. TT: 40:15

The Kinks, arguably the best rock band ever, were led by Ray Davies, one of the greatest British literary minds of the latter half of the 20th century. His younger brother, Dave, is legendary in his own right for having invented the proto–heavy-metal riff that propelled the band's sound. Dave Davies is also an outstanding writer, and the best Kinks albums have a balance of songs by both brothers. Lola . . . takes its title from Ray's gender-bending hit, a scandal-sheet theme that turns on a witty trope worthy of Oscar Wilde. The album is a song cycle about the wretchedness of the record industry, his observations delivered in a set of songs that includes "Powerman," "Denmark Street," "The Moneygoround," and one of my favorite Kinks rockers, "Top of the Pops." The album also includes Ray's transcendent "Apeman" and a beautiful love song by Dave, "Strangers."
THELONIOUS MONK: The Best of the Blue Note Years
Thelonious Monk, piano; Sahib Shihab, alto saxophone; Billy Smith, tenor saxophone; George Taitt, trumpet; Robert Paige, bass; Art Blakey, drums; Milt Jackson, vibes; others
Blue Note EMI 956362 (CD). 1947–52/1991. Alfred Lion, prod.; various engs. AAD? TT: 50:10
This is the music that changed the world. Monk's 1947–52 recordings for Blue Note are some of the most influential compositions in jazz history. My preferred way to listen to this material is the two-LP Complete Genius release of 1976, which collects everything Monk recorded for Blue Note as a leader. You have to buy an unwieldy four-disc set to get that same material on CD, but this collection touches all the highlights without breaking the bank. Monk's exotic harmonic shapes, unforgettable melodies, and unique hippity-hop rhythms were futuristic when originally recorded and are completely contemporary today, from the haunting dreamscape of "'Round Midnight" through "In Walked Bud," "Monk's Mood," "Thelonious," "Evidence," "Epistrophy," "Straight, No Chaser," "Mysterioso," "Four in One," and "Criss Cross." Brilliant sidemen, particularly Art Blakey on drums and Milt Jackson on vibraphone, share Monk's future vision of jazz with incandescent clairvoyance in these sessions.