2009 Records To Die For Page 4
MICHAEL FREMER
---
ROY ORBISON: The All-Time Greatest Hits
Monument/Columbia/Mobile Fidelity Sound Lab MFSL 2-304 (2 180gm LPs). 1972/2008. Fred Foster, prod.; Bill Porter, eng.; Rob LoVerde, Shawn R. Britten, remastering. AAA. TT: 52:21
Roy Orbison belongs in any record collection wanting to be called one. This ultimate two-LP set from his Monument era (the years that really count) contains all the big hits and some of the lesser ones, like "Working for the Man," that mash to a campy pulp "Chain Gang," "16 Tons," and maybe even "The Banana Boat Song." I don't care if you have the original Monument/Columbia issue, the DCC Compact Classics or S&P 180gm versions, or all of them—this new one from Mobile Fidelity is easily the best-sounding, and by an ear-bulging margin. You'll hear stuff you've never heard before, and what you have heard before, you've never heard sound this good. (XVI-2)
RACHEL'S: Handwriting
Quarterstick QS 30 (165gm LP). 1995. Rachel's, prods.; Tony French, Bob Weston, others, engs.; John Loder, mastering. AAA. TT: 44:00
I can't remember if I've aleady R2D4'd this. It deserves a second go around if I did and I saw a copy at Amoeba recently so I bet it's still in print. Rachel's is a loose affiliation of young, classically trained musicians making eclectic, postmodern classical acoustic music. Here they also do jazz on one tune, wickedly crossing Astor Piazzolla and Angelo Badalamente. The music is extremely visual, and so is the minimally miked, analog recording, which is stunningly three-dimensional and harmonically rich. The packaging is special. The only thing wrong with this record is that it's not better known. Please do something about that.
ANDY GILBERT

---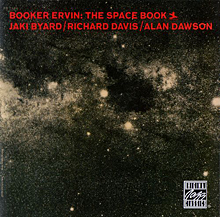 BOOKER ERVIN: The Space Book
Booker Ervin, tenor saxophone; Jaki Byard, piano; Richard Davis, bass; Alan Dawson, drums
Prestige OJCCD896-2 (CD). 1964/1996. Don Schlitten, prod.; Phil De Lancie, remastering. ADD. TT: 35:38

I can't get over Booker Ervin's sound. Bigger than Texas, limber and elastic, his tenor tone is an existential wail that seems to reach out to the stars. Recorded in a single session in early October 1964, this music captures the gathering tidal force of the 1960s, driven by Alan Dawson's beautifully articulated cymbal work and Jaki Byard's continuously startling piano. But it's the ill-fated Ervin, struck down by a heart attack before his 40th birthday, who keeps me coming back to get lost in his achingly lugubrious rendition of "I Can't Get Started," a definitive ballad statement that unfolds in Matrix time.
RANDY WESTON/MELBA LISTON: Volcano Blues
Randy Weston, piano; Melba Liston, arrangements; Wallace Roney, trumpet; Benny Powell, trombone; Talib Kibwe, flute, alto & soprano saxophone; Teddy Edwards, tenor saxophone; Hamiet Bluiett, baritone saxophone; Johnny Copeland, vocals, acoustic guitar; Ted Dunbar; guitar; Jamil Nasser, bass; Charlie Persip, drums; Obo Addy, Neil Clarke, percussion
Antilles 314 519 269-2 (CD). 1993. Randy Weston, Brian Bacchus, Jean-Philippe Allard, prods. DDD. TT: 53:28
In the sizzling Los Angeles summer of 1991, Melba Liston captured my heart. A stroke had disabled her left hand, but she still breathed music, and I watched as she crafted succulent nine-piece arrangements from Weston's cassettes. A discursive study of the blues, this album seems to sum up their relationship, from their seminal African-jazz statement "Uhuru Africa" to their love of Dizzy and Monk, Ellington and Basie. I think of Liston toiling in her studio, staring at her Macintosh screen, conjuring a luxuriant world of sound connecting Casablanca and Ghana with New Orleans and New York.
LARRY GREENHILL

---

GÓRECKI: Symphony 3, Symphony of Sorrowful Songs
Zofia Kilanowicz, soprano; Henryk Górecki, National Polish Radio Symphony Orchestra
Polskie Radio SA PR SACD 1 (SACD/CD). 2003. Jan Popis, prod.; Andrew Lipinski, prod., eng. DDD. TT: 63:28

I first met recording engineer Andrew Lipinski when I reviewed his monitor loudspeaker, the Lipinski L-707, for the December 2005 edition of Stereophile (Vol.28 No.12). Three years later, at the 2008 CES, he handed me this SACD/CD. I first played it as background music for dinner guests, but Zofia Kilanowicz's sorrowful soprano was so good it stopped conversation. Later, this disc became my favorite for lush orchestral sound—it made my solid-state electronics sound like 1970s-vintage tube gear. The long first movement opens with a slow, baleful dirge on the double basses that is entirely involving. The second and third movements highlight Kilanowicz's soprano, which get one's attention even when played at background levels. Lipinski's engineering talents have captured a totally addicting string tone and hall ambience that make me play this disc over and over.
MARY PRESTON: Organ Odyssey
Works for solo organ by Ives, Karg-Elert, La Montaine, Mendelssohn, Messiaen, Vierne, Widor
Mary Preston, Lay Family Fisk (Op.100) Concert Organ, Meyerson Symphony Center, Dallas, Texas
Reference RR-113 (24-bit HDCD). 2007. J. Tamblyn Henderson, Jr., prod.; Keith O. Johnson, eng. DDD. TT: 57:14
I learned long ago to take seriously any e-mail announcement by Janice Mancuso of Reference Recordings. This past year I got very excited when she notified me that Keith O. Johnson, the label's recording engineer, had recorded a solo pipe organ in the same hall in which he'd recorded my favorite choral work, John Rutter's Requiem (an earlier R2D4 of mine). I was not disappointed. While Johnson reproduces the instrument's deep-bass pedal notes, it's the midrange and treble that captivate me. Mendelssohn's Organ Sonata 1 captures what I hear in live organ recitals but very rarely from recordings: the mixture of brightness and color, with none of that hard, edgy, irritating quality. When I crank up the volume, the music becomes more dynamic without becoming harsh. Although La Montaine's Even Song is played quietly, the final low-pedal note shakes my room. The disc ends with the ever-popular Toccata from Widor's Organ Symphony 5, played with a mixture of joy, enthusiasm, brightness, and superb technical skill that is breathtaking.
JON IVERSON

---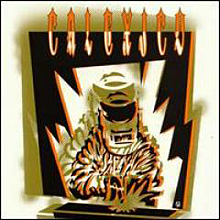 CALEXICO: Hot Rail
Quarterstick QS 62(CD). 2000. Joey Burns, John Convertino, prods.; Craig Schumacher, Nick Luca, engs. DDD? TT: 53:17

Seems to me that any kid growing up in the 1960s has been pre-seasoned for the music of Calexico. We were repeatedly peppered with romantic notions of neo-Mexicali: Clint Eastwood westerns, Herb Alpert shuffles, and salsa in a jar. It is this cultural amalgamation of North American fantasies that Calexico—two gringos from Tucson—taps into so well: moody vocals, accordions, mariachi trumpets, marimbas, maracas, and strumming, twangy guitars. And when they aren't strolling through a dusty town south of the border, they slither into a somnambulant side alley to conjure Tom Waits without the raspy growl.
FLEET FOXES: Fleet Foxes/Sun Giant
Sub Pop SPCD 777, SPCD 781 (CDs). 2008. Phil Elk, prod., eng., mix. DDD? TT (both): 58:21
What a blast of fresh spring air: flowery harmonies rivaling the Beach Boys, earthy hippie sensibilities, and catchy tunes sprouting everywhere. These two CDs (Sun Giant is a five-song EP) each have key songs and really could have been released on one disc—they total less than 60 minutes and were recorded within months of each other, then released in reverse chronological order. Buy them together (but skip the import, which combines the two discs while omitting one song). The recordings aren't without problems: too much wet reverb, and the bass is tubby and blurred. But most else sounds wonderful. The songwriting is first-rate, the album covers are exquisite, and Fleet Foxes' distinctive sound will beguile.