2009 Records To Die For Page 3
TOM CONRAD
---
FRED HERSCH: At Maybeck
Fred Hersch, piano
Concord Jazz CCD-4596 (CD). 1994. Nick Phillips, prod.; Dave Luke, eng. DDD. TT: 67:32
Whoever (Elvis Costello? Frank Zappa?) said that writing about music is like dancing about architecture was right. And the defiantly subjective, shamelessly sentimental, megalomaniacal act of designating a "Record To Die For" is even more so. At Maybeck, Concord's series of beautifully recorded solo-piano concerts in Maybeck Recital Hall in Berkeley, California, eventually reached 42 volumes. Almost all are now out of print, but as of this writing, Vol.31, by Fred Hersch, is available for $8.98 through Concord's website. It contains rapturous interpretations of "Haunted Heart" and "If I Loved You," and you'd be an utter fool to not buy it. (XVII-10)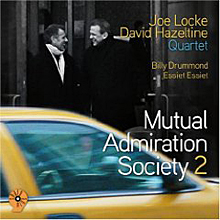 JOE LOCKE/DAVID HAZELTINE QUARTET: Mutual Admiration Society
Joe Locke, vibraphone; David Hazeltine, piano; Essiet Essiet, bass; Billy Drummond, drums
Sharp Nine CD 1015-2 (CD). 1999. Marc Edelman, prod.; Michael Marciano, eng. ADD. TT: 59:47
True magic doesn't happen all that often, not even to labels with high artistic and sonic standards like Sharp Nine. But on a September day in 1998, the Muse spoke to everyone in Systems Two Studio in Brooklyn, starting with engineer Mike Marciano. His analog recording captures the complex sonorities of the vibraphone with an exactitude that has never been surpassed. Locke and Hazeltine play as if shot into this session from cannons. Their commingling of piano and vibes has orchestral sweep, harmonic density, crisp clarity, and merciless swing. Torrential creativity overwhelms and accelerates nominal ballads like "Spring Will Be a Little Late This Year" and "For All We Know."
BRIAN DAMKROGER

---
BILL EVANS TRIO: Everybody Digs Bill Evans
Bill Evans, piano; Sam Jones, bass; Philly Joe Jones, drums
Riverside 1129 (LP). 1958. Orrin Keepnews, prod.; Jack Higgens, eng. AAA.
JVC JVCXR-0020-2 (CD). 1997. Akira Taguchi, reissue prod.; Alan Yoshida, remastering. AAD. TT: 49:24

Everybody digs Bill Evans—at least, everyone I know does. Evans is the quintessential jazz pianist: introspective, nuanced, technically brilliant but free of gratuitous showmanship, and the embodiment of cool. Everybody Digs displays these elements across a range of material, but it's the three unaccompanied tracks—"Lucky to Be Me," "Peace Piece," and "Epilogue"—that showcase his style and talent. JVC's XRCD sound and production are superb and true to the original in every way: delicate textures, realistic dynamics, tape hiss, and all. Dim the lights, cue up "Oleo," and swirl the rocks in your scotch. Dig it? (XX-9)
IAN HUNTER: The Truth, the Whole Truth, and Nuthin' But the Truth
Secret SMACD906 (2 CDs). 2006. Prod., eng., not listed. DDD. TT: 111:30
These two discs capture a 2005 performance at London's Astoria Theater, and includes songs spanning Hunter's Mott the Hoople and solo careers. I might have included "One of the Boys" or "Jerkin' Crocus," but overall, it's a great set. The early material is still fresh and vital, and the new stuff holds its own amid a career's worth of gems. Mick Ralphs' guitar work is great, Hunter's voice has roughened nicely, and the backup band manages to be chaotic and note-perfect at the same time. It's tough to pick a favorite song, but "Once Bitten Twice Shy" alone would justify the purchase. This is as good as rock'n'roll gets.
ROBERT DEUTSCH

---

LUCIANO PAVAROTTI: In Concert
Arias by Bononcini, Handel, Scarlatti, others
Luciano Pavarotti, tenor; Richard Bonynge, Orchestra del Teatro Comunale di Bologna
London/Decca OS-226391 (LP). 1974. Ray Minshull, prod.; Colin Moorfoot, eng. AAA. TT: 47:35

I first heard Luciano Pavarotti live in 1973, at a concert at Toronto's Massey Hall. He was touted as an up-and-coming operatic tenor, but when I saw the list of pieces on that night's program I was disappointed. Rather than the opera arias that I was expecting, he was singing the Arie Antiche—Italian songs often assigned to young singers by their voice teachers, pieces considered relatively undemanding vocally. I'd sung some of these myself, and had heard them performed by fellow voice students. What was the big deal?

Then Pavarotti sang. It was "Già il sole dal Gange," with which I was very familiar. Hmm. So that's what it's supposed to sound like! This was no singing exercise but a beautiful song, and I could tell that this singer was fully "inside" it, meaning every word. And there was the voice itself, agile, with a uniquely beautiful timbre, and, while not particularly powerful, able to penetrate the farthest reaches of the hall (I was in the upper balcony) even when singing softly.

This recording (it's also available on CD) is of that repertoire, and captures the freshness and beauty of Pavarotti's voice as well as his artistry.
FRANK SINATRA: Come Fly With Me
Billy May, Nelson Riddle, conductors
Capitol CDP 7 48469 2 (CD). 1957/1987. Voyle Gilmore, prod.; Larry Walsh, remastering. ADD? TT: 46:16
Recorded in October 1957, with three travel-themed tracks recorded in the same decade added for the CD edition, this is Sinatra at his best: supremely confident, every song telling a story, the voice intimate or soaring as needed. And the songs—"Around the World," "April in Paris," "Come Fly With Me," "On the Road to Mandalay"—well, they don't write them like that any more. The recording quality is variable, with the sound of the orchestra at times a bit harsh, but the voice has a presence that is sometimes startling.
ART DUDLEY

---
RICHIE HAVENS: Nobody Left to Crown
Verve Forecast B0011631-02 (CD). 2008. Richie Havens, Brian Bacchus, prods.; Jay Newland, prod., eng.; Tom Gloady, Russell Hoppe, engs. DDD. TT: 51:22

Richie Havens isn't the only Woodstock veteran to remain interesting, but he may be the only one who can still make a record this vital. Nobody Left to Crown combines seven new Havens originals with a thoughtful selection of covers—his performance of Peter Yarrow's "The Great Mandala" is stunning—and a sound that hews close to that of his earliest records without seeming the least bit stale or unadventurous. Thanks are due in part to cellist Stephanie Winters and the Gerry Conway–esque drumming of Shawn Pelton, but the real stars are Havens' voice—and guitar: His is the virtuosity of earnestness, and his chording remains as unmistakable as ever. This would be essential listening from any artist, at any time of our lives; coming as it does from one of the wisest voices on the scene, it's an event.
THE QUINTET OF THE HOT CLUB OF FRANCE: Hot Jazz
Stéphane Grappelli, violin; Django Reinhardt, Joseph Reinhardt, Roger Chaput, guitar; Louis Vola, bass
RCA Victor HJ-6 (4 78rpm shellac records). 1936–37. Unknown prod., unknown eng. A. (Recorded and mastered, unedited, in one step.) TT: 22:45
Timeless though their achievements appear—they invented a new type of jazz ensemble, set new standards for instrumental technique, and influenced countless younger musicians, from Wes Montgomery to Nickel Creek—the seminal work of guitarist Django Reinhardt and violinist Stéphane Grappelli is forever associated with a certain era when dread and abandon mixed to make the craziest and most fetching music the modern West has known. That connection is made clearest by hearing their Quintet's primal recordings at their primal best: the original, unprocessed, direct-to-disc 78s, from which the astonishing force of every note is loosed as from nothing else.
And so it goes here: Most of these eight numbers—"Sweet Chorus," "Runnin' Wild," "Solitude," "Miss Annabelle Lee," Django's own "Mystery Pacific," and three others—are available on numberless LP and CD collections; I would no more send you in that direction than I'd advise you to try snuggling up with your computer to read downloaded versions of The Faerie Queene or Black Elk Speaks. Copies of 78rpm shellacs of this well-chosen collection are available in respectable condition, albeit at a price; the gear that'll unlock it is out there, too. It doesn't matter if you're old enough to remember the format, only that you remember what it's like when a work of art changes your point of view.