2009 Records To Die For Page 5
FRED KAPLAN
---
J.S. BACH: Cantatas BWV 82 & 199
Lorraine Hunt Lieberson, mezzo-soprano; Craig Smith, Orchestra of Emmanuel Music
Nonesuch 79692-2 (CD). 2003. Martin Sauer, prod.; Philipp Nedel, Marc Donahue, engs. DDD. TT: 50:42
"Records To Die For"? So let's talk about death. There may be no more sorrowful Bach cantata than BWV 82, "Ich habe genug" (I have enough), and no more grippingly sorrowful rendition than this. Lieberson recorded it knowing that she was dying of cancer, and though this deepens the poignancy, it's her performance that rivets. She sings with a modern vibrato that I usually don't like in Bach, but her voice is so angelic, and the emotion so vivid, that I'm won over; it really does send chills down my spine. The Boston-based chamber orchestra is superb, as is the lush, detailed sound.
CHARLIE PARKER: The Complete Savoy and Dial Studio Recordings
Charlie Parker, alto saxophone; Dizzy Gillespie, Miles Davis, trumpet; Bud Powell, Erroll Garner, piano; Max Roach, drums; many others
Savoy/Atlantic 92911-2 (8 CDs). 1944–48/2000. Teddy Reig, Ross Russell, prods.; Orrin Keepnews, reissue prod.; Paul Reid III, restoration. AAD. TT: 9:00:17
Forty years ago, when I began listening to jazz, the first few dozen albums I bought were all by Charlie Parker. Later I branched out to discover the diverse wonders of the others. I don't listen to Bird as much as I used to, but when I do, I reexperience the ecstasy, the perfection—so intricate and heady, yet no less gorgeous and bluesy: there's nothing like it, and probably never will be. If I left this boxed set behind, at some point I would miss it horribly. The sound isn't great, but the engineers of this particular edition have cleaned it up as well as any. (XXIV-1)
DAVID LANDER

---
MEMPHIS COUNTRY BLUES: Greatest Hits Vol.1
Will Batts, Cannon's Jug Stompers, Sleepy John Estes and Hammie Nixon, Hattie Hart, Jim Jackson and Tampa Red, Furry Lewis, Noah Lewis, Memphis Jug Band, Memphis Minnie, Hambone Willie Newbern, Frank Stokes, Will Weldon, Bukka White, Robert Wilkins, others
Memphis Archives MA7001 (CD). 1994. Richard James Hite, prod.; Eddie Dattel, exec. prod.; Rick Caughron, eng. ADD. TT: 50:44

Eddie Dattel, bred and based in Memphis, champions hometown contemporaries on his Inside Sounds label, but reserves his Memphis Archives imprint for classics like this anthology. It comprises selections by early blues performers associated with the traditionally musical city, and Dattel credits its producer, the late Richard Hite, who was also Canned Heat's bassist, for choosing archival jewels that cast their glow beyond the boundaries of purist circles. When Hite selected these 17 performances from 78rpm discs pressed in the 1920s and '30s, he might have been stringing firecrackers—there's not a dud among them. Hite and engineer Rick Caughron transferred the material meticulously, using just enough filtering to minimize artifacts while preserving the music and its vintage character. Some of these artists were rediscovered decades later and wreathed with laurel, while others vanished, yet all deliver compelling performances here. Vocals are vibrant, ensemble playing is superb, and the spirit that inspired Bob Dylan, the Rolling Stones, and other latter-day apostles of the blues is evident throughout.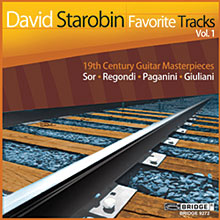 DAVID STAROBIN: Favorite Tracks, Vol.1
Works for guitar by Giuliani, Paganini, Regondi, Sor
David Starobin, Oren Fader, guitar; Pina Carmirelli, violin
Bridge 9272 (CD). 2008. David Starobin, Michael Calvert, William Anderson, prods.; David Hancock, Paul Zinman, Ben Rizzi, engs.; Adam Abeshouse, mastering. ADD/DDD. TT: 61:01
As I write this in mid-November 2008, the world desperately needs champions. So meet David and Becky Starobin, who own Bridge Records and have been clear-sighted and nimble enough to outmaneuver their blinkered, big-footed rivals. For over a quarter century the Starobins have, like knights, jousted on behalf of the contemporary composers their label spotlights, and more than 350 new classical-guitar compositions have been written especially for David, who is a heralded virtuoso. He has recorded several of those pieces on other Bridge CDs, but he devotes this one—which he credits his better half with conceiving—to 19th-century works culled from recordings he made between 1979 and 1994. It's a hugely gratifying hour of music by Giuliani, Paganini, Regondi, and Sor, newly remastered for better sound, and an excellent choice for all classical-guitar enthusiasts as well as those who still tend to underrate the instrument.
RICHARD LEHNERT

---
HOWARD SHORE: The Lord of the Rings: The Complete Recordings
Howard Shore, London Philharmonic, London Voices, London Oratory School Schola; with Enya, Renée Fleming, James Galway, Annie Lennox, Mabel Faletolu, Elizabeth Fraser, Edward Ross, Ben Del Maestro, Miriam Stockley, Hilary Summers, Emiliana Torrini, Isabel Bayrakdarian, Sheila Chandra, Sissel, others
The Fellowship of the Ring
Reprise 49454-2 (3 CDs, 1 DVD-A). 2005. John Kurlander, mix. TT: 3:00:55
The Two Towers
Reprise 44376-2 (3 CDs, 1 DVD-A). 2006. Peter Cobbin, mix. TT: 3:08:42
The Return of the King
Reprise 162044-2 (4 CDs, 1 DVD-A). 2007. Peter Cobbin, mix. TT: 3:49:46
All: Howard Shore, prod.; John Kurlander, eng. DDD. TT: 9:59:23

Howard Shore labored for several years on his music for Peter Jackson's The Lord of the Rings, and every minute's craft is audible in this 10 hours of music. Shore acknowledges having taken as his model that other epic tale of a cursed ring, Richard Wagner's Der Ring des Nibelungen, in composing interwoven families of leitmotifs to represent the various creatures, species, characters, tribes, peoples, places, and things of J.R.R. Tolkien's vast novel. In some cases Shore has outdone Wagner; his sinuous theme for the One Ring is far more convincing an embodiment of fatally unsatisfiable yearning than is Wagner's strangely pale motif for Alberich's ring; and Shore's theme for the equestrian Rohirrim is at least as dark, tragic, and noble as the one Wagner wrote for his Volsungs. Shore is also a sensitive and masterful conductor—throughout, the London Philharmonic heaves and sighs in the rhythms of breath, sounding like a huge restive beast. Unlike most film composers, who are seldom given more than a few weeks to compose, rehearse, record, and edit, Shore had time to orchestrate these immense scores himself, and his close attention to details of color, texture, voicing, and inner harmonies is unprecedented for the genre. These are perhaps the best-crafted film scores ever written, and have genuine musical substance; The Return of the King's "The Lighting of the Beacons" is the most inspiring marriage of music and film image I have ever heard and seen. Though hardly examples of audiophile engineering—the number of microphones probably ran into the high two digits—these are also some of the most vivid, well-balanced, three-dimensional, full-bodied orchestral recordings I have heard. The senses of space and orchestral texture (the cymbals! the low strings!) in the 24-bit/48kHz hi-rez versions of all 10 hours of music on the included DVD-Audio discs are not subtle in their differences from the sound on the CDs, which sound plenty good themselves. The sumptuous and meticulously antiqued packaging matches the aural richness and the music's own high seriousness. Shore's deep generosity in his work here is audible and humbling.

ROBERT LEVINE

---

HAYDN: The Creation
Sandrine Piau, Miah Persson, sopranos; Mark Padmore, tenor; Peter Harvey, baritone; Neal Davies, bass; Chetham's Chamber Choir, Gabrieli Consort of Players, Paul McCreesh
Archiv 477 7361 (2 CDs). 2008. Nicholas Parker, prod.; Jonathan Stokes, eng. DDD. TT: 108:56

Sung in English, this spotless recording uses the forces Haydn led at a 1799 performance—200 players and singers—and the effect is epic: the world is being created. The massed brasses and winds, along with the huge choir, remind the listener of nothing short of a Technicolor, Cecil B. De Mille spectacular, except that there's no kitsch and the details are never blurred—the use of period instruments assures clarity, with flutes like birds, timpani like God's wake-up calls, and the gut strings alternately mellow and fiercely attacked for emphasis. McCreesh goes for color and expressiveness without being Romantic, and the recording is resonant, bright, and roomy, capturing everything from the gigantic finales of choruses to the softest solo soprano pianissimo without fidgeting. The soloists are superb as well. Put it on and sit back. (XXXI-7)
RADIOHEAD: In Rainbows
TBD/ATO ATCD47 (CD). 2008. Mark Stent, prod.; Nigel Godrich, prod., eng. DDD? TT: 42:34
So much was made of the marketing of this CD that the music almost got lost. Well, it's the most approachable album Radiohead has made, but it never cuts corners; Thom Yorke's vocals are more aggressive than introverted this time, but he still knows how to pine. More rock than psychedelia, they've added pianos, celestas, and the wonderful, wacky Ondes Martenot to their palette, which also includes strings and varied electronica. I'm not willing to claim that this is a cheerful CD, but it includes a real love song (the stripped-down "House of Cards"), and a kid's chorus (in "15 Step") that contradicts Yorke's darkness. "Faust Arp" is actually reminiscent of the Beatles. But true fans need not fear—the final song, "Videotape," shows Radiohead at their most layered and complex. What gorgeous music.