A Winning Combination: Parasound–KEF–Wireworld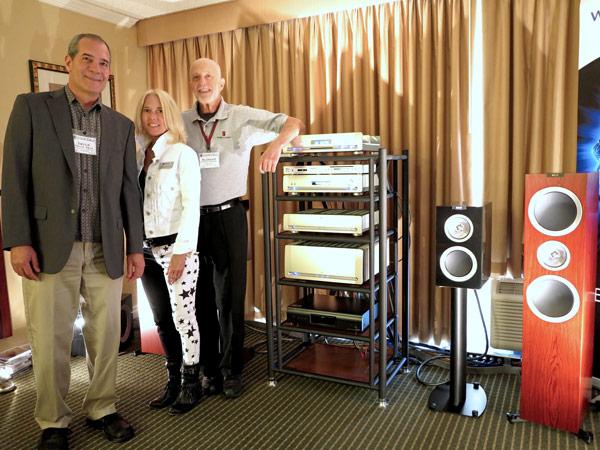 This system is worth learning about, because it nailed tonalities spot-on. After going room-to-room for three days, I assure you that getting tonality and timbre spot-on is no mean feat. In fact, it's a pretty elusive goal for most components.
Some rooms at shows are like my spouse's culinary concoctions. He goes on the net, finds 10 recipes for his dish or dessert of choice, picks and chooses among their ingredients, mixes everything together, closes his eyes (well, at least I do), and prays for the best. Usually it works, sometimes spectacularly. Other times... well, let's say that I'm a dedicated recycler.
Alas, some rooms are like recipes that can never find their way home. Manufacturers who have never met become partners, and, lo and behold, preamplifier A is matched with speaker B. Six months later, Stereophile reviews speaker B, and John Atkinson declares, at the end of his measurements, "Given such and such parameters, speaker B would mate best with a preamplifier whose characteristics are the polar opposite of preamplifier A's." And you wonder why rooms like that just don't sound right.
Well, boys and girls, the sound produced by the combination of Parasound and KEF, and transmitted faithfully by Wireworld cabling, was anything but a chef's nightmare. Tonality was astoundingly neutral and correct, and bass impact and control were superb. Given the relatively low price of the components—relatively, I said, before someone tries to chop my head off—this system sound a helluva lot better than many of the far more expensive set-ups I encountered at the Hilton.
Listening to two tracks from the new Nonesuch recording of music by Penderecki and Greenwood that Robert Baird made the June issue's "Recording of the Month," I couldn't help but marvel at how realistic the depiction of airplane engines was. No matter what instrumental combinations were thrown at this system, it handled them all in stride, and with correct tonality. At the end of day one, I thought it was the best moderately priced system with solid-state electronics I had heard.
You may wish to write these components down.
From KEF: R300 bookshelf loudspeakers ($1800/pair) and R900 floorstanders ($5000/pair). These speakers now sport a new wood finish, and use a Uni-Q driver similar to that in the Blade.
From Parasound: A CD1 CD player ($4500), due out end of summer, designed by Holm Acoustics, and destined to cause waves; Zcd CD player ($400)—making its show debut, but not used during my audition; Zdac ($475), also designed by Holm Acoustics, upsamples to 192 and reclocks to 384; P 7 two-channel preamp with 7.1 analog inputs and outputs and a home theater bypass ($2000); A 23 power amplifier ($950), 125W/channel into 8 ohm, 225 into 4, with circuit topology by John Curl; and an A 31 three-channel amp ($3000), 250W into 8 ohm, 400 into 4.
Wireworld: On the R900, Platinum Eclipse interconnects ($3000/1m pair) & speaker cables ($13,000/2m pair) and Silver Electra power cords ($700/2m); on the R300, Oasis interconnects ($100/1m), Equinox speaker cables ($700/2.5m pair), and Electra power cords ($365/2m).