Wilson and VTL Dance at Music Lovers
At Montreal's Salon Son et Image earlier this year, Peter McGrath of Wilson Audio (left in photo) found the pairing of the company's Sophia 3 loudspeaker ($18,000/pair) and VTL's MB-185 Series III, EL-34-based monoblocks ($15,000/pair) and VTL TL-5.5 preamp w/phono ($10,500) so felicitous that he proposed that he and VTL's Luke Manley (right in photo) revisit the coupling in the US. The opportunity arose at Music Lovers Audio in Berkeley, California, where a public afternoon demo on June 9, 2012 drew a large group of audiophiles who packed two large showrooms at the prestigious, well-appointed store.
Music Lovers had prepared two systems. In their Reference Room, the Sophia 3s, MB-185 Series IIIs, and 5.5 preamp were coupled to both digital and analog chains. For the former, a MacBook Pro running Sonic Studio's Amarra 2.4 ($189) fed a Weiss USB-S/PDIF interface, which in turn made music through the dCS Debussy USB DAC ($11,499). Analog came courtesy of a Clearaudio Ovation Turntable ($5500) with a Lyra Delos phono cartridge ($1650), sitting on Synergistic Research's Tranquility Base ($1995) and powered from a QLS-9 Power Strip ($499). Transparent Audio Reference MM speaker cables ($22,320), Reference MM balanced interconnects ($19,685 and $13,685), and Reference Power Link ($1049) completed the none-too shabby chain.
Having heard the MB-185 Series III monoblocks at CES 2011, paired with Avalons, I was eager to hear how they would sound with the Wilsons. At that show, Stereophile's Erick Lichte declared his undying love for their EL-34 sound, while I was far more enamored of VTL's MB-450 Series III Signature monoblocks equipped with 6550C tubes. On second hearing at Music Lovers, however, the EL-34s in the MB-185 Series IIIs won me over.
Before I arrived for a pre-demo listen, McGrath had already devoted four hours to schooling Music Lovers' staff in how best to determine placement of the Sophia 3s. Aiding him in fine tuning the speakers to the room was a combination of acoustic panels and Synergistic Research's Acoustic ART system.
Given that McGrath is also a sound engineer who has made any number of feted recordings for Harmonia Mundi, including the famed James Judd Mahler Symphony 1, multiple titles with the Philharmonia Baroque Orchestra, and others with viola da gamba master Jordi Savall, he began the session with his own recording of gamba player Paolo Pandolfo performing the music of Marin Marais. Having been up close and personal with a viola da gamba before, it was delightful to discover how natural it sounded. While some tube equipment tends to fatten an instrument's midrange and sweeten the timbre, this pairing produced sound remarkably neutral and life-like.
Feelings of honest, natural sound were seconded by listens to a duet between harpist Andrew Lawrence-King and Savall on the gamba, and to an 88.2/24 track from San Francisco Symphony's commercial recording of Mahler's great Symphony 5. Save for a little splatter on cymbals, which could have been due to any number of factors, the sound was superb.
Playing some of my trusted demo tracks, the beginning of Ivan Fischer's recording of Mahler's Symphony 2, an R2D4 disc for Stereophile, was thrilling. The violins sounded superb, with no trace of bright or brittle edge; the simultaneous wallops to timpani and bass drum were tremendous in their impact and remarkably controlled; and the bottom octave of the music came through with a clarity I seldom encounter at demos in stores or at shows. (The Sophia 3s extend in-room down to 20Hz (–3dB) and up to 22.5kHz). Any notion that VTL's MB-185 Series III monoblocks might be slow on the draw or lacking in dynamism was shattered.
Equally impressive was a prime recording of soprano Elly Ameling singing Schubert. (McGrath is an admirer of the miking techniques Philips was using in the 1970s.) I've played this recording on dozens of systems, but few have nailed the warm tonalities of the piano and its inner voices, as well as the radiant but never sharp edge of Ameling's voice so perfectly. No wonder McGrath and Manley wanted to share the sound of the Sophia 3s and MB-185 Series IIIs with audiophiles who couldn't make it to Montreal.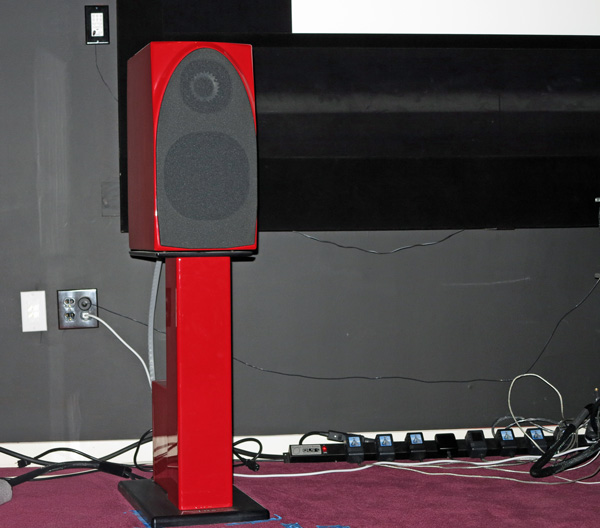 The Duette
In Music Lovers' tiered Theater System room, the Wilson Audio Duette loudspeakers ($13,900/pair) were producing gorgeous tonalities through the VTL IT85 integrated amplifier see in the rack ($4750) and TP-2.5 Series 2 phono stage ($2500). The 60Wpc amplifier couldn't produce the same thrilling dynamic contrast as the more powerful MB-185 Series III monoblocks, nor was the bass as tight in a far more difficult to control room, but the system certainly made music. Sources were the Clearaudio Concept turntable w/Concept moving-coil cartridge ($2000), another Macbook Pro running Amarra 2.4 ($189), Sony SA5400 ES SACD/CD player ($1500), and Ayre QB-9 USB DAC ($2750). With the exception of Transparent Reference speaker cables ($8575/pair), all cabling and power treatment was from Synergistic Research.