VTL's Mighty MB185 Monoblocks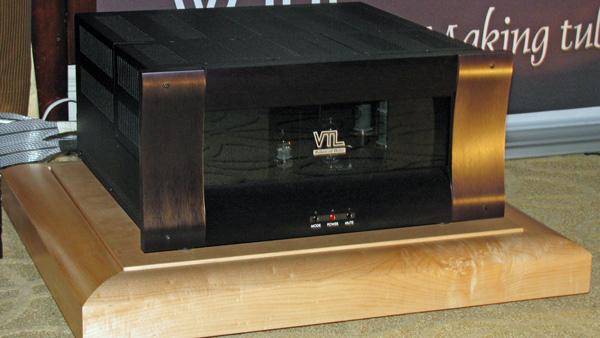 Hi-Fi shows can be notorious for playing the same audiophile approved dreck over and over again. Not so in the VTL room. Luke and Bea Manley played one great tune after the next and introduced me to a bunch of albums I need to go get. Helping me enjoy this great music was VTL's MB185 monoblock amplifiers ($14,500/pair). Using EL34 output tubes giving 185W in tetrode and 90W in triode, the MB185 offers a unique three-way setting that allows the user to dial in the amount of global negative feedback used in the amplifier. According to Luke Manley, this will allow users to fine-tune the sound of the MB185's to best match the accompanying speakers and listeners' tastes.
This system, the smaller of the two in the VTL room, was certainly to my taste. I preferred the MB185 in tetrode mode, finding that it offered the best balance between dynamic bass punch and smooth midrange and extended treble with the Avalon Indra speakers being used. VTL has always struck me as a serious company making serious products, but I had serious fun in their room at this year's CES.
Jason Victor Serinus adds: CES presented an opportunity for me to revisit the same VTL MB-450 Series III Signature monoblock amplifiers that I blogged about at last year's Rocky Mountain Audio Fest. This time, Bea Lam offered to play mezzo-soprano Cecilia Bartoli singing a simple song to piano accompaniment. Listening to the TAD R1 loudspeakers rather than the Wilson Sophia 3s, with connections courtesy of Transparent, I was transfixed.
Just as at RMAF, I was struck by the amps' uncanny ability to convey the natural resonant acoustic that surrounds an unamplified voice. Only once before have I experienced amplification that could so convincingly convey the sense of both a single voice resonating in a large acoustic space and the dimensions of the hall.