Willie Nile: the Bard on Bleecker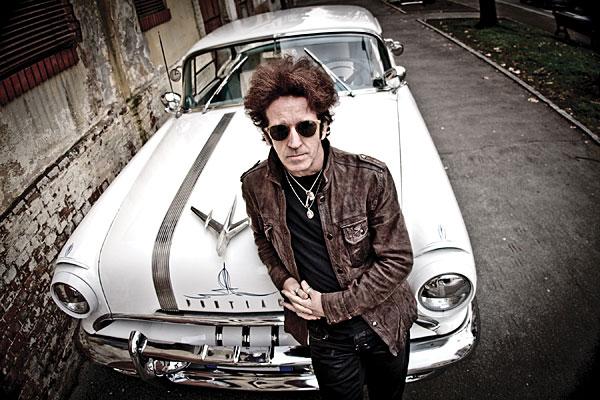 "You see that empty space?" says
Willie Nile
, motioning toward a lot between buildings on Bleecker Street, an impish Irish grin flickering across his face. "They haven't built anything there yet because Anna Wintour lives around the corner. And that red-brick house over there, the one with the white door? That's where Dylan lived. I used to see Bob around the neighborhood now and again."
People talk revolution in the cafes
They debate right and wrong while they drink
There are buses there are cars there are shiny movie stars
There are starving artists standing on the brink
—"Life on Bleecker Street," from American Ride
Having lunch at the corner of Bleecker and MacDougal with one of New York's most dedicated and heartfelt rock poets comes complete with a walking tour of the music sites in this most storied of Manhattan neighborhoods. In Greenwich Village, as in life—and in Nile's personal odyssey in music—it's all about the journey.
An emotional and artistic survivor in the fullest, most tenacious way, Nile has been in New York, writing songs and making music, for more than 30 years, yet only in the last six or seven years has the game turned his way. Nile spent most of the 1980s and early '90s slowed by the disputes, dishonesty, and disinterest so common in the record business. Yet today, having released four albums of original material in the past seven years—all of them inspired and inspiring—Nile has finally found the audience and the success he so richly deserves. Seeing him live in 2013, charging around the stage with his very talented young band, is part fan fest—a treat for those who've followed his career since the beginning—and part voyage of discovery for newer fans, who connect to his blend of Springsteen-styled populist lyrics, whispery Dylan-like voice, sing-along choruses, and his ever-present, very distinct Gotham state of mind. It's easy to marvel at the amount of energy Nile expends and the fun he's clearly having at 64, an age at which some of his contemporaries like Dee Dee, Johnny and Joey Ramone are dead and others like Tom Verlaine have nearly ceased making records and plumbing the depths of their lives and experience.
After his mountain of original songs, which with age have grown wiser and more universal, the most important part of Nile's story is how, despite two knock-out blows from the music business, he's held on, refusing to be silenced. Not only that, he's become adept at and determined about drawing the good out of his misfortune. Nile is only too aware of the effect that adversity has had on his vision, and how long and hard he's struggled to turn it to his advantage.
"My journey in particular, I think I benefited from the ups and the downs. It's a strange career. There were two times when there were 10 years between projects. Who does that? Nobody. That's, like, how not to do it. And yet I benefited from it in a really good way. It kept my integrities intact. My spirit is intact. It never beat me down.
Nile's latest record, American Ride, which will be released in June on Loud & Proud Records, is the culmination of a journey that began in 2000, when he stepped back into the batter's box to take a fresh swing at the music business with the self-released Beautiful Wreck of the World. That led to his full-fledged, tour de force comeback record, Streets of New York, in 2006. Most of the songs from that album were reprised on Live from the Streets of New York (2008), which captured Nile and his band at New York City's Mercury Lounge. The studio albums House of a Thousand Guitars (2009) and The Innocent Ones (2010) followed.
"When I introduce the song 'American Ride,' I'll say there's a lot of things about this country that I don't like and there's a lot of things about this country that I absolutely love," Nile says. "What intrigues me is there are things that are uniquely American, that could only have come from this country. Louis Armstrong. Jazz, Abe Lincoln, Babe Ruth. Woody Guthrie. It's a fun conversation to have. The land. The mystery of the South. In the lyric of 'American Ride,' 'the good, the bad, and the in between.' I love the promise. I bloomed in the Kennedy era. Compassion was the name of the game. Bobby Kennedy in particular. Bobby's quote, which I mention at concerts more often than not, 'We're a good people. We're a compassionate people. And we can do better.' I believe that. I really do."
The search for truth in the life of bantam-sized Robert Anthony Noonan (aka Willie Nile) began in Buffalo, New York, in a big, boisterous Irish Catholic family that to this day continues to vacation together every year. "My dad is 95," Nile says between bites of a tricolored omelet at Ciao, a fair-to-middling bistro just down the street from his apartment. "He lives alone. Goes to mass every day. Wakes up in the middle of the night and does a holy hour. He says his guardian angel wakes him up. He's a great storyteller, has a real sense of timing. You could ask him anything you want about the early part of the last century. He knows it like the back of his hand still to this day."
After attending SUNY Buffalo and graduating with a degree in philosophy, the aspiring singer-songwriter, with his now ex-wife, Margie, in tow, moved to NYC in 1972. "In Buffalo, I never played publicly. I just had a batch of songs that I thought were pretty good. In New York, I started doing open mikes. The first open mike I did was at the Bitter End, and I got a record offer from ESP-Disk, the Fugs' label. I loved the Fugs!! I went, 'Oh, man, this record business, piece of cake!'"
The reality was a bit more involved. Six months later, Nile was playing at an open-mike night at a club on the Upper East Side when a woman who worked for legendary Columbia Records A&R boss John Hammond approached him.