Recording of May 2009: House of a Thousand Guitars
Willie Nile: House of a Thousand Guitars
Circle P/River House RHR9904 (CD). 2009. Willie Nile, Brad Albetta, Frankie Lee, Andy York, prods.; Stewart Lerman, Rich Pagano, prods., engs.; Rich Lamb, eng. AAD? TT: 52:36 Performance ****½ Sonics ***½
Music careers have different trajectories—some painfully long, some mercifully short. Success can be elusive in either case, and disappointment can kill the spirit. In the craft and business of music, only the strong survive.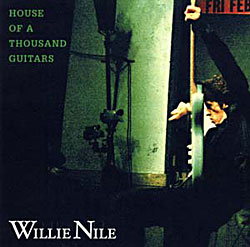 Back in the late 1970s, a skinny, humble kid from Buffalo, New York, was fast becoming the next big thing in the turbulent New York City music scene. Signed in 1980 to Arista Records after the kind of label-courts-artist dance that no longer exists, Willie Nile released his self-titled debut album in 1980, followed a year later by Golden Down. After a tour opening for the Who (Pete Townshend had asked for him), the young singer-songwriter was riding high.
Perhaps too high—like so many other musicians before and since, Nile found himself besieged by legal entanglements that effectively froze his career until the early 1990s. A 1991 comeback record on Columbia, Places I Have Never Been, which featured a roster of guests that included Richard Thompson and Loudon Wainwright III, was a critical hit, but once again, label problems stunted its success. Not to be denied, and seasoned and sharpened by these setbacks, Nile soldiered on, writing songs and releasing his own albums, a process that's culminated in a pair of songwriting showcases, Streets of New York (2006) and now House of a Thousand Guitars.
Nile's songwriting style is now a finely honed mix of the detailed eye of an urban folksinger and the energy and drive of a rock'n'roll belter. At 61, he's also developed the ability to chronicle the history of popular music, a knack he gloriously displays on the title cut, which name-checks everyone from "Old Hank" to John Lee Hooker, who's "gonna kick your ass." In general, House is less New York City–centric than Streets, and more in the universal songwriting mode that gave Places I Have Never Been a wider focus.
What cinches the new album's place as Nile's finest collection of original songs lies in a pair of upbeat tracks early on, "Run" and "Doomsday Dance." Despite "Run"'s escapist title and lyrics ("Run to the far-off places / Run where they leave no traces"), this obvious single, whose title begins each line of the chorus, is among Nile's most assured stabs at fast guitar pop. "Doomsday Dance" is cut from darker, harder-rocking cloth, and is the kind of dirty boogie that the Rolling Stones have always excelled at putting their satanic spin on. Although his voice—at times a howl, at others a whisper—is often accused of being too like Dylan's, Nile here adopts a just-right conspiratorial tone. Like his songs, his voice has grown richer and wiser with time, and his singing here is the finest of his career.
Another factor that makes this session so solid is the trio of old hands and frequent Nile collaborators who are the band on six of these twelve songs, and were heard on his last and nearly as wonderful album, Streets of New York. Bassist Brad Albetta (Rufus and Martha Wainwright), feisty-as-hell drummer Rich Pagano (Patti Smith, Fab Faux), and understated and supremely tasty guitarist Andy York (John Mellencamp, Willie Nelson) are the definition and embodiment of the term old pros. These boys can rock, and they can also lay back and provide super-tasteful accompaniment.
The second band on this album, though slightly less accomplished, is a dreamier, more textured ensemble of drummer and longtime Nile songwriting collaborator Frankie Lee and multi-instrumentalist Steuart Smith (Rodney Crowell, Eagles).
On House, two love songs, the fanciful, shimmering "Love Is a Train" (not the Michelle Shocked song) and the Lennon-flavored "Her Love Falls Like Rain," are followed by an older, previously unrecorded Nile tune, the self-explanatory "Now That the War Is Over," which he's made relevant again for a new century and a new war by replacing "Vietnam" with "Pakistan."
While the recording quality will never be mistaken for Living Stereo, engineers Stuart Lerman, Rich Lamb, and Rich Pagano have captured a decent sonic snapshot of Nile's sound in a not overly compressed presentation.
Heading into the album's last half, Nile shows what age and experience have done for his art when he turns anthemic in "Give Me Tomorrow" and "Little Light." The grand "Give Me Tomorrow," which is Nile at his most musically and lyrically dramatic, is also the kind of easy-to-chant tune that Nile has made into a fist-pumping songwriting strength in past triumphs like "Heaven Help the Lonely":
I've seen solid walls of fire
I've seen smiles as cold as stone
I've seen hatred and desire
I've seen lonely hearts all alone
I have heard the threat of thunder
I have felt the cold, cold rain
O but I have seen things change.
The "Hey Jude"–like "Little Light" unfolds slowly to reveal Nile, whom the music world has done its best to beat down and spit out, again being expectant and transcendent. If you measure success in terms of retaining a passion and a high, hopeful spirit in this life, then, as House of a Thousand Guitars shows, few can equal the indefatigable worldview and enduring art of Willie Nile.—Robert Baird