Vivid Video: JA Interviews Speaker Designer Laurence Dickie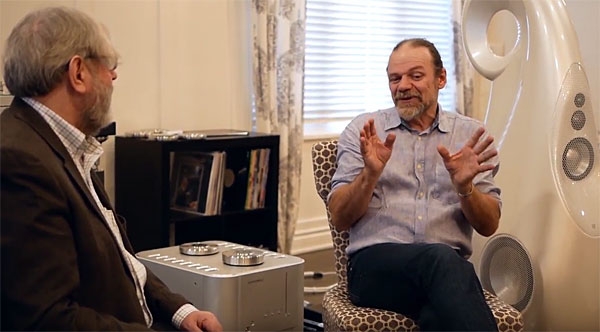 This past weekend, John Atkinson and I attended the debut of Vivid Audio's new flagship speaker, the G1 Spirit, at a private home in Itasca, IL (to the west of Chicago.) The event was hosted by concert pianist and audio retailer George Vatchnadze of Kyomi Audio. Prior to the event's start, JA and Vivid speaker designer Laurence Dickie had a stimulating conversation about speaker design, focusing on the G1 Spirit loudspeaker.
As well as the Giya G1 Spirit loudspeakers ($93,000/pair including external crossovers), the entire setup included a TechDAS Airforce 3 turntable ($29,750) with a Graham Elite 9" tonearm ($12,000) and a Koetsu Jade Platinum MC cartridge ($10,000), a Luxman EQ-500 vacuum-tube phono stage ($7500), MBL 1621a CD transport ($28,000), a Merging+ NADAC Player MC8/music server/DAC running Roon v1.3 ($14,000), a Luxman C-1000f control amplifier ($35,000), Luxman B-1000f monoblocks ($60,000/pair), Artesania turntable platform and stands, and Stealth cables throughout.