Vinnie Rossi LIO modular integrated amplifier Page 2
One night, while listening to the LIO, I hauled out a wonderful recording by pianist Raymond Lewenthal, who wails as he plays and conducts
Funeral March for a Papagallo and Other Grotesqueries of Alkan
(LP, Columbia Masterworks M30234). On most any system, this LP will let the piano sound quite realistic. But forget sound—this disc is all about Raymond Lewenthal's messianic and fitfully inspired pianism. He doesn't just play the keys and pedals—he engages the whole instrument. I played this record with (don't laugh) a $75 Shure SC35C moving-magnet cartridge on a $2100 Abis SA-1.2 tonearm (I hear you laughing!) through the LIO driving the Falcon Acoustics LS3/5a's, and I swear on my best Gutenberg Bible that I have rarely in my life heard a piano sound this
real
and corporeal in my room. Sure, the BBC monitors are mini, but that day they played BIG! Incredibly, I have never heard
any
digital recording reproduce a piano with this amount of texture and weighty authority. I could hear the microtextures of felt-covered wooden hammers striking the coil-covered piano strings. I could hear the effects of Lewenthal's pedaling. It was revelatory. I loved it.
Magnepan .7
In my review of the Magnepan .7, in the August 2015 issue, I explained how the Vinnie Rossi LIO played the .7s beautifully in my smallish room, but began to lose its breath at around 90dB. Nevertheless, I kept going back to this pairing because it brought out every last drop of sweet lushness the LIO was capable of. Record after record, I bathed in the almost fragrant beauty of the LIO plus Slagleformer plus .7s as I played all genres of music. But—if you like your music loud and louder, this pairing will not satisfy.
What happened was this: The Maggies need current. The LIO's power supply and MOSFET output stage have low impedance and high energy-storage capacity, and therefore can supply driving current with almost limitless grace. But as Vinnie Rossi reminded me, "As long as you play at levels that don't exceed the rail voltage (don't push the amps into clipping), they should work very well together."
The Maggies provided a perfect opportunity to examine how the Rossi clipped. Normally, the LIO sounded very open and breathy. But when it clipped, its trachea collapsed. And when the LIO really clipped, it started to choke, and the music got closed-in and flat.
KEF LS50
I spent a lot of my listening time playing the LIO through the KEF LS50s because the sound was so agreeably natural. The sound of the Falcon LS3/5a's through the LIO was more "alive" and had better tone character, but what the KEF-Rossi combo did best was relax, step off the stage, and let the musicians run the show.
DeVore Fidelity Orangutan O/93
Unlike RCA's Nipper, I do not have to cock my head to know when recorded music sounds exceptionally real. I can just put on an album like folk singer Susanne Rosenberg and organettist Christophe Deslignes's Out of Time and Country (CD, M•A Recordings M080A), walk out of the room, pour myself an S. Pellegrino with lemon, and then, as I walk back in, stop and think, Oh, damn—now I remember why these DeVore Orangutan O/93s have been my reference speakers since I began writing for Stereophile: They play music exactly the way I (and my little dog, Monster) like it!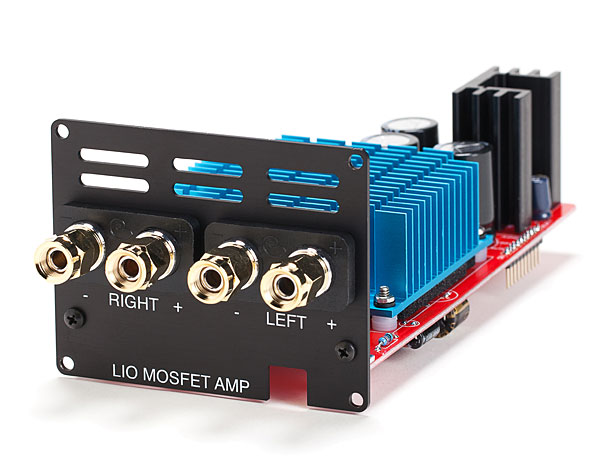 My Line Magnetic LM-518IA integrated amplifier (review to come in October) powers the DeVores with sweet, colorful confidence. So did the Vinnie Rossi LIO. Both amps shone through the Orangutans a kind of late spring light—not too cool and dark, not too warm and bright. But when I switched from the LM-518IA back to the LIO with the DeVores, it felt as if I'd jumped from a turbo Porsche with racing tires into a Tesla S with autopilot. The LIO has the Tesla's type of quiet power: its massive torque is applied smoothly and equally at all rpms. I experienced unprecedented naturalness of bass.
The LIO as preamplifier
I connected the Rossi LIO's preamplifier outputs to a variety of power amplifiers, including Simaudio's excellent, 125Wpc Moon Neo 330A ($4300; review in the works). Used as a preamp, the LIO was just as invisible as Simaudio's famously transparent Moon Neo 350P preamplifier ($2499; also under review). And, happily, as they disappeared, the Rossi and the Moon Neo 330A still managed to reveal enjoyable smidgens of tasty, just-picked freshness in every recording.
Let us pretend that I own an LIO that is doing a delightful job of playing the Magnepan .7s, but that I now want loudness levels of up to 100dB, up from a max of 90dB. No problem—I can just swap in a stronger power amp, keep the LIO as a preamp, and still retain the larger portion of the Rossi magic. (This fall, at the Rocky Mountain Audio Fest in Denver, Vinnie Rossi will introduce a standalone power amplifier that will deliver 100Wpc into 8 ohms, and can be used in lieu of the LIO's 25Wpc amplifier module.)
The LIO as headphone amplifier
Want to see the eye of the Cyclops? Wanna make your socks go up and down and your hair fly back? Listen to Formatia Valea Mare, a septet of six winds and percussion, play their delirious Rromani "muzika orijinal," as they call it, on their Departe De Casa (CD, M•A Recordings M060A) through the LIO headphone amp connected to Sony's revealing MDR-7520 headphones. The tone-perfect sounds of the tuba came right out of those eargoggles and tickled my scrotum. The accordion and clarinets massaged my heart. The trumpet and flugelhorn sounded more like sweat-stained brasses than any others I have heard.
I used the extremely neutral Vinnie Rossi headphone stage to drive each of my pairs of quite different-sounding headphones, and, more than any other headphone amp I've used here, the Rossi plainly showed me the level of colorations inherent to each.
The LIO as DAC
I've always called my Halide Design HD (USB) DAC ($495) my Mac DAC because I bought it to connect my Mac mini to my Creek 4330 integrated amplifier. I loved the colorful, nondigital way it played high-resolution files and film scores. But nowadays, because most integrated amps I review have digital stages, the Halide, like an old horse, has been relegated to only occasional use, driving my Schiit Asgard headphone amp. And then I started thinking . . .
Because the Vinnie Rossi LIO is such a shape shifter, it seemed relevant to investigate how its DAC compared not to my memory of DACs in other integrateds, but to a pair of standalone DACs I already use and find admirable. I let my Onkyo Integra DPS-7.2 transport drive the LIO DAC via the latter's optical input. I let my Puresound A-8000 CD player drive my Line Magnetic LM-502CA DAC ($1800) via the latter's coaxial output. Finally, I let the Mac mini drive the Halide Design HD DAC. The Halide's and Line Magnetic's outputs entered the Rossi via analog inputs. With this setup, I could play a single album like John Hicks, Buster Williams, and Louis Hayes's On the Wings of an Eagle (SACD/CD, Chesky JD318) and use the Rossi's remote to shuttle among a trio of DACs.
The effect of this stratagem was edifying. The LIO made the Halide DAC sound even more soft and generous than it usually does. But surprisingly, the Halide demonstrated more bass slam and room air than I remember it ever doing. Unfortunately, this newfound slam was wasted—the Halide also sounded fuzzy and warm to the point of distraction. In comparison, the Vinnie Rossi DAC was Claritin-clear and well controlled, but less spacious and airy than the little Halide.
To further assess the LIO DAC's resolving powers, I played the dramatic and rhapsodic 11,000 Virgins, a collection of vocal music by Hildegard of Bingen, sung by Anonymous 4 (CD, Harmonia Mundi HMU 907327). Through the LIO, each of the four women's voices projected its own pure energy into the well-defined volume of the Christian Brothers Retreat, in Burbank, California. My room was transformed into that dreamy acoustic.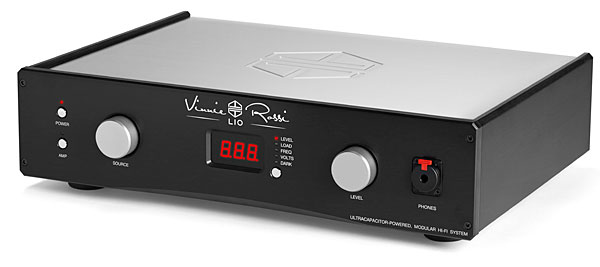 One day, gazing at the LIO's remote, I noticed a button: Filters. When I looked in the manual, I realized that Rossi had included it to provide a choice between the LIO DAC's Linear Phase and Minimum Phase filters. I've always been suspicious of linear-phase filters, blaming them for digital sound's metallic weirdness. So, happily, I used a bunch of tracks from Chesky and M•A Recordings to explore the differences. To my taste, Minimum Phase sounded subtly but distinctly more relaxed and colorful than Linear Phase—music felt more elastic, and seemed to move along less mechanically. But Vinnie—what about a No Filter option?
I could hear the beauty
The Vinnie Rossi LIO should not be understood as just another integrated amplifier—it's considerably more than that. According to Vinnie Rossi, "The LIO is designed to become the last audio component you might ever need." To my ears, it delivered the best of tubes (color, vividness, liquidity) and the best of solid-state (quietness, control). Its highly adaptable modular design combines a fashionable Italianate aesthetic with near-state-of-the-art sound. It was as musically natural as fish jumping and birds singing in trees. The LIO phono stage was nearly faultless. Its DAC was exceptional, and enjoyably nonmechanical in sound. Amazingly, the LIO's best feature might be its headphone amp.
My current gold standards for the potent, transparent reproduction of music are the Komuro PP845 and Pass Labs XA100.5 monoblocks. While the LIO didn't quite match the Nori Komuro or Nelson Pass designs in strength, dynamic ease, or richness of tone, it did come ridiculously close, albeit with a quieter, gentler personality. If there is a more innovative and musically satisfying integrated amplifier than the Vinnie Rossi LIO, I have yet to experience it.