Vinnie Rossi LIO modular integrated amplifier

My girlfriend, "bb," a 6'-tall Aries artist, always says, "Math, science, religion, and even history, are all simply stories we tell ourselves about our experiences with a phenomenon we call
energy
."
My father, Herb Senior—the Deacon—always said, "The fundamental nature of the universe is vibratory—everything we experience is just waves!" He explained that waves—possessing power, amplitude, and frequency—are the basic building blocks of our reality. The universe actually "works" and is "comprehensible" because these waves are not random, but organized into exponential intervals called octaves. Our job, he told me, was to recognize and study this mathematical (and mystical) nature in action.
It's a shame that bb and the Deacon never met.
Meanwhile, I, your humble fabulist, have always claimed that when you listen to an amplifier drive a loudspeaker, the "sound character" of what you hear is determined directly by the strength, reserve, and basic electrical nature of that amplifier's power supply. Imagine an audio-frequency signal (a wave) impressed on an amplifier-plus-loudspeaker load and simultaneously modulating a standing pool of stored energy. Imagine that this stored energy is the medium (like water) in which the wave operates. Then, perhaps, you can see how the quantity, quality, and especially the "elasticity" of this stored energy determine how an amplifier sounds when reproducing recorded music.
Ultra DC
Vinnie Rossi of Red Wine Audio, a manufacturer of audio electronics, has turned understandings similar to the above into an exciting new power-supply technology used in his LIO modular amplifier. Instead of a conventional mains-transformer-rectifier-capacitor-regulator supply, Rossi's new design uses isolated rows of series-wired, high-capacitance, low-ESR ultracapacitors to store and release energy.
Rossi calls his new power-delivery strategy PURE DC-4-EVR. The availability of ultracapacitors so shifted his paradigm that, in contrast to his Red Wine Audio products, which run on battery power, the products sold under his own name are based on Pure DC-4-Evr. According to Rossi,
"This patent-pending Pure DC-4-Evr technology employs banks of high-tech ultracapacitors in place of conventional AC power or batteries. The ESR of the caps is approximately 0.002 ohm, so they can supply hundreds of amps instantaneously. You can arc-weld with them. They can also be charged extremely quickly. And yes, these are ultracaps of 350F (350 farads, or 350,000,000µF, each. Multiplied by nine but run in series for each of the LIO's (two separate) capacitor banks, the total capacitance divides by the number of caps used to net 33.89F per 24V bank. But yes, there are 6300F at 2.7V of total charge under the hood if they all were connected in parallel."
While one bank of ultracaps is delivering pure DC to the LIO's audio circuits, the other bank is charging. The LIO's audio circuitry is never connected to the charging capacitor bank, and is therefore always 100% isolated from the AC mains and its sometimes devilish discontents. Meanwhile, all the control circuitry is powered directly and exclusively from the 24V charger—which also feeds a dedicated 5V regulator for all logic circuits in all of the modules (see later). Rossi says, "LIO owners do not need expensive power filters, power cords, or conditioners to achieve ultimate quiet and musical resolution."
The LIO
Walter Swanbon, of Fidelis Home Audio, in Nashua, New Hampshire, calls the Vinnie Rossi LIO the "Swiss Army knife of audio amplification." I agree.
The base LIO costs $2495 and, by itself, can't play music. It's simply a moderately heavy aluminum case with DuPont Corian front and side panels, a plug-in output module, a Pure-DC-4Evr ultracap power supply, and an all-metal remote control of black and chrome that is, by far, the most luxurious I've used.
To make this box operational, you must add modules. The LIO's base price as a remote-control line preamplifier, fitted with Input Select, Resistor Volume Control (RVC), Line output module and Tubestage is $3980 (price as of the time of writing), but it can be ordered with the LIO System Expansion Modules of the buyer's choice. The RVC module costs $395; the Headphone Amplifier module costs $695; the Tubestage, which uses the very "rolling-able" E88CC/6922 tubes, costs $795; the MC/MM Phono Stage, Digital Input, and MOSFET power amplifier modules each cost $895, the Phono Stage with remote loading control costs $1390; and the Autoformer Volume Control, which replaces both the RVC and the Tubestage, costs $1495. The MOSFET Amplifier module runs in class-A/B and offers maximum powers of 25Wpc into 8 ohms, 45Wpc into 4 ohms, or 65Wpc into 2 ohms.
In any configuration, the LIO is, to my eyes, the most attractive, well-crafted integrated amp I've seen. Vinnie Rossi's signature logo (with capacitor symbol) is a bit flashy but elegantly drawn. The well-proportioned case (available in black, silver, or combinations thereof) has the stylish feel of high fashion in Milano. I love the way the engraved aluminum top panel slides back to reveal an intriguing inner landscape of sturdy PC boards encompassing an entire red-blue-and-green garden of Performance Modules.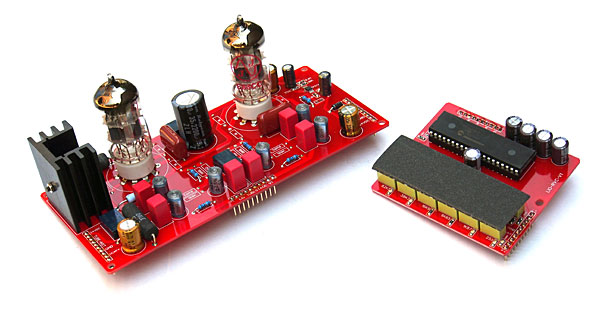 In the beginning
I first recognized the specialness of Vinnie Rossi's new LIO integrated amplifier while setting up a turntable for CNET and Stereophile writer Steve Guttenberg. As I worked, we listened to Technics SB-C700 loudspeakers (review in progress) driven by the glorious Pass Labs XA100.5 monoblocks ($16,500/pair). I kept looking up from the 'table and saying, "Steve, is it just me? Or is this, like, one of the best hi-fi systems I've ever heard?" He didn't answer. I whined louder: "Steeeeve! Is this the best hi-fi ever or what?" Still no answer. As I fiddled with the antiskate, Vinnie Rossi and Alexis, his partner in life and business, arrived.
Finally, I got the turntable together, and Rossi and Steve got the LIO hooked up to the Technics speakers. I can't remember the song, but it made me freeze in my tracks. What the . . . ? No way is this possible. All I can say is, when you replace amps like the Pass XA100.5s with any moderately priced integrated, you're supposed to feel grave disappointment. That afternoon, I felt shock and wonder. Right out of the box, the Vinnie Rossi LIO played music that flowed smoothly and silkily—and was noticeably more quiet and grainless than the venerable Passes.
The Slagleformer
That day at Guttenberg's studio, I was surprised to discover that Rossi is good buddies with an old friend of mine, master transformer builder and world-class audio polymath Dave Slagle, of Intact Audio. Rossi is also friendly with one of Dave's design collaborators, a very smart man named John Chapman, of Bent Audio. Rossi explained:
"I have been working with John Chapman for years with Red Wine Audio, as he was our OEM remote-volume-control supplier. When I contacted him about helping with the control circuitry for the LIO idea that I had, he was very enthusiastic to work with me, and has played an integral role in the design of all [of the] LIO's control circuitry, as well as . . . how the modules are neatly laid out inside the LIO. John is best known in the audio world for his autoformer preamplifier kits, using 'Slagleformers' hand-wound by Dave Slagle. I asked John to implement them onto an LIO module as a premium upgrade to the already high-quality resistor stepped-attenuator volume control (RVC) module that we offer."
For years, I've been using a custom Drug-Through-The-Hudson version of Slagle's Autoformer Volume Control in my monk's-cell reference system. Unlike other passive attenuators, which typically stifle musical life and dynamics, Slagle's tapped autoformer preserves, and maybe even enhances, the way recordings project energy into the room. When I replaced the RVC and Tubestage with the plug-in Slagleformer AVC (it took about 10 minutes), I experienced a dramatic increase in the music's dynamic life. Gain appeared to increase. Jump factor increased, and melodies played more vigorously.

With the LIO installed in my own system and fitted with the Phono module, Digital Input module, AVC, Headphone amplifier, and MOSFET amplifier, I auditioned it with LPs, through several loudspeakers.
Falcon Acoustics LS3/5a
The Deacon's favorite song was Stephen Foster's "Beautiful Dreamer." I doubt Dad knew who'd composed it, but every time he played it on his Columbia music console, he would say, "Shushhh! Can you hear the beauty?" When I played a recording of baritone Leslie Guinn singing this restful classic, from Songs by Stephen Foster (LP, Smithsonian-Nonesuch H-71268), I found myself in wonder at all the beautiful feelings and visions music can induce. Memories of my childhood came flooding back: flashing between my Bed Stuy bunker and my father's wood-paneled den in Chicago, I absolutely could hear the beauty.
The unique, iconic sound of dropping the needle on a black disc with the volume turned up—that attention-getting scratch of stylus on vinyl—shifted my memory machine into Drive. Almost instantly, I could hear Dad's voice and see his gold-toothed smile. The Rossi Tubestage plus phono stage presented my father's favorite song as a deeply felt lullaby. The LIO was extremely good at getting out of the way and letting this music have its way with me.
The LIO drove the Falcon LS3/5a's (which I reviewed in the August 2015 issue) with something approaching perfect tone. Timbres and textures were always-enjoyable constants, no matter which recording I played. The LIO showed me that grainlessness and high-relief textures are in no way mutually exclusive. Detail, drive, and forward momentum were as good as they get.