TAVES, the 2011 Toronto Show, Starts Today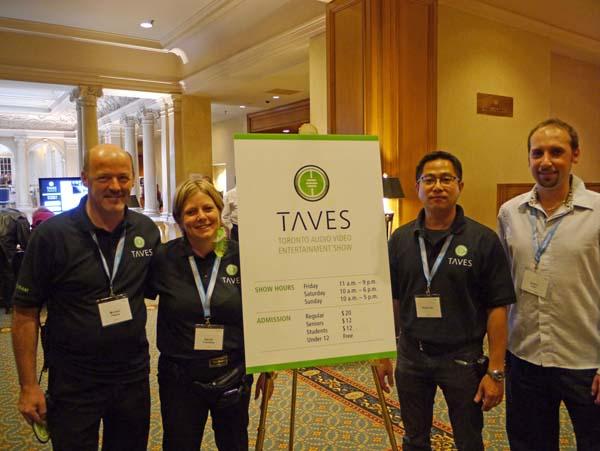 The first audio writing I did for
Stereophile
was a report on the Toronto consumer electronics show in the fall of 1988. I was on
Stereophile
staff as a record reviewer, but I also had an interest in equipment, so I asked John Atkinson if he would like me to do a report on the Toronto show, not normally the subject of show reports in
Stereophile
, pointing out that, since I live in the Toronto area, I would have no travel expenses, and he gave it the go-ahead.
Boy, was I excited! Not only would I be attending the show and get to see/hear all that nifty equipment, but I would be there as the representative of Stereophile, with all the respect and prestige this implies.
It didn't take me long to learn that being a member of the audio press has its potential downside. At that show, I had an experience—which I wrote up in the show report—that was decidedly unpleasant. In one of the rooms, the representative of the company looked at my badge, which had my name and affiliation, and proceeded to tell me that Stereophile had given one of their products a negative review, which had hurt their sales, and that I was not welcome in their room. So much for respect and prestige . . . I left, wondering if this type of experience was to be expected at all shows of this sort. Fortunately, it wasn't. In fact, both at the Hi Fi shows that used to be presented by Stereophile and at the Montreal shows, I have found people—manufacturer's reps, dealers, as well as audiophile visitors—to be almost unfailingly pleasant, so I look forward to attending shows not just because of the equipment and the music but also the people I meet..
The Toronto show has a rather chequered history. It was originally called Canadian Electronics Exposition (CE-EX) and was promoted as a sort of Canadian CES: a trade show, with only one day grudgingly open to the public because some exhibitors insisted on it. This arrangement did not work very well. As it should have been anticipated, a trade show in Canada just didn't attract enough manufacturers/distributors, nor enough in the way of dealers looking for new lines. Through the years, the show morphed into a show for consumers, but it had inconsistent success in attracting both exhibitors and visitors. I've been told that part of the problem was that the rates for exhibiting were too high for the expected benefits, and the fewer the exhibitors, the less attractive the show is to visitors. The show did not have a single "home," and some of the venues were less than ideal. I remember one show that was in a distant suburb, difficult to reach by public transit. The low point was a show held in a hotel near the airport that looked like it would rent rooms by the hour. Finally, the Toronto show was no more.
And while the Toronto show didn't make it, the Montreal show—initially called Festival de Son, then Festival Son et Image, and finally Salon Son et Image—has thrived, keeping its focus on the appeal to consumers, featuring seminars as well as live music. Toronto has a population of 2.5 million, double that if you include the metropolitan area, which is higher than Montreal's, so it should be able to support a show that deals with high-quality audio and video. But who is going to come up with a formula that works?
The new TAVES event taking place this weekend in Toronto is the result of two years of planning and market research and the efforts of Suave Kajko, Publisher/Editor in Chief of Canada Hi-Fi magazine, Simon Au, owner of AuDiYo, an audio component and accessory distribution company, and Michel Plante, President of the Montreal Salon Son & Image. The experience of Michel, and of Sarah Tremblay, Director of the Montreal show, who is also involved in the organization of TAVES, has, I'm sure, been invaluable. The list of sponsors includes Stereophile and sister magazine Home Theater. The venue is the upscale Le Meridien King Edward Hotel, a four-diamond property built in 1903 and subject to extensive renovations through the years. The King Edward also has a musical connection: its guests have included Elvis Presley, Louis Armstrong, and the Beatles.
The photo shows TAVES management: Michel Plante, Sarah Tremblay, Simon Au, and Suave Kajko.