Stereophile's Products of 2017 Joint Digital Components of the Year
Joint Digital Components of the Year
Ayre Acoustics QX-5 Twenty Digital Hub D/A processor ($8950; reviewed by John Atkinson, September 2017, Vol.40 No.9 review)
Mytek HiFi Brooklyn D/A headphone amplifier ($1995; reviewed by Jim Austin, Kalman Rubinson, Herb Reichert, November 2016 & May 2017, Vol.39 No.11 & Vol.40 No.5 review)
Our 2017 Digital Component of the Year competition was also a tie—and both winners are the sorts of products that stretch our thinking on what to expect from a digital processor.
More than just a digital source component—a label more suited to their USB-only QB-9 DAC, which took top honors in this category in 2009—Ayre Acoustics' QX-5 Twenty Digital Hub D/A processor can take the place of a preamplifier in a digital-music playback system. That distinction owes as much to the Ayre's 100-step digital-domain volume control as to its abundance of analog and digital inputs—the latter including Ethernet connectivity and adherence to DLNA/UPnP protocols, for playing locally stored files and streaming music from the Internet—and the QX-5 Twenty is certified Roon Ready.
The no-less-flexible Mytek HiFi Brooklyn DAC, which handles DSD and PCM natively and independently, offers digital and analog volume controls, and—remarkably— supplements its inputs with a moving-magnet/moving-coil phono stage. The Brooklyn's good-quality headphone amp is also a plus—but to both Jim Austin and Herb Reichert, the Mytek's real calling card is its ability to decode MQA files. A heck of a package for just under $2000.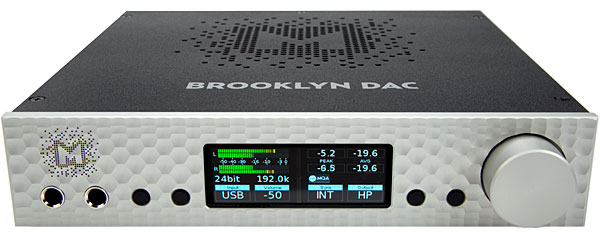 Notes on the Vote: Once again, the runners-up weren't terribly close to the winners in numbers of votes won. Second-place honors went to Mytek HiFi's Manhattan II—yes, that company's $1995 processor edged out the newest version of their own $5995 processor—while third place was a tie between two products also made by the same company: dCS's Rossini DAC and Rossini Player.
Finalists (in alphabetical order)
Brinkmann Audio Nyquist D/A processor ($18,000; reviewed by Michael Fremer, August 2017, Vol.40 No.8 review)
Bryston BCD-3 CD player ($3495; reviewed by Art Dudley, August 2017, Vol.40 No.8 review)
Bryston BDA-3 D/A processor ($3495; reviewed by Larry Greenhill, December 2017, Vol.39 No.12 review)
Chord Electronics DAVE D/A processor ($10,588; reviewed by John Atkinson, June 2017, Vol.40 No.6 review)
dCS Rossini D/A processor ($23,999; reviewed by Jason Victor Serinus, January 2017, Vol.40 No.1 review)
dCS Rossini Player ($28,499; reviewed by John Atkinson, December 2016, Vol.39 No.12 review)
Meridian Ultra DAC D/A processor ($23,000; reviewed by John Atkinson, May 2017, Vol.40 No.5 review)
Mytek HiFi Manhattan II D/A processor ($5995; reviewed by Herb Reichert, September 2017, Vol.40 No.9 review)
Schiit Audio Yggdrasil D/A processor ($2299; reviewed by Herb Reichert, February 2017, Vol.40 No.2 review)