SSI 2015, Friday Morning
Few audio shows are more consistently pleasing than Montreal's well-loved Salon Son et Image, which is now in its second year of management by the Chester Group. Even this morning's snow showers—a bit of a come-down, given the spring-like temperatures I left behind in upstate New York—couldn't dampen my spirits. Another plus: Even though the show began at 11:00am today, it wasn't until well after 1:00pm that I first heard an exhibitor demonstrate a system with Stevie Ray Vaughan's "Tin Pan Alley." Two hours without that well-worn chestnut may be something of a record: Montreal, I salute you!
There was even more proof of the existence of a loving God: My very first official encounter at this year's Salon Son et Image was with a vintage-gear dealer: Cristian Fatu's static display included this beautiful McIntosh 275 power amplifier above (approximate value: $CAD3200) . . .
. . . and this difficult-to-find Tannoy Gold driver, in near-mint condition (valued between $CAD2000 and $CAD2500). Remarkably, the vintage-savvy Mr. Fatu isn't quite 30 years old—and was born in Romania, where classic audio gear is thin on the ground, to say the least. To the proprietor's right is a Lenco-made Goldring 88 turntable, reconditioned by master plinth builder Jean Nantais, for whom Cristian Fatu is the Canadian representative. Fatu can be found at www.vintageChris.com.
In one of their static displays, Canadian distributor Plurison Audio showed off the sharp-looking and surprisingly compact Music Hall WCS-2 record-cleaning machine ($CAD999), which uses a VPI-style radial vacuum tube, and whose 10" (approximate) platter is topped with a reassuringly soft mat.
[
Remember the days when Rega turntables with a Union Jack finish were manufactured in single-digit numbers, and offered for sale only to audio insiders? Now even the humblest audiophiles can get their hands on a Union Jack RP-1, available from Canadian distributor Plurison in this "performance pack," with Rega Elys cartridge, for $CAD799.
Various models from Cambridge Audio's CX Series, which premiered at CES 2015, were on static display in the Plurison area—including the CXA80 integrated amp ($CAD1399), which offers digital and analogue (line level) inputs, Bluetooth connectivity, and a USB input. (The humbler CXA60, priced at $CAD1099, offers the same, minus the USB socket.) The new amps, along with a Cambridge transport, the digital output of which is tailored for them, should be in shops this May.
Cocktail Audio, the Korean manufacturer whose name I have yet to fully grasp, demonstrated their newly introduced X40 ($CAD2795), which combines a preamp, phono stage, and music server in one nicely styled package. Buyers of the X40, which the manufacturer describes, with justification, as "the Swiss Army knife of digital audio," also have the option of adding to the unit the hard drive of their choice.
A new firm called Deep Space Audio made their debut at SSI 2015, demonstrating their DS-1 loudspeaker ($CAD20,000/pair) with a system comprising an Oracle Delphi record player, French 3DL.A.B. Millennia D/A converter, Conrad-Johnson ET3-SE preamp, and Audio Research Reference 110 amplifier. The three-way DS-1, which is built into a Russian plywood enclosure (finished in Lamborghini white!) uses all ScanSpeak drivers, and boasts a claimed sensitivity of 88dB, sounded distinctly well-balanced, with excellent musical pacing that wasn't tripped-up by its generous bass extension.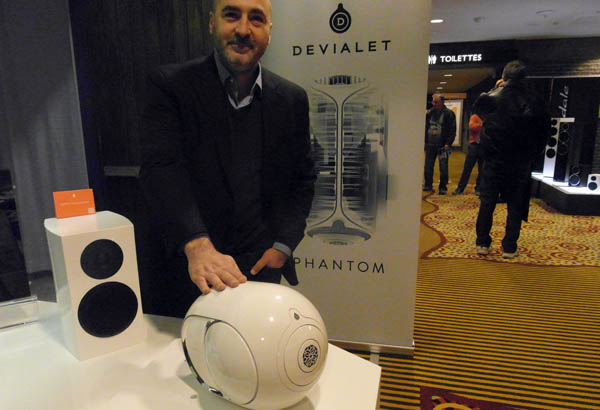 Perhaps the most exciting product I encountered this morning was the new Devialet Phantom powered loudspeaker ($US1990 each), seen and heard here in its Canadian debut. As described by company cofounder Manuel de la Fuente (above), the Phantom is "95% made in France," and is built into an ABS shell with integral ribs, an aluminum spine, and an interior layer of fiberglass. Its four drivers—two side-mounted woofers and a front-mounted midrange driver with concentric tweeter—are all convex, all aluminum (the bass and mid drivers are painted, expertly, to match the ABS), and all driven by their own internal amplifiers, said pairings enhanced by Devialet's proprietary SAM technology. In a demonstration that started out with a single pair of Phantoms, with a second (rear) pair added for some material, the new loudspeaker was nothing short of astounding, with tight and ungodly-deep bass that astonished everyone in the room, myself included.
The Phantom's completely opposed woofers were as fascinating to watch as to hear, given their excursions of up to 25mm: During a Beyonce track, they appeared almost alive—and yet, as I confirmed by laying my hand on a working Phantom, its shell remained almost perfect still. A most impressive product—and one with which the user can start small, given the ability of a single Phantom to work, convincingly, with a two-channel input.