Save the Music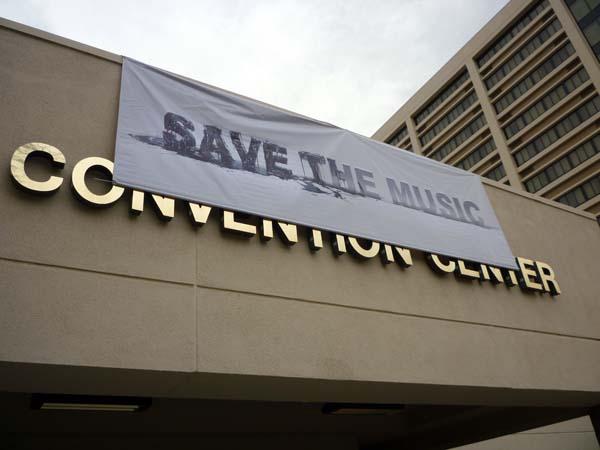 I noticed this sign hanging above the entrance to the Marriott Tech Center, home of the Rocky Mountain Audio Fest. "Save the Music"—a fine message, but sort of vague.
What's it about?
I wondered. Inside the hotel, near the elevators, I found a postcard with a picture of a pianist at a piano, both the musician and his instrument covered in what appeared to be thick black oil. (Oh no!) At the top of the postcard again were the words, "Save the Music."
On the back of the postcard, I found a message from dCS, titled, "Saving the Music for 25 Years." Audiophiles are familiar with dCS—we know who the company is and what it does—but this postcard seemed addressed to those who may be new to the hi-fi world:
The most important part of the music playback process is the digital to analog conversion: this is when the digital data on a CD or computer file is converted into an analog signal—the music we hear through speakers.

It is this process that dCS has been refining for 25 years…
At the bottom of the postcard, I found a web address: www.onlythemusic.co.uk. So, when I got back to my hotel room, I followed the link to a page dedicated to bringing magic into our homes through the combination of great music and great technology. The site includes interviews with recording engineers, technical papers, and many outstanding music recommendations and downloads. While the music recommendations are categorized by genre (rock, pop, jazz, classical, and world), I was most interested in the "Legendary Performances" section, where you will find everything from Snoop Doggy Dogg's seminal album, Doggystyle, to Elgar's Cello Concerto—something for everyone.
Click here to check it out.