Revel Ultima Rhythm2 powered subwoofer Page 2
Because some internal crossovers produce audible effects, I checked to hear if the Rhythm2's internal electronic crossover was altering the sound of the high-pass signal driving the Salon2s. Try as I might, I couldn't hear the Rhythm2's crossover. Whether I ran the Salon2s full range and used the Rhythm2 for reinforcement, or passed the audio signal through the sub's crossover, the tonal characteristics of my system didn't change. I heard no discontinuities between the speakers and the subwoofer even with solo-piano recordings. The light, lyrical quality of Keith Jarrett's playing in "True Blues," from
The Carnegie Hall Concert
(CD, ECM 1989/90), didn't change when the subwoofer was added. Passing the audio signal through the Rhythm2 had no apparent impact on the Salon2s' midrange and upper-bass response. All the things that make the Salon2s' bass so engaging when played by themselves remained when the Rhythm2 was added.
Next, I checked the effects of different subwoofer-output levels. As noted above, I'd lowered the Rhythm2's output from –19 to –21dB using LFO. The system's musical balance was now more refined, but my bass-rich recordings had become less involving. I restored the sub's output to the –19dB level Kevin Voecks had originally set. This produced an immediate and gratifying effect. Organ-pedal notes became powerful and stirring while continuing to be articulate, detailed, fast, and well defined. Subwoofer and main speakers played as one, with seamless integration. The Salon2s' musicality that I had noted in my original review remained, but the Rhythm2 significantly increased room lock, sense of pressure, pitch definition, and stirring realism in the deepest bass—all improvements I had thought not possible.
I checked the lowest-frequency bands of the half-step–spaced chromatic scale on John Atkinson's Editor's Choice (CD, Stereophile STPH016-2). These were sharply defined and clearly heard, as were the 40, 31, and 25Hz 1/3-octave warble tones on that disc. The 20Hz band was not only audible, it produced a strong pressure wave that seemed to overpower the room.
I love pipe-organ recordings, and began my listening sessions with one of my favorites: JA's private digital recording of the Toccata of Widor's Organ Symphony 5, played by Jonas Nordwall on the organ of the First United Methodist Church of Portland, Oregon (24-bit/88.2kHz AIFF file). I was not disappointed: the deepest pedal notes were reproduced with unexpected power and mass, stirring my emotions in new and unexpected ways. The 32Hz pedals had unusual weight, solidity, and room lock, lifting Audio Tools' 25 and 32Hz display bars way over the other frequencies in an RTA room-response measurement. I held my breath during the thunderous pedal chords in Shostakovich's Passacaglia, from Christopher Herrick's Organ Fireworks IV (CD, Hyperion CDA66605), as they produced intense room lock and pressurized the air; was delighted at the heft and majesty of Walton's Coronation March, "Crown Imperial," from Scott Dettra's Majestus: The Great Organ of Washington's National Cathedral (CD, Loft LRCD-1114); and was thrilled and slightly frightened by the massive pedal note that concludes James Busby's performance of Herbert Howells's Master Tallis's Testament, from Pipes Rhode Island (CD, Riago 101). I both heard and felt the different pedal ranks that underpin Gnomus, from Jean Guillou's performance of his own transcription of Mussorgsky's Pictures at an Exhibition (CD, Dorian DOR-90117). The soft yet distinctly different organ notes played as the Turtle Creek Chorale, led by Timothy Seelig, sing John Rutter's anthems Lord, Make Me an Instrument of Thy Peace and A Gaelic Blessing (CD, Reference RR-57CD), were revelatory. I delighted as I heard the single massive, sustained organ chord rumble below a three-dimensional sonic image of the chorus.
The lack of strain or distortion in the deep-bass notes allowed the Rhythm2 to maintain its superb pitch definition when reproducing the sounds of several different ranks of organ pipes. I easily was able to follow the different pitches in the descending scales at the end of the Shostakovich Passacaglia, and to distinguish among similar-sounding instruments (cello, synthesizer, contrabassoon) in "Caravan Moves Out," from Philip Glass's score for Kundun (CD, Nonesuch 79460-2). With the Salon2s, the Rhythm2 created the full dynamics of the swirling mix of synthesizer, bass drum, chimes, and blocks in "Attack on Ryan's House," from James Horner's score for Patriot Games (CD, RCA 66051-2) while keeping the sound of each instrument distinct. I heard and felt each deep bass beat viscerally as a punch in the chest. The Revel sub let me follow Jerome Harris's soft but careful electric bass as it weaves through "The Mooche," from his Rendezvous (CD, Stereophile STPH013-2).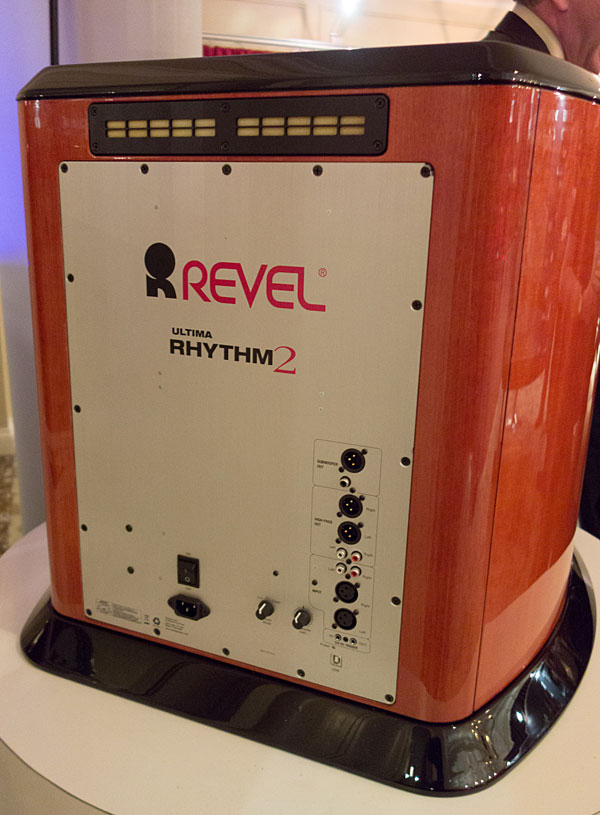 The Rhythm2's crossover was extremely clean at low and high output levels, not detracting in any way from the Salon2s' celebrated soundstaging, naturalness of timbres, clarity, or transparency. If anything, the Salon2s' soundstaging and dynamics improved. Transients were faster and more lifelike. I played Stevie Nicks's smoky rendition of "Silver Springs," from Fleetwood Mac's The Dance (CD, Reprise 46702-2)—sure enough, her sultry voice was lifelike and three-dimensional, with no trace of upper-bass bloat. Lyle Lovett's voice was completely natural, clear, and free of bloat or nasality in his cover of the Grateful Dead's "Friend of the Devil," on Deadicated (CD, Arista RCD 8689).
Recordings featuring electric bass and synthesizer became more involving than ever. Wes Phillips had taught me that the opening of "Deeper Wells," from Emmylou Harris's Spyboy (CD, Eminent EM-25001-2), is a torture test for speakers because the voices are so easily drowned out by the deep, swelling, rumbling, groaning electric bass. The Rhythm2 navigated this vortex with ease, letting the other instruments and Harris's voice be clearly heard. The dense, throbbing heartbeat that surges under "Breathe," in a DSD remastering of Pink Floyd's Dark Side of the Moon (SACD/CD, EMI 82136-2), was riveting. Michael Arnopol's double bass in "Too Rich for My Blood," from Patricia Barber's Café Blue (CD, Premonition 90760-2), and in "Use Me," from her Companion (CD, Premonition 90761-2), was driving and pulsatile.
Percussion instruments had snap and pace, and bristled with jaw-droppingly fast transients while retaining their musical integrity. Drum solos were reproduced with slam and momentum, and no sign of the compression or grain that can blur rim shots. In his review of Nola's Metro Grand Reference Gold loudspeaker, JA found that Mark Walker's driving tom-tom solo at the end of Patricia Barber's "Too Rich for My Blood" is a good test of a speaker's ability to reproduce the rich timbres of drums, and the Revel Ultima combo of Rhythm2 and Salon2s did a terrific job with this recording. The bass drum that punctuates John Williams's Liberty Fanfare, from Lowell Graham and the National Symphonic Winds' Winds of War and Peace (CD, Wilson Audiophile WCD-8823), had huge mass and vibrated the room, but remained tight and controlled. For the first time, I sensed that the bass drum may have been recorded in a different space from the other instruments—it sounded somewhat more reverberant, with a distinct timbre to the drum head that I hadn't noticed before. David Bowie's "Putting Out Fire," from the soundtrack of Cat People (CD, MCA MCAD-1498), played with full dynamic range extending from the singer's opening soft whisper to the tear-the-house-down chorus. Bowie's close-miked voice (left of center), the electric bass (center), and a rasping, cat-like scratching noise (right) all gave the music tremendous jump and pace.
Recordings of other instruments with prominent low-frequency content were stunning and exciting. The soft, slow, barely noticeable pulse of the bass drum in "Cosmo . . . Old Friend," from Horner's score for Sneakers (CD, Columbia CK 53146), took on sinister weight and solidity without blurring. David Hudson's didgeridoo throbbed, burned, and rumbled in "Rainforest Wonder," from his Didgeridoo Spirit (CD, Indigenous Australia IA2003D). I easily heard and felt dense pressure from the sustained low C that underpins the segment from Strauss's Also sprach Zarathustra on Erich Kunzel and the Cincinnati Pops' Time Warp (CD, Telarc CD-80106). It vibrated the floor, shook the room, and pulsed the air while giving no auditory clue as to its source. The next track on this disc, Jerry Goldsmith's "Star Trek (The Movie): Main Theme," opens with a bass-drum whack that rocked my room with a massive thud. Stravinsky's The Rite of Spring, performed by the Minnesota Orchestra under Eiji Oue (176kHz/24-bit file, Reference HRx-70), also showed the Rhythm2's great dynamic range, intertwining the more delicate reeds with explosive bass drum and timpani in Adoration of the Earth and Dance of the Earth.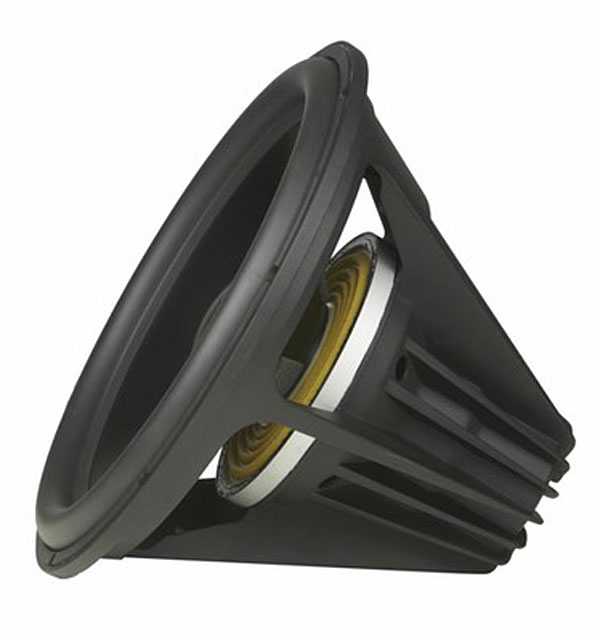 The sub also delivered the shamelessly excessive but hypnotic bass boost in electronic dance music. I identified my favorite DJ mixes and remixes from the Sirius XM Radio's channel 53 ("Chill"), and then download them from Amazon or Beatport. These included: J Boogie Dubtronic Sciences's surging mix of "Le Sangre;" and Mura Masa's dense "Miss You" on Klangkuenstler's Saint-Germain-De-Pres Café, Vol.16. The Rhythm2 alternated the raw, twisted growling midbass notes with thunderous synth pulses on Skrillex's "Scary Monsters and Nice Sprites" mix on Srillex: Greatest Hits and Remixes (CD, Atlanti 1/2 4607147900000). I played these downloads at astonishingly high levels, but the system handled everything without distortion, producing clean, dense, massive beats that got me up and dancing.
Comparisons
I compared the Revel Ultima Rhythm2 ($10,000) with the Velodyne DD-18 ($4999), JL Audio Fathom f113 ($4300), and SVS SB13 Ultra ($1599) subwoofers. While all are different types of sealed-box design, only the Revel and Velodyne have built-in high-pass filters. Unlike the Revel, the JLA and Velodyne offer automatic equalization. All three comparison subwoofers cost considerably less than the Rhythm2, and come with more accessories.
However, the Ultima Rhythm2 excelled as no other sub has in my large listening room, delivering the music's full dynamic range, producing the densest output, and causing pressure waves and definition of the deepest notes. Its room-optimization options were far more complete than any of the other systems, especially because its PEQ could simultaneously manage 10 different room-response peaks. A $12,200 system comprising two JLA Fathom f113s subs and a Bryston 10B-SUB outboard electronic crossover allowed my Quad ESL-989s to produce in my large room a wider, more three-dimensional illusion of a soundstage, and with deeper bass extension, than could a single Rhythm2—but at greater cost and system complexity. Of these four models, only the Rhythm2 could produce a sensation of dense, turbulent air pressure from recordings of organ-pedal notes. I found myself more emotionally involved, more excited, more shaken by the Rhythm2 than by any of the other subs.
How did the Rhythm2 blend with the Quad electrostatics? I set the Rhythm2's high- and low-pass filters to 80Hz, 24dB/octave, and reduced its output by 2dB. The Rhythm2 matched the Quads very well, the outputs of all three blending seamlessly. Relieved of low-bass duties, the Quads now produced a wider dynamic range before their protection circuits were triggered. As with the Ultima Salon2s, I couldn't hear the Ultima Rhythm2's crossover with the Quads.
Conclusions
The Revel Ultima Rhythm2's musicality and power are exceptional, with a unique ability to deliver a powerful performance in a large listening room. Its deep bass has tremendous weight and slam, yet can turn on a dime. Its pitch definition and low distortion revealed important timbres in musical instruments and bass lines that greatly increased my listening enjoyment. Its internal crossover is the cleanest I've heard in a subwoofer, allowing the satellite speakers to play with no coloration or any diminution of their reproductions of the space, width, or depth of soundstaging. More than anything, the Rhythm2 increased my involvement in the music, made it more fun to listen to, and stirred deeper feelings than I'd felt before. It confirmed Robert Harley's comment: "there is something about bass extension—when done right—that opens up a whole new musical vista" (footnote 1).
The Rhythm2's setup tools have a sophistication, flexibility, and precision that reveal its pro-audio origins. I found that its high-pass filter, crossover electronics, and versatile equalizer left no sonic fingerprints on the music as I successfully matched it with both Quad electrostatic panels and Revel's own Ultima Salon2 dynamic speakers.
Any concerns? At $10,000, the Rhythm2 is the most expensive subwoofer I have reviewed, and brings to mind a comment by Harry Partch, the iconoclastic composer and instrument inventor, who wrote, in the liner notes to A Glimpse into the World of Harry Partch: 27 Unique Instruments (LP, Columbia MS-20576), "Adequate playback equipment is absolutely essential, which means that the poorer generally are not privileged to experience a rippling through their backsides by an art form." For this nosebleed price, one could argue that Revel should include a printed LFO instruction manual, a USB cable, and an iTestMic, if not an individual optimization by Kevin Voecks. Others may miss the convenience of a handheld remote control or built-in automated room optimization. Then there are the sub's size and weight—it's just too big to be shoved under a table to appease a spouse, and no decorator can make it disappear.
But when the Ultima Rhythm2 is set up correctly, its musicality, bass power, extension, room lock, speed, pitch definition, clarity, punch, and momentum are amazing. I heard deep-bass notes and felt pressure waves I never knew my recordings possessed. It stirred so many emotions because I felt the music—organ pedals, double bass solos, film scores—as tremendously involving. If you buy a Rhythm2, be sure to invest some time in setting it up. But if you do, be warned: Once you've experienced its power and majesty, you'll find it hard to do without. Highly recommended, especially for large listening rooms.
---
Footnote 1: From
Robert Harley's review
of the Muse Model 18 subwoofer, in the July 1991 issue.