Records to Die For 2019 Page 4
---
Jon Iverson
---
Ray LaMontagne: Part of the Light
RCA 19075837892 (24/96 download). 2018. Ray LaMontagne, prod.; Kevin Ratterman, eng. DDD. TT: 46:07
The way I figure it, Ray LaMontagne was dropped on his head sometime last year and woke up days later, thinking it was 1971, he was Pink Floyd, and he had to go into the studio right now and make an album. Granted, his guitar soloing never reaches Floydian genius level, but LaMontagne's sensual Americana tendencies mesh perfectly with this album's mellow Meddle-era vibe. His breathy, Gilmour-ish vocals wrap you in a pillow of winds, especially in the final track, "Goodbye Blue Sky," which stretches out to seven fearless minutes. Maybe Gilmour could join him on the road . . .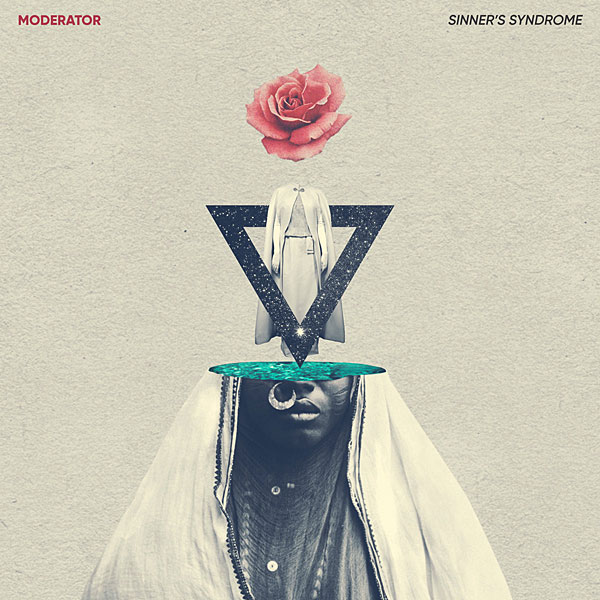 Moderator: Sinner's Syndrome
Melting (24/44 download). 2018. Moderator, prod., eng., mix. DDD. TT: 44:08
I'm a sucker for dreamy trip-hop, and this recent album pushes all the requisite downtempo buttons. Moderator, hailing from Athens, Greece, specializes in uncovering arcane but potent vocal tunes 50–60 years old. He then gives them the groovy DJ once-over, chopping and dicing, often with a twangy, Tarantino-esque twist. The centerpiece is a modern reworking of an obscure and creepy Dinah Shore song, "The Scene of the Crime," with drop-ins from Alfred Hitchcock and an updated rhythm section. I purchased my 24/44 HD download via Bandcamp, where a dozen more Moderator albums await on all formats, including vinyl.
---
Richard Lehnert
---
J.S. Bach: Die Kunst der Fuge
Keller Quartet: András Keller, János Pilz, violin; Zoltán Gál, viola; Ottó Kertész, cello
ECM New Series 1652 (CD). 1998. Manfred Eicher, prod.; Peter Laenger, eng. DDD. TT: 72:01
J.S. Bach's unfinished final work, or nearly final work, or late work abandoned in mid-phrase and never returned to—no one knows which—was composed for unspecified instrument(s) or no instrument at all, and many have thought it less music for the ear than music for the eye or mind. Its extremely abstruse, austere, and complex fugal qualities are difficult enough to hear, let alone coherently play, and the musically literate have often found them easier to trace on the page. Some have wondered if it is music at all, and not some other form of nonverbal information theory set down in dots and lines in an abstraction not of sound but of pure, unmediated thought or data—the raw code of some 18th-century software. In this sense, The Art of Fugue is ultimately not so much unplayable or unhearable as, in some crucial way, unlistenable. Not all who love or respect this music feel this way about it, but over the centuries, enough have that it has earned a reputation for daunting impenetrability, especially when played on harpsichord or piano or organ.
Little of that seems to apply to this recording, by the Keller Quartet of Hungary, of Hermann Diener's transcription of The Art of Fugue. Yes, there is still the sense of a preternatural rigor of form handed down from some other realm on tablets of contrapuntal adamant that reduces most commentators, including this one, to mystical mumblings about God's Thoughts, Basic Structure of the Universe, etc. Yes, this music never will be easy to listen to, or gladly suffer the uninformed or the impatient. But though the Kellers play almost entirely without vibrato, they do not play without vitality and living breath, and their precisely attuned attentiveness to some Higher Rhythm seems inerrant. They take some of these fugues quite slowly, others quite fast. Their delicacy and unity of ensemble playing is breathtakingly sensitive, even as the textures of the sounds of their instruments are dry, rich, gritty, cool, warm, gutsy, whether simultaneously or by turns.
Despite or because of all that, the results are almost alarmingly powerful, uncompromised by even the subtlest pandering to the usual nuances of musical pleasure. I'm not sure I will ever be able do anything as seriously and committedly as the Kellers turn Bach's thought into sound. It's not that they make this music more or less accessible; rather, their X-ray ears and fingers seem to reveal in it an entire history of Western music. Sometimes it sounds like the sparest of late medieval music, sometimes like Schoenberg or Webern—indeed, in this recording I hear for the first time the continuum with this work that those 12-tone serialists always claimed to be extending with their own compositions. All of it also sounds like J.S. Bach and no other.
The Keller Quartet presents the listener with a journey of bracing strenuousness through territory some might think they know well. The sound is spacious, its wetness the perfect complement to the dryness of their strings. These pleasures are keen enough to be easily mistaken for pain. Beware, and be glad.
Egberto Gismonti & Academia de Dança: Sanfona
Egberto Gismonti, piano, 8- & 10-string guitars, Indian organ, sanfona, voice; Mauro Senise, soprano & alto saxophone, flute; Zeca Assumpção, bass; Nene, drums, percussion
ECM 1203/04 (2 CDs). 1981. Manfred Eicher, prod.; Jan Erik Kongshaug, Martin Wieland, engs. AAD. TT: 96:10
Richard Wagner famously described Beethoven's Symphony 7 as "the apotheosis of the dance." I wish he had lived long enough to hear this other perfect exemplar of the terpsichorean, by the Brazilian jazz musician Egberto Gismonti. In addition to his usual guitars, piano, and occasional vocalizing, Gismonti here plays the sanfona, a small piano accordion.
Disc 1 is performed with Gismonti's quartet ca 1980, the Academy of Dance. It's difficult to imagine four musicians playing any more perfectly together—unless it be the Keller Quartet playing J.S. Bach's The Art of Fugue. The rumble of Gismonti's piano and Nene's bells in the opening "Maracatu" presage a long journey up an endlessly bending river of sinuous saxophone sound. "Lôro" is a miracle of delightfully nimble-footed time; as the tempo of its long coda steadily, gradually slows through chorus after chorus, the four players never lose their lightly held perfection of lockstep until all halt together on the tiniest, thinnest of Brazilian dimes. This is joyous and challenging music played as if it were nothing at all.
Disc 2 is Gismonti solo, on a different journey, one more dark and inner. His guitaristry sometimes reminds of Ralph Towner on 12-string, had Towner grown up in Gismonti's hometown of Carmo playing 8- and 10-string. The heart of this disc's varied darknesses is "Vale do Eco," Gismonti adding to his keening sanfona his own voice as, together and alone, they sound out in what seems the vastness of space. I know of no other accordion music like this: primeval, modal, bitonal, a shamanic cry of the soul in music that, moment to moment, is as unpredictable as it sounds inevitable.
That's just the beginning of the riches of a generously long recording that is a working definition not only of audible dance but of clarity: the sounds of human bodies making wood and string and brass and reed speak in their own untranslatable tongues, sounds given enough space to be heard registering in and on that space as it in turn responds to them, before it all travels on to grateful ears. Music.
---
Robert Levine
---
Handel: Semele
Kathleen Battle, Sylvia McNair, soprano; Marilyn Horne, mezzo-soprano; Michael Chance, countertenor; John Aler, tenor; Samuel Ramey, bass; Ambrosian Opera Chorus, English Chamber Orchestra, John Nelson
Deutsche Grammophon 435 782-2 (3 CDs). 1993. Dr. Steven Paul, prod.; Helmut Burk, eng. DDD. TT: 2:54:37
This opera/oratorio (designated the latter, it plays as the former) is among Handel's greatest, tightest, most entertaining works. The vain Semele wants to "experience" the full glory of Jupiter, not in his human form but as The Mighty One. His jealous consort, Juno, eventually wreaks havoc by disguising herself and egging Semele on. Semele nags so thoroughly that Jupiter complies—and Semele is burnt to a crisp, leaving her weak betrothed, Athamas, miserable, until he opts to marry her sister, Ino.
Conductor John Nelson not only eschews period instruments but uses dyed-in-the-wool opera singers: Kathleen Battle as the vain Semele (her aria "Myself I shall adore" is surprisingly naïve); Marilyn Horne as Juno and Ino, superbly differentiated, with her staggering agility and dark, low notes ablaze; smooth, dark-toned Samuel Ramey as both Semele's father, Cadmus, and Somnus, god of sleep; Michael Chance as the vaguely abused Athamas; and John Aler, using his graceful tenor—which could use more force—as Jupiter: his "Where'er you walk" is ravishing.
Nelson gets beautifully articulated "period" playing from the modern players, tempos are swift, and the opera is given complete. Sound, thunder included, is vividly alive.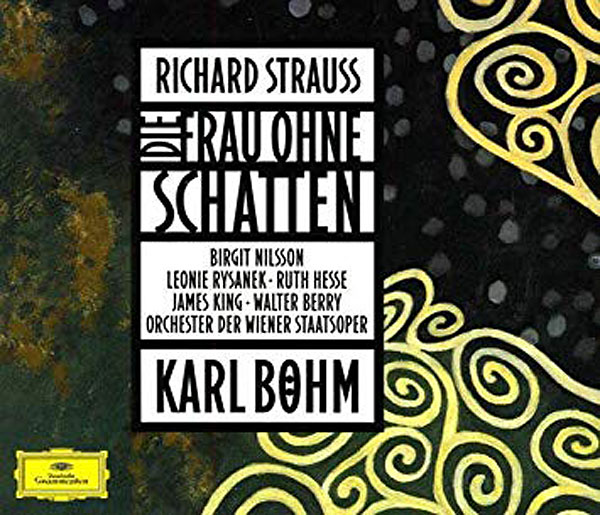 Strauss: Die Frau ohne Schatten
Leonie Rysanek, Birgit Nilsson, soprano; Ruth Hesse, mezzo-soprano; James King, tenor; Walter Berry, bass; Vienna State Opera Orchestra & Chorus, Karl Böhm
Deutsche Grammophon 415 472-2 (3 CDs). 1977/1985. ADD. TT: 2:55:05
Frosch, as it's known to those who love it, is Richard Strauss's most gigantic opera. Coming in at over three hours (this performance is slightly abridged) and calling for an orchestra of over 150 players (plus chorus), five huge solo roles and eight more minor ones, and with a heavily symbolic libretto by Strauss's longtime collaborator, Hugo von Hoffmansthal, it's a phantasmagorical trip both textually and musically, a vortex one gets into early and can't escape. It concerns a mythical childless Empress and the evil Nurse who tries to manipulate the Shadow (the ability to have children) from a "lowly" human couple, and examines the natures of love, power, cruelty, and kindness. The music, which ranges from tonally ravishing to wildly dissonant, fascinates and stuns. The sound world is filled with bells, celesta, 10 trumpets, a whip, gongs, sleigh bells, wind and thunder machines, and more than the usual complement of instruments. The climaxes are gigantic, the tender moments quiet and heart-rending. Two Wagnerian-voiced sopranos, a heldentenor, a dramatic mezzo, and a grand-voiced baritone make up the lead singers. Once the favorite of specialists, Frosch is now close to the mainstream, and this performance, recorded live at the Vienna State Opera in 1977 in brilliant sound, is led by Karl Böhm, who owned it in the 1950s, '60s, and '70s, all over the world. And just look at the cast!
---
Sasha Matson
---
Maria Callas: The Complete Studio Recordings
Warner Classics 633991 (70 CDs). Walter Legge, others, prods.; Simon Gibson, Allan Ramsay, Ian Jones, remastering. AAD. TT: 65:32:53
There are many fine boxed sets—and then there's Maria Callas: The Complete Studio Recordings. This big, bright-red treasure chest is in the stratosphere! All of Callas in the studio, from 1949 through 1969, is here—70 discs in all. There's a fine, informative book with excellent photos, handsome reproductions of album covers, great Abbey Road A-team remastering—it's all first-rate. And the music is beyond compare. If you happen to run into Pallas Athena in a Greek temple, I'm sure she'll look a lot like Maria Callas—and when she starts singing, she'll sound like her, too. All we mere mortals can do is bow down. La Divina!
Jerry Garcia & David Grisman: Shady Grove
Jerry Garcia, guitar, 5-string banjo, vocals; David Grisman, mandolin, guitar, 5-string banjo; others
Acoustic Disc/Mobile Fidelity Sound Lab MFSL-2-478 (2 LPs). 1996/2017. David Grisman, Jerry Garcia, prods.; David Dennison, eng.; Krieg Wunderlich, mastering. AAA. TT: 64:24
Jerry Garcia came full circle in his musical life. In his last years, he spent quality time recording mostly old-time traditional songs with longtime buddy David Grisman, in the latter's excellent personal studio. After Garcia's death, in 1995, Grisman released a first selection from those sessions, Shady Grove. These heart-rending analog recordings always sounded gorgeous, but at first were available only on CD. Now MoFi has done a beautiful job of mastering them as two 33rpm LPs. The title song and two others are also included on the recently released Jerry Garcia: Before the Dead, with performances dating back to 1962 and 1963. For Garcia, the circle remained unbroken. (Vol.20 No.3)