Records to Die For 2019 Page 3
---
Robert Deutsch
---
Jonathan Antoine: Tenore
Jonathan Antoine, tenor; Latvian National Orchestra, London Session Singers, Julian Reynolds
Portrait 88843085372 (CD). 2014. Anna Berry, prod.; Neil Hutchinson, Andris Uze, Gary Thomas, engs. DDD. TT: 45:21
Jonathan Antoine first came to prominence in 2012 as one-half of the duo Jonathan and Charlotte, on the British TV show Got Talent—which some opera pundits might consider automatic disqualification for serious consideration as an opera singer. If so, in my opinion, the pundits would be wrong. Tenore, Antoine's first solo recording, made when he was just 19, reveals a voice of uncommonly beautiful timbre, on the lyrical rather than the dramatic side, but with apparently substantial power and an easy high C. The selections are a mixed bag: some opera arias, Neapolitan and other Italian pop songs, and tenor show-off pieces, including "Granada." He's never less than credible in these various styles, and his performance of Donizetti's "Una furtiva lagrima" bears comparison with some big names, including Pavarotti.
Audra McDonald: Sing Happy
Andy Einhorn, New York Philharmonic
Decca Gold B0028495 02 (CD). 2018. Mark Tavis, prod.; Lawrence Rock, eng. DDD. TT: 61:29
Winner of six Tony Awards, with a repertoire that encompasses opera, musical theater, and jazz, Audra McDonald is a phenomenon. Sing Happy, a live—and lively—recording with the New York Philharmonic conducted by Andy Einhorn, catches McDonald at the peak of her formidable powers. The songs are from musical theater: some well known ("Summertime"), others a bit obscure ("Chain of Love"), but with evident thought given to their selection and sequencing. It's difficult to pick favorites, but mine would have to include "I Am What I Am," "She Loves Me (Vanilla Ice Cream)," "Make Someone Happy," and a definitive performance of "Climb Every Mountain." She sings everything pretty much as written, with no "jazzy" embellishments, trusting the music and lyrics to speak for themselves. It works beautifully.
---
Art Dudley
---
Fotheringay: Fotheringay
Island ILPS 9125 (LP). 1970. Joe Boyd, prod.; Jerry Boys, Tod Lloyd, engs. AAA. TT: 38:32
Sandy Denny: The North Star Grassman and the Ravens
Island ILPS 9165 (LP). 1971. Sandy Denny, Richard Thompson, prods.; John Wood, prod., eng. AAA. TT: 39:12
My introduction to the British band Fairport Convention came in 1971, with their album "Babbacombe Lee"—which, like so many other records, I bought because its cover art appealed to me. That turned out to be the band's last great studio release, and it wasn't until the 21st century that I got around to sampling Fairport's pre-1970s albums, three of which were made with Sandy Denny as lead singer. Once I heard that voice—a dense, understated contralto blending sureness of pitch and perfect control with seemingly limitless character and emotional conviction—I was in love. Friend and fellow Brit-folk fan Reinhard Goerner steered me toward Denny's first two post-Fairport recordings. Fotheringay (1970)—actually the debut album by the short-lived band of that name—is the first real showcase for Denny's emerging talents as a songwriter; her "The Pond and the Stream," "The Sea," and the piano-driven "Nothing More" are the outstanding tracks, the album's only real clunker being a peculiar misreading of Bob Dylan's "Too Much of Nothing." (Vol.28 No.2)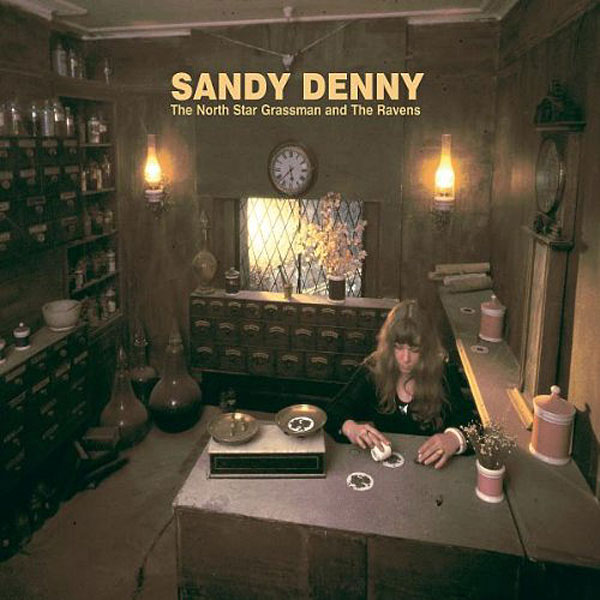 Stronger still is Denny's first solo LP—forget that it featured every member of Fotheringay, plus ex-Fairporter Richard Thompson—the moodier, more pensive The North Star Grassman and the Ravens. Here, Denny's reliance on piano as her instrument of choice continues, to the music's benefit. Both records are very well recorded—yet on both, curiously, Denny's lead vocals are not always as clear or as present as the sounds of the backing instruments: a minor quibble. Denny left us in 1978, at the age of 31; as with labelmate Nick Drake, her legacy seems undimmed by the passing of time.
---
Michael Fremer
---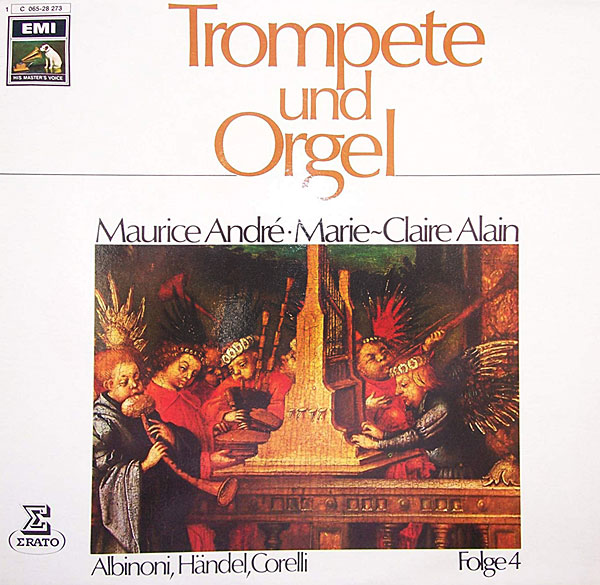 Maurice André, Hedwig Bilgram: Trompette et Orgue Vol.5
Maurice André, trumpet; Hedwig Bilgram, organ
Works by C.P.E. Bach, Böhm, Loeillet, Purcell
Erato STU 70651 (LP). 1971. Peter Willemoës, eng. AAA. TT: 42:00
Connoisseurs of classical trumpet are well familiar with Maurice André (1933–2012), whose prodigious recorded output has resulted in a 13-CD compilation from EMI Classics. This program of baroque compositions, recorded in the church of St. Pierre le-Jeune, in Strasbourg, France, features Hedwig Bilgram playing the Silbermann organ, rebuilt and restored by Mühleisen-Kern. I heard this majestic recording for the first time recently on a friend's system, and immediately ordered an original mint pressing for under $20. On a big, full-frequency-response rig you'll be transported to the venue, but even with a modest system the sound should more than satisfy. The music is sublime.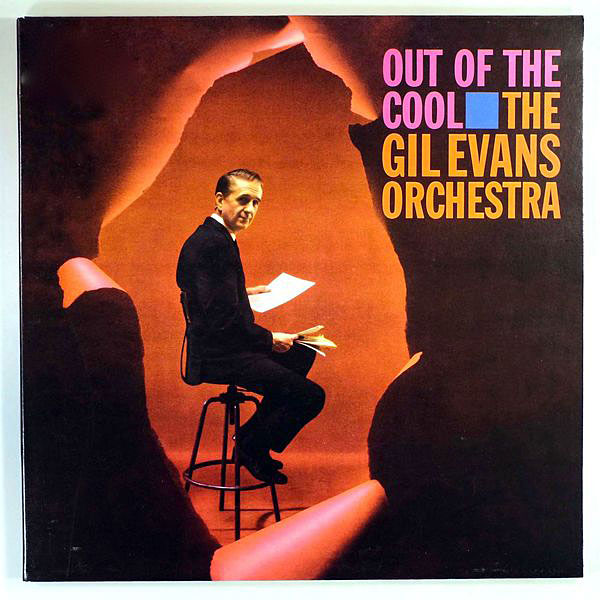 The Gil Evans Orchestra: Out of the Cool
Gil Evans, piano, arr.; Eddie Caine, Ray Beckenstein, piccolo, flute, alto saxophone; Budd Johnson, soprano, tenor saxophones; John Coles, Phil Sunkel, trumpet; Keg Johnson, Jimmy Knepper, trombone; Ray Crawford, guitar; Ron Carter, bass; Elvin Jones, Charlie Persip, drums
Impulse! AS-4/Alto-Analogue 008 (LP). 1961/1997. Creed Taylor, prod.; Rudy Van Gelder, eng. AAA. TT: 44:06
Recorded in 1960, following Evans's long arranging stretch with Miles Davis, Out of the Cool opens with the insistent, repetitive, riff'n'rhythm–based "La Nevada," which starts small, builds big, then retreats almost to a dying ember before exploding in an insistent climax. Resplendent with brassy growls and high-pitched shrilling on woodwinds, this 15-minute track never fails to hold and thrill audiences at audio shows, and proves that it's possible to play at such events something other than the same old familiar crap. The finest-sounding version is this one, cut by Bernie Grundman in 1997 for reissue on Alto-Analogue, before the fire at Universal Music consumed the master tapes. A clean RVG original is good too. (Vol.19 No.2, pp.101 & 105)
---
Larry Greenhill
---
Erich Kunzel & Cincinnati Pops: Time Warp
Works by Don Dorsey, Jerry Goldsmith, Aram Khachaturian, Stu Phillips, Johann Strauss Jr., Richard Strauss, John Williams
Erich Kunzel, Cincinnati Pops Orchestra
Telarc CD-80106 (CD). 1984. Robert Woods, prod.; Jack Renner, eng. DDD. TT: 51:12
This collection of excerpts of music from and associated with science-fiction films, with Erich Kunzel conducting the Cincinnati Pops, has served me over the last 20 years as a reviewing tool for its outstanding imaging, dynamic range, and abundant variety of different tonalities. In my September 1999 review of the Mark Levinson No.334 power amp,5 I wrote that the synthesizer in Don Dorsey's "Ascent" produces "sledgehammer bass and transparent highs" that "erupted out of total black silence with a run of bells, pulses, whooshes, and high-pitched tones like those produced by running your finger over the rim of a glass—all sweeping back and forth across the soundstage at what seemed an infinite number of different loudness levels. The end—a whipcracking shot followed by a deep, subterranean rumble—was eerie, tortured, and unnerving" as it morphed into the opening chords of the introduction to Richard Strauss's Also sprach Zarathustra. Those impressions, written two decades ago, still hold true when my audio system is optimized. A winner.
Shostakovich & Barber: Symphony 5, Adagio for Strings
Manfred Honeck, Pittsburgh Symphony Orchestra
Reference Fresh! FR-724 (24/96 WAV). 2017. Dirk Sabotka, prod.; Mark Donahue, eng. DDD. TT: 60:17
It's not every year that an audiophile release wins a Grammy, so when this recording of Shostakovich's Symphony 5 won two in 2018—for Best Orchestral Performance, Classical, and Best Engineered Album, Classical—it caught my attention. It matches and in some ways surpasses my previous favorite, Leonard Bernstein and the New York Philharmonic's performance in Moscow in September 1959 (LP, Columbia Masterworks MS-6115), following which Bernstein and the composer together took dozens of curtain calls. Honeck's liner note describes how Shostakovich, fearful of being sent by Stalin to a Siberian labor camp, scored a passage in the third movement, Largo, for a "clarinet, bassoon, and contrabassoon [to play] an emotional song of lament, as if somebody is completely lost in the most deserted, cold ice and left to mourn his own fate." The timbral differences between the three winds in that passage are easily distinguished as they play above the violins' tremolo. This effect is enhanced by the ambience of Pittsburgh's Heinz Hall for the Performing Arts, and by the sound of the reed players catching their breaths between notes—it all makes the feeling of being there more realistic and compelling. The symphony concludes with frenzied, explosive bass-drum strokes that here land like hammer blows. This recording of the Shostakovich Fifth is exceptional. (Vol.40 No.11)
---
Steve Guttenberg
---
Khruangbin: Con Todo el Mundo
Night Time Stories DOC103 (CD). 2018. Laura Lee, Mark Speer, prods.; Steve Christensen, prod., eng.; Jonathan Lee Chan, Chris Longwood, engs. DDD? TT: 41:56
Hold on a sec—where the hell is this funk groove collection coming from? Who are these people? Khruangbin means airplane in Thai, but this trio is based in Houston: Laura Lee on bass and vocals, Mark Speer on electric guitar, and Donald Johnson Jr. on drums. A healthy dose of reverb adds atmosphere to their trippy tunes, mostly instrumentals. Khruangbin won't knock Steely Dan or Diana Krall off anyone's list of show demo tracks, but they should. If you crave PRAT, you've come to the right place. To hear Khruangbin at their soulful best, play this one loud.
Wingless Angels: Volumes I & II
Mindless 82506 (2 CDs). 2010. Keith Richards, prod.; Rob Fraboni, prod., eng.; John "Pops" Dowling, eng. AAD? TT: 87:34
Keith Richards was spending a lot of time in Jamaica when he fell in love with a rather loose group of players who came to be known as the Wingless Angels. Their trance-inducing music might be best classified as Rastafarian spirituals. Richards jammed with the Angels as they sang, chanted, and worked their magic on hand drums. Their first album was recorded in 1995 in Richards's Jamaican home, the second in a proper studio. Richards summed up the Wingless Angels' sound with this quote: "They play deliberately at just slightly under heart rate. Their drumming goes deeper than your bones, it's marrow music." Right on, Keef! (Vol.21 No.5)