Peachtree Audio's desktop entertainment system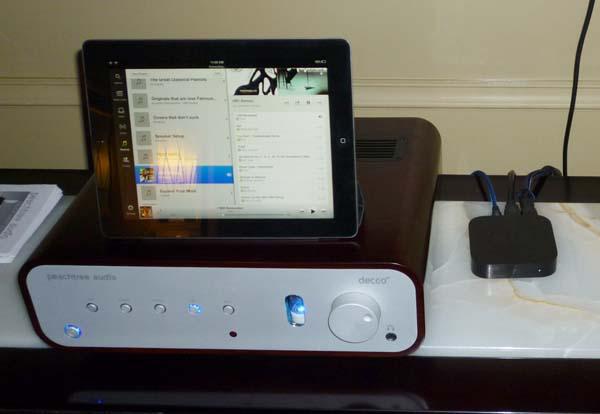 As usual, Peachtree Audio put together one of my favorite systems of the show: iPad, AppleTV, Peachtree Decco65 D/A integrated amplifier, and a pair of Peachtree Design 4 bookshelf loudspeakers mated with a small REL subwoofer.
I looked at the system; listened to the fun, engaging sound; and thought to myself: Why doesn't everyone own a system like this?
I was listening to a Trentmoller track. We may have been streaming from Spotify. The sound was dynamic, detailed, full-bodied, and, whether I was standing off to the side or sitting in the sweet spot, I noted an excellent sense of space and scale.
Then, using his iPhone, Peachtree's David Solomon streamed a YouTube video to the flatscreen; the audio came from the system. The video was great, the sound was great, and the experience was awesome—cool, entertaining, fun.
"This is what real people do and we want to sell our stuff to real people," Solomon said.
The Decco65 combines a 65Wpc power amp, preamp with tubed buffer stage, 24-bit/192kHz D/A converter and USB interface in one sleek chassis. It's got the stuff that audiophiles need and the versatility, style, and simplicity that normal people want. Keep an eye out for our complete review of the Decco65 in our March 2013 issue.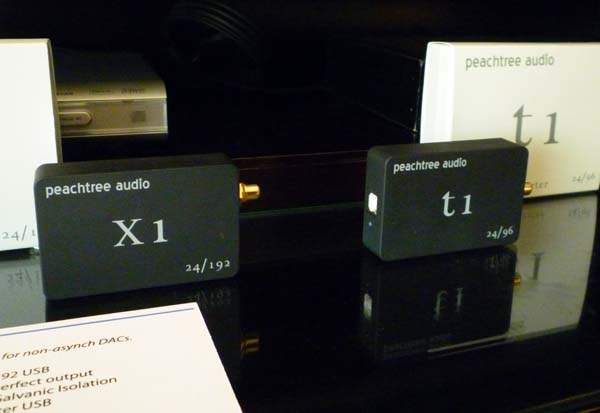 Peachtree was also showing their cute little T1 ($99) and X1 ($199) plug-and-play USB-S/PDIF converters. These can be added to existing Peachtree Nova, Decco, iNova, iDac, Dac-iT, and other units, which don't already resolve high-res data via USB. The asynchronous X1 uses two clocks for "bit-perfect output" and handles 24-bit/192kHz resolutions, while the adaptive T1 is limited to 24/96.