Parasound Shares its Strengths in San Jose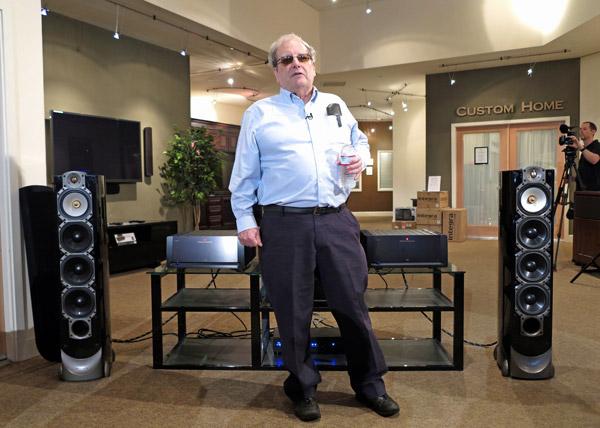 On July 17, industry veterans Richard Schram, founder of Parasound, and John Curl, the company's legendary circuit designer (above), made a rare joint appearance at Century Stereo in San Jose, CA. Surviving unexpectedly horrendous freeway traffic, which made for a late start—perfect for this writer, who made the same commute—the two men's great spirits contributed to an evening as entertaining as it was informative.
Schram noted that when Parasound began in 1981, his strategy was informed by the very direct, unfiltered feedback he had received about the products he had developed for Pacific Stereo, which once the country's largest audio retailer. Above all, he learned how to find and identify factories whose workmanship he could trust.
Parasound products are built in Taiwan, not China; one factory has been engaged in continuous production of Parasound products since 1982. Quality is checked both in Taiwan and the United States, which assures that the products maintain their reputation for quality in the 60 countries in which they are sold.
"Parasound has benefited from several important lessons I learned as a retailer," he explained after the presentation. "First, the products should be unquestionably reliable. Second, the product design should be relevant and responsive to what customers actually want, rather than the singular point of view of an engineer or designer."
Schram engaged Curl in 1988 to raise the company's products to a very high level of performance that was both audible and measurable. Both men also credited Carl Thompson, whose circuit board designs contribute significantly to Parasound products' performance.
The company's success, Schram asserted, is reflected in the fact that they do not try to emulate the fashion industry by changing their products every year.
"My staff doesn't like me to brag about how long our products remain on the market unchanged," he said, while noting that that the company's fabled Halo JC 1 mono power amplifiers have been around since March of 2003. Even older is the company's smallest two-channel amp, the Halo A 23. "We're really stubborn about refining our craft rather than borrowing from other companies."
Schram cited several characteristics of Parasound's amplifiers that have contributed to their success. "First," he said, "they're direct-coupled, which means they can pass an audio signal without putting capacitors in the signal path. John Curl was one of the earliest audio engineers to actually measure and publish article on the deleterious effects of various dielectric materials in capacitors. So instead of capacitors, Parasound uses DC servos to monitor the presence of and eliminate DC offset voltages that can damage loudspeakers. This gives us the ability, for example, to design the JC 1 to deliver its full rated power at 2Hz. The solid bass foundation this provides brings out the best in any loudspeaker, by enabling it to have more bass extension than it might with other amplifiers. This is one of the reasons so many loudspeaker manufacturers own Parasound for both development and demonstration purposes."
Also attributable to Curl, we were told, are the virtual elimination of higher-order odd harmonic distortion, and the discovery of the ideal idle current level for an optimal transfer function in output transistors. Schram asserted these advances are evident even at low to average listening levels, where Parasound amps' "tremendous dynamic capabilities" comes through loud and clear.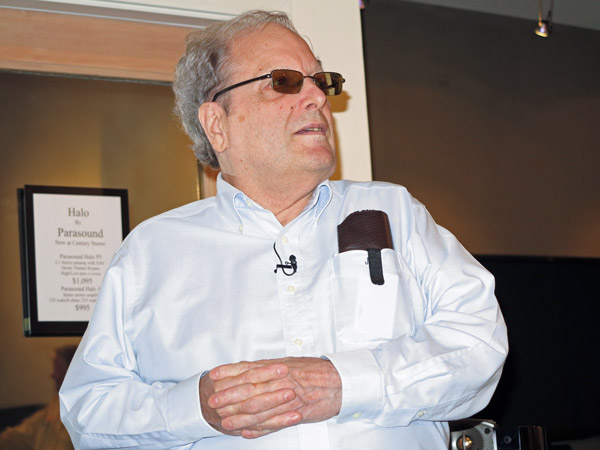 The Grateful Dead Connection
"Between the two of us, we have 150 years experience in the audio industry," Curl quipped as he reminisced on his history. Raised in what is now the Silicon Valley area, he studied engineering physics at San Jose State before heading to Berkeley "to hang out with the intellectuals.
"People thought I was crazy to go into electronics," he said. Nonetheless, he soon got a job at Ampex building tape decks. In 1970, when the Grateful Dead tired of tube equipment that broke, they engaged Curl to design solid-state amplifiers. Unfortunately, when their road manager, Owsley—yes, Stanley Owsley, famed for the purity of his LSD—decided to drop batteries into the gear, he put them in backwards, and blew the amps up. Curl took the blame, and was fired. Hollywood, too, "kicked me out."
"Around this time, I realized that what something measures well is not all that it is. There's more to it than the engineering. The physics is at the root of it."
Eventually, the Grateful Dead came to their senses, and Curl was re-engaged to build their fabled Wall of Sound sound system. Around this time, he met up with Mark Levinson, who "made beautiful things in his parents' basement." This soon included building Grateful Dead modules from Curl's schematics.
"When Mark suggested we build the JC 2 preamp from the modules The Grateful Dead had paid for, we went head-to-head with the big ones and took off. Mark wanted it all, so he eventually changed the name of the JC 2 to the ML 1. We had to make it sound completely neutral without edge. Eliminating the edge is the thing. We did it by making sure the harmonic distortion remained at a low level, and nulling the 7th and 9th order harmonics which are completely un-harmonic."
Curl attributes part of his success to the fact that he read technical papers that no one else bothered to read. "I read every journal. I put in my 10,000 hours. And I developed my motto, 'Trust your ears.' I recently consulted for a Blu-ray company, but they didn't listen to me because the specs mean everything to them. They didn't listen to the sound."
Among Curl's other accomplishments was building boards for the master recorder that Dave Wilson used to make his fabled recordings. Wilson loaned one of those tape machines to Sheffield, which they used for their sessions in Moscow. He also worked with John Meyer, now of the sound reinforcement company MeyerSound.
"Our amps will drive everything," Curl declared. "The JC 1 is designed to pull a trailer, figuratively speaking.
Finally, after a lot of technical discussion that sent at least one devoted musician/audiophile to the parking lot, it was time for music. In a system composed of Parasound's CD 1 bit-perfect CD player, Halo JC 2 preamp, and JC 1 monoblocks feeding Paradigm loudspeakers, we first heard an acoustic guitar track by Nils Lofgren. Sitting in front row center, I was impressed by the marvelous soundstaging, warmth of the sound, and the special way the image hung in space, independent of the loudspeakers.
Coming after so much talk, the beauty of the music was like a magical surprise. To be honest, the sound was pretty mesmerizing on top, and exceptionally smooth.
A subsequent track featuring Count Basie and his orchestra from Basie 88 showcased the system's perfect top-to-bottom control and surprising sweetness. The brass had requisite yet non-fatiguing bite, and the percussion had all the slam one could ask for from a relatively modest, gimmick-less set-up. With a product raffle the icing on an already very rich cake, it is safe to say that the full house of audiophiles left the store smiling and sated. Video of the event should be posted by early August to Century Stereo's YouTube channel.
Highlight of the evening was a raffle, with Bill Richter (below) winning a Parasound Zamp V3 in silver.