NAD C 298 power amplifier Measurements
Sidebar 4: Measurements
The NAD C 298 can be operated as a conventional stereo amplifier or as a bridged-mono amplifier. (In mono mode, the signal is fed to the left input and the output taken from the left channel's positive binding post and the right channel's negative binding post.) As Kal Rubinson auditioned the NAD both in stereo mode and as a pair of monoblocks, I performed a complete set of measurements in both modes. The C 298 has an output stage operating in class-D, so I inserted an Audio Precision auxiliary AUX-0025 passive low-pass filter between the test load and my Audio Precision SYS2722 system (see the January 2008 "As We See It"). This filter eliminates RF noise that could drive the SYS2722's input circuitry into slew-rate limiting, and I used it for all the tests other than frequency response.
The C 298 has both balanced and single-ended inputs; I performed most of the measurements using the balanced inputs, repeating some tests with the unbalanced inputs. With the amplifier in stereo and fixed-gain modes, I measured a voltage gain of 28.6dB into 8 ohms with both types of inputs. With the amplifier switched to variable-gain mode, the voltage gain could be varied between 9.35dB and 28.5dB. In mono mode, the C 298's gain into 8 ohms was 25.3dB in fixed-gain mode but could be varied between 15.4dB and 34.55dB in the variable-gain mode. The amplifier preserved absolute polarity (ie, was noninverting) with both types of inputs in both stereo and mono modes, as well as from the preamplifier output. The XLR jacks are wired with pin 2 hot.
The input impedance is specified as a high 56k ohms with both types of input. My measurement was close to the specification for the single-ended inputs, at 49k ohms at 20Hz and 1kHz. This dropped inconsequentially to 35k ohms at the top of the audioband. The balanced input impedance was 100k ohms at 1kHz and a little lower at the frequency extremes. The gain at the preamplifier outputs was –0.1dB, sourced from an impedance of 655 ohms at 20Hz and 385 ohms at 1kHz and 20kHz.
With the NAD amplifier in stereo mode, I measured a very low output impedance of 0.06 ohms at 20Hz and 1kHz, rising slightly to 0.072 ohms at 20kHz. (These figures include the series impedance of a 6', spaced-pair speaker cable.) The output impedance was only slightly higher in mono mode, at 0.063 ohms at 20Hz and 1kHz, and 0.082 ohms at 20kHz. The modulation of the NAD's frequency response driving our standard simulated loudspeaker was therefore very low, at ±0.05dB (fig.1, gray trace). This graph was taken in stereo mode; the responses were identical in mono mode. The small-signal bandwidth was restricted by the low-pass filter between the amplifier's class-D stage and its output terminals. Into 8 ohms (fig.1, blue trace), the ultrasonic rolloff reached –3dB at 66kHz. This rolloff lengthened the risetimes of a 10kHz squarewave (fig.2). There is a critically damped overshoot on the tops and bottoms of the waveform, but there is no ringing.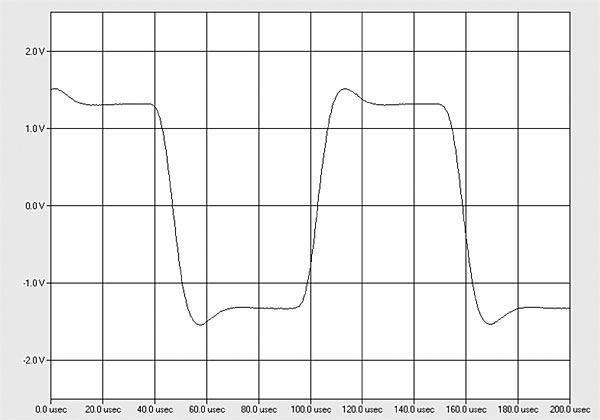 Channel separation in stereo mode was superb, at >110dB in both directions below 1kHz and still close to 80dB at 20kHz. Without the auxiliary low-pass filter, 180mV of ultrasonic noise was present at the C 298's output terminals. With the AP filter and the C 298 set to stereo mode and fixed gain, the unweighted, wideband signal/ noise ratio, taken with the single-ended inputs shorted to ground, was 78.5dB (average of both channel) ref. 1W into 8 ohms. It improved to 95.1dB when I restricted the measurement to the audioband and to 99dB with an A-weighting filter in circuit.
These ratios were affected only slightly by switching the amplifier in stereo mode to variable-gain mode and adjusting the gain from minimum to maximum. This can be seen in fig.3, which shows the spectrum of the low-frequency noise floor with the gain set to its minimum (green and gray traces) and to its maximum (blue and red traces). The only power supply–related component visible in this graph is at 60Hz, but this is negligible at almost –120dB ref. 1W into 8 ohms. With the C 298 set to bridged mono and with the variable gain set to its minimum, the noise floor was identical to what it had been in stereo mode other than no longer having a 60Hz component (fig.4, blue trace). However, increasing the gain to its maximum now raised the noise floor by around 10dB (red trace).
The C 298's rated power in stereo mode is specified as 185Wpc into 8 ohms (22.67dBW) and 340W into 4 ohms (22.3dBW ref. 1W into 8 ohms). The NAD exceeded its specified power into both impedances. With both channels driven and clipping defined as when the THD+noise in the output reaches 1%, the C 298 clipped at 275W into 8 ohms (24.4dBW, fig.5) and at 510W into 4 ohms (fig.6, 24.1dBW). What is extraordinary about these two graphs is that the harmonic distortion reaches 0.0005% or lower at powers between 20W and 180W into 8 ohms and between 40W and 70W into 4 ohms. (Below those regions, the traces in these graphs are dominated by noise.) The C 298 is one of the lowest-distortion amplifiers I have measured, rivaling the less powerful Benchmark AHB2 that KR reviewed in November 2015.
In bridged-mono mode, the NAD's rated power is specified as 620W into 8 ohms (27.9dBW). Again, the C 298 exceeded its specified power, clipping at 980W into 8 ohms (29.9dBW, fig.7). NAD doesn't recommend using the amplifier in mono mode to drive impedances below 8 ohms. Nevertheless, I measured a clipping power of 880W into 4 ohms (26.4dBW, not shown, footnote 1).
I examined how the THD+N percentage in the C 298's output in stereo mode varied with frequency at 14V (equivalent to 24.5W into 8 ohms, 49W into 4 ohms, and 98W into 2 ohms). I tried a higher output level—20V—but the amplifier went into protection mode after a short while driving the higher frequencies at 2 ohms. The distortion into 8 ohms was very low (fig.8, blue and red traces), though it started to rise in the top octave. The distortion hardly rose into 4 ohms (cyan and magenta traces) and only by a little into 2 ohms (green and gray traces).
The NAD amplifier's distortion signature at high power in both stereo and mono modes into 4 ohms was primarily third harmonic (fig.9). (The distortion was below the noise floor at lower powers, especially into 8 ohms.) Spectral analysis confirmed that this harmonic was slightly higher in level in the right channel (fig.10, red trace) than the left (blue trace), though at –124dB ref. 100W into 8 ohms (0.00006%), it is negligible. Note the commendable absence of higher-order harmonics in this graph. At the same output voltage into 4 ohms, which is equivalent to 200W, the third harmonic rose to –110dB in the left channel and to a still very low –104dB in the right (fig.11). In bridged-mono mode at 100W into 8 ohms, the second and third harmonics both lay at –120dB (0.0001%, fig.12), though the third harmonic rose to –100dB (0.001%) at the same voltage into 4 ohms (fig.13).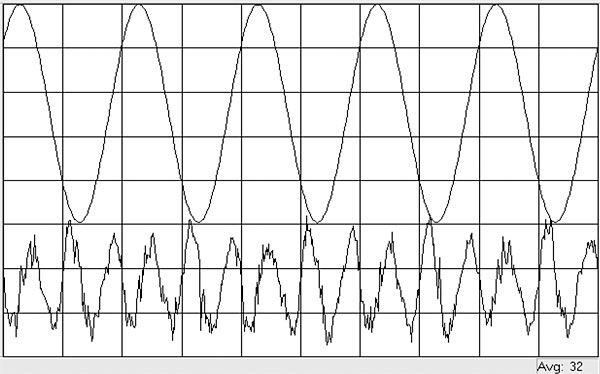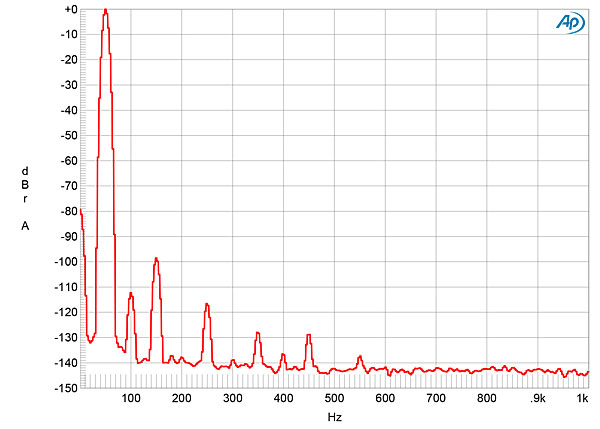 With an equal mix of 19 and 20kHz tones and the signal peaking at 200W into 4 ohms, intermodulation in stereo mode was extremely low (fig.14). Surprisingly, the higher-order products were even lower in mono mode at 00W into 8 ohms, though the difference product at 1kHz still lay below –120dB (fig.15).
Going back to the days when NAD's amplifiers were designed by the late Björn Erik Edvardsen, I have always been impressed by the company's conservative and competent engineering. The NAD C 298 continues that tradition but, with its "Eigentakt" class-D output modules, sets a new standard for combining very high power with supremely low distortion.—John Atkinson
---
Footnote 1: This impressively high power could not however be sustained for more than 30 seconds or so. The owner's manual says that running the C 298 in bridged-mono mode to drive impedances lower than 8 ohms "may cause the amplifier's thermal cut-out to operate if played at high levels." Very likely, a bridged NAD 298 would perform well into loads less than 8 ohms at normal listening levels—and it would then have impressive short-term reserves to draw on for transient power. Indeed, while NAD does not recommend bridged C 298 for use with loads below 8 ohms, it specifies the bridged amp as having an impressive 1100W of "IHF dynamic power" into 4 ohms when bridged.
What's going on? In effect, bridging an amplifier cuts the impedance the amplifier sees in half, so while the amp has more power, it needs more power to drive a more difficult load. The same phenomenon is at work in all bridged amplifiers.—Editor