Moon by Simaudio Evolution 780D D/A processor
Simaudio saw disc-based digital audio in its rear-view mirror at least as far back as 2011, when it introduced the
Moon Evolution 650D
and 750D—two iterations of what it called a "digital-to-analog converter CD transport." These were actually multiple-input CD players, but Simaudio was evidently so eager to distance itself from the spinning disc that it went with a product category that, in spite of its cumbersome, run-on name, drew a clean line between the disc-reading and signal-processing functions—while bestowing upon the former second-class citizenship.
With the new Moon Evolution 780D Streaming DSD DAC ($15,000), Simaudio has altogether eliminated the spinning disc. If you buy a 780D and want to play CDs through it, you'll have to add a CD transport or a player with a digital output (the Moon Evolution 650D and Neo 260D remain in production).
While this may seem extreme to some, for most of us, stepping away from the CD tray can't come fast enough. There's nothing particularly nostalgic or pleasant about inserting a CD in a player—no warm glow produced by removing, from a flimsy-hinged "jewel case," a cold-looking plastic disc and watching it get swallowed. Counting off the seconds on a fluorescent screen isn't as entertaining as, say, watching a stylus course through the grooves on an LP.
The smarter alternative to adding a CD transport to the 780D would perhaps be to add a Meridian Sooloos Digital Music Server and rip your CDs to one of its outboard 4TB Store units, or buy an Apple Mac mini and do similarly, accessing your library via an Apple iPad using the excellent Roon software developed by the former Sooloos team. Once you have instant access to your digital music, you're unlikely to want to go back to manually inserting discs.
Of course, ripping a large library takes time. If you go that route, before ripping your CDs, consider treating them with Essence of Music (essence-of-music.com), a liquid recommended to me by a well-known recording engineer who is no fan of CDs. Essence of Music is claimed to reduce bi-refringence, aka bi-refraction: the refraction of light in an anisotropic material (an extreme example would be calcite) in two slightly different directions to form two rays. Applying Essence of Music is a time-consuming two-step process, and there are problems of chemical incompatibility with some hybrid SACD/CDs made before 2004—but it really works. (Too late for the more than 3200 CDs I've already ripped to my Sooloos!)
Description
Though housed in an aircraft-grade aluminum case that looks identical to those of Simaudio's earlier CD players, the Moon Evolution 780D offers a far wider range of capabilities. It can decode PCM files of sampling rates up to 352.8 and 384kHz, as well as DSD files at 2.8224, 5.6448, and 11.2896MHz—or DSD, DSD2x, and DSD4x. Given how few recordings are available at such ultra-high resolutions, do we really need the ability to decode them? Well, why not be ready?
The 780D's femtosecond clock is claimed to produce lower jitter and distortion than the clock in the Moon Evolution 750D. Conversion chores are handled by a dual-mono pair of ESS9018 Sabre DACs, each of which contains 16 individual DAC circuits. The 780D features the Moon Hybrid Power (MHP) power supply, which includes, among other components, conductive polymer capacitors, high-speed digital switching, and analog linear regulators; additionally, the 780D has a dozen stages of DC voltage regulation.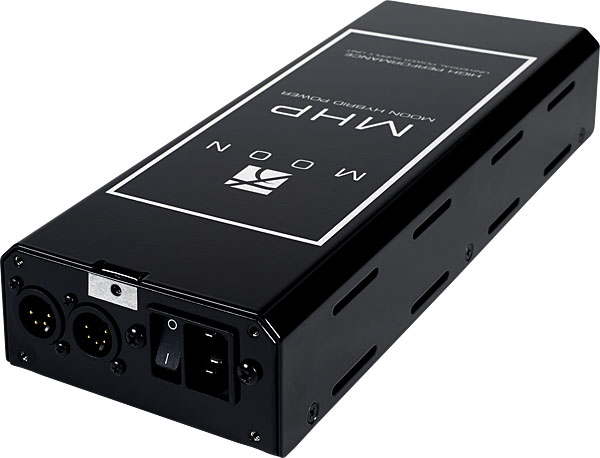 The 780D provides nine digital inputs: one AES/EBU, three electrical S/PDIF (two RCA, one BNC), two TosLink optical S/PDIF, one USB, and one for Simaudio's Moon intelligent Network Device (MiND) music-streamer application, accessible via Ethernet connection or built-in WiFi (more about this shortly). The ninth input doesn't have a rear-panel jack, as it's for aptX Bluetooth connection. Each input can be named and programmed by the user, and selected with scroll buttons on the front panel. Of the inputs described above, the first six are for resolutions up through 24-bit/192kHz. The seventh (USB) is for all of those plus PCM up to 24/384, as well as DSD and DXD. If you already have a recent Simaudio Moon CD player, a simple SimLink connection between player and DAC automatically selects digital input 2 (S/PDIF) when you push the player's Play button. (This can be changed with the Set-up menu.)
Also on the rear panel are single-ended (RCA) and balanced (XLR) analog outputs, an input for the supplied WiFi antenna, an RS-232 port, and two inputs for Simaudio's optional external Moon Evolution 820S power supply ($8000)—which, when I reviewed it in 2014, significantly improved the sound of the Moon Evolution 650D.
Unlike some other streaming DACs, the 780D lacks a hi-rez color screen to display album art and other metadata. While the 780D's long, low, old-fashioned, red-character dot-matrix display may seem an unusual choice, I think it was a smart one. Most people will be doing all of their music selecting and information gathering using a handheld device that will no doubt have a larger, higher-rez screen than can easily be built into a front panel. Over time, I think more companies will decide that big displays are a waste of money and faceplate real estate. To the left of the display are four buttons: Standby, Display, and Input Up and Down. To the right of the screen are four more buttons, for navigating the 780D's menus: Setup, Up, Down, and OK.
In ergonomics and appearance, Simaudio's new FRM-3 backlit remote control, with motion detection, is a major improvement over the remotes included with the 650D and 750D CD players.
MiND, which is integrated into the 780D's enclosure—when first introduced by Simaudio, it was an outboard box—supports a number of file formats: AAC, AIFF, ALAC, FLAC, FLAC HD, MP3 (VBR/CBR), OGG Vorbis, WAV, and WMA-9. It also offers vTuner Internet Radio compatibility and support for Tidal along with a UPnP Renderer (Universal Plug & Play) and DLNA 1.5 compatibility.
Setup and Use
The Moon Evolution 780D will present no great challenge to those with experience configuring home-theater receivers and preamplifier-processors; others might suffer various levels of difficulty and frustration, which are best avoided by having the dealer do the work. The writer of the 780D's manual has tried commendably hard to succinctly explain everything in clear, conversational prose, but unless you're well versed in the latest digital developments, prepare to be confused.
For CD playback, I used an AES/EBU cable between the 780D and my 650D CD player, S/PDIF between the 780D and my Meridian Sooloos, and Ethernet to join the 780D to my wired network. (I built this network myself, when the walls of our house were opened during a renovation.) I ran a USB cable from my laptop to the 780D's USB input.
So far, setting up and using the 780D was no different from what it had been for the 650D. I wasn't interested in Bluetooth streaming (though I did end up trying it from my iPhone). What I was really interested in was easy access from my listening chair to the large iTunes library on my office iMac—and, more important, to the music stored on two hard drives I keep on an office shelf. One of these, a 2TB drive, contains the data of hundreds of DVD-Audio discs I've collected but had never listened to, for lack of any convenient way to play them. A friend generously did the ripping for me.
The other, a 3TB drive, contains other stuff I've accumulated over the years. One file—I don't know where I got it, or from whom—is Glyn Johns's second mix of the Beatles' Let It Be, and jeez, it should be released in hi-rez (or, better, on vinyl, if the tape still exists). Also on that drive are 75 legally obtained 24/192 master files from Blue Note Records that I promised not to distribute. So I don't. Until now, the only way to listen to either drive was to bring it into my listening room, connect it to my laptop, and run it through JRiver Media Center. It wasn't exactly convenient, so, big surprise, I didn't do it very often.
Now I was anxious to experience easy access to these many albums via a streaming DAC. But how? My drives don't have Ethernet connectivity (today, many new ones do), and for the purposes of this review I wasn't going to invest in a NAS (Network Attached Storage) drive, though they're getting dirt cheap—a 6TB Western Digital NAS costs around $250!
Because the Moon Evolution 780D's most attractive feature is its ability to stream music via MiND, I found it curious that the instruction manual pretty much ignores this. Instead, the user is told to "visit our website to download PDF versions of both the 'MiND Setup Guide' and 'MiND App User Guide'." Nor does the manual provide URLs for these downloads—and you'd be mistaken if you think that if you "visit our website" it will be easy to find where to download the PDFs.
Nor does Simaudio provide the exact search term needed to find the MiND app on Apple's App store. I tried every combination of Sim, Moon, Sim Moon, MiND, etc. Nothing. Nor could I find where to download the manuals—until I called Lionel Goodfield, Simaudio's head of public relations and marketing. Although he assured me that the dealer would do all of this for the customer, in my opinion that's no excuse for not providing far better instructions.