Moon by Simaudio 888 monoblock power amplifier Measurements
Sidebar 3: Measurements
Because, in its flight case, each Moon by Simaudio 888 amplifier weighs 300 lb, I drove my Audio Precision SYS2722 system (see the January 2008 "As We See It"), with its host PC, monitor, test loads, and cables, to Mikey's place, rather than try to get one to my place and down the stairs from the front door to my basement test lab. We manhandled one 888 onto a dolly and wheeled it into Mikey's garage, where I set up my gear. Because the outlets in his garage weren't up to the amplifier's current demands, we ran a long, heavy-duty extension cord to one of the 20A outlets in his house.
Usually, before performing any measurements, I precondition an amplifier by running it for an hour at one-third its measured maximum power into 8 ohms—thermally, the worst case for an amplifier with a class-AB output stage. Time constraints—I needed to hit the road for the 45-mile drive home before the Friday-evening rush hour—meant that I had to cut the preconditioning period to 20 minutes. By the end of that time, the Moon 888's top panel was barely warm, at 78.4°F (25.8°C); the side-mounted heatsinks were hotter, at 109.6°F (43.1°C).
The voltage gain at 1kHz into 8 ohms using the balanced input was slightly higher than the specified 31dB, at 32dB. For the unbalanced input the gain was 29dB, 3dB lower than the balanced gain rather than the expected 6dB. The amplifier was non-inverting (ie, it preserved absolute polarity) with both inputs. Its balanced input impedance was 32k ohms at 20Hz and 1kHz, dropping to the specified 24k ohms at 20kHz. The unbalanced input impedance was 16k ohms at 20Hz and 1kHz, but 10k ohms at 20kHz.
The Moon 888's output impedance, including 6' of speaker cable, was very low, at 0.03 ohm at 20Hz and 1kHz, rising to 0.085 ohm at 20kHz. The modulation of the amplifier's frequency response, due to the Ohm's law interaction between this source impedance and the impedance of our standard simulated loudspeaker, was therefore minimal (fig.1, gray trace). Into an 8 ohm resistive load (fig.1, blue trace), the Simaudio's response was flat almost up to 20kHz, then rolled off to reach –3dB at 70kHz rather than the specified 200kHz. The response rolled off a little earlier into lower impedances.
A rear-panel switch allows the amplifier to be operated with DC or AC input coupling. The DC response was flat down to 10Hz (fig.2, blue trace); the AC response began to roll off in the low bass, reaching –1dB around 15Hz (red trace). The amplifier's reproduction of a 10kHz squarewave into 8 ohms was commendably free from overshoot and ringing (fig.3).
The Moon 888's unweighted, wideband signal/noise ratio, ref. 1W into 8 ohms and taken with the input shorted to ground, was 75.2dB. This improved to an excellent 87.3dB when the measurement bandwidth was restricted to the audioband, and to 89.8dB when the measurement was A-weighted. Spuriae were present in the amplifier's noise floor at the 60Hz power-supply frequency and its odd harmonic, but these all lay at or below –106dB ref. 1W into 8 ohms (0.0005%, fig.4).
As its name suggests, the Moon 888 is specified as delivering a staggering 888W into 8 ohms (29.5dBW). Using our definition of clipping—ie, when the output's percentage of THD+noise reaches 1%—the amplifier exceeded that output, clipping with a 1kHz signal at 990W into 8 ohms (30dBW, fig.5). The clipping power didn't double when the load was halved, 1300W being delivered at clipping into 4 ohms (28.1dBW, fig.6), but it's fair to note that I didn't hold the wall voltage constant for this test. However, the Moon 888 turned itself off several times during these high-power tests, particularly when I tried (unsuccessfully) to measure the clipping power into 2 ohms.
I examined how the percentage of THD+N changed with frequency at 20V, which is equivalent to 50W into 8 ohms, 100W into 4 ohms, and 200W into 2 ohms. The THD+N was extremely low in the midrange into 8 and 4 ohms (fig.7, blue and magenta traces), but rose into 2 ohms (red). In this test I sweep a tone from 20kHz down to 20Hz, and you can see that the 2 ohm trace cuts off at 80Hz, which was when the amplifier's protection kicked in (footnote 1). This behavior was reminiscent of what happened when I measured the Bricasti Design M15 amplifier, reviewed in the July issue. I also noticed that when I turned the Moon 888 off and on after one of these incidents, the percentage of THD+N was at first about twice as high as in fig.7; it then took about a minute to drop to the previously measured value.
Fortunately, the Moon 888's distortion was predominantly the subjectively innocuous third harmonic (fig.8), and lay at a low –80dB (0.01%, fig.9), though the fifth and seventh harmonics rose to the level of the third harmonic at high powers into 4 ohms (not shown). Though some higher-order intermodulation products were evident when the amplifier drove an equal mix of 19 and 20kHz tones at high power into 4 ohms (fig.10), these all lay below –80dB, and the second-order difference product at 1kHz was vanishingly low in level, at –117dB (0.00014%).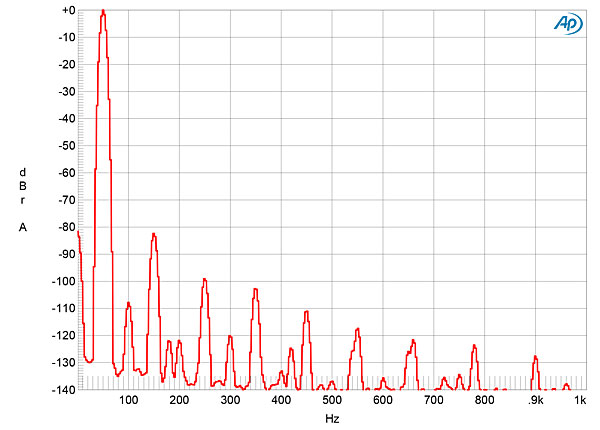 Overall, this is good measured performance. I suspect that the Moon by Simaudio 888's aggressive protection circuitry is due to the significant amount of energy that can be stored in an amplifier that can deliver more than a kilowatt into low impedances.—John Atkinson
---
Footnote 1: I was using the Moon 888s when I measured the spatially averaged frequency responses of the EgglestonWorks Viginti speakers that Michael
reviewed in June
, and one of the amplifiers went into protection a couple of times then.