Lutoslawski's Strange and Compelling World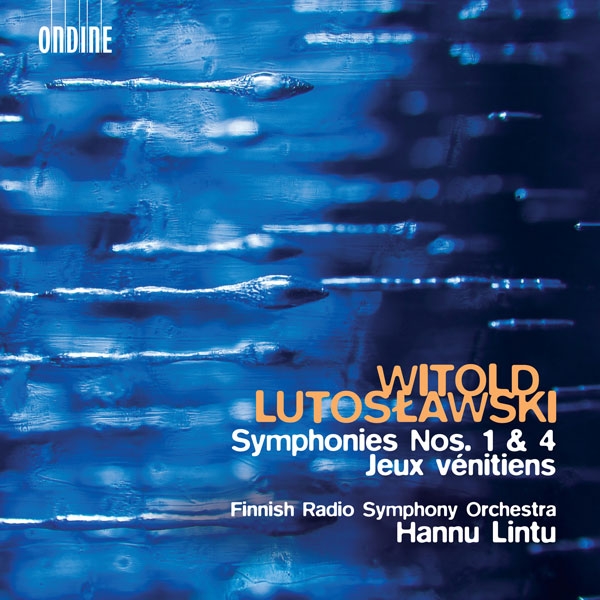 There are many ways to talk about the remarkable
Symphonies Nos.1 & 4 • Jeux vénitiens
of Polish composer Witold Lutoslawski (1913–1994). You could, for example, approach them as does Kimmo Korhonen, whose extremely detailed and well-thought-out liner notes for the recent Ondine SACD of these works from Hannu Lintu and the Finnish Radio Symphony Orchestra examine the evolution of Lutoslawski's tonal language and explain that they basically represent the beginning (Symphony No.1, 1947), middle (
Venetian Games
, 1960–1961) and end (Symphony No.4, 1992) of his arc as a mature composer. Or you could simply close your eyes and discover how many fantastic places they take you to.
The latter is what I suggest. The more you allow Lutoslawski's strange and wonderful compositions to seize you—the more you allow music-inspired images to surface and float through your mind—the more you will want to listen again and again.
There's really nothing predictable here in the harmonic sense. Symphony No.1 begins with a lot of racing about—a lot of force, aggression and brash energy. Lutoslawski rejected the notion that this symphony reflects what was going on in the world during the six years that the work took form, but it's hard to imagine that a European composer of his sensitivity could have created music on some rarefied level that was completely divorced from the realities of WWII. Whatever the case may be, what is certainly clear is that, as neo-classical as Lutoslawski's writing may be, it paints a very strange world that, at times, is filled with mysterious violence. A degree of dynamic optimism does surface at the start of the First Symphony's final movement, but what to make of that grand, splashy chase and mysterious ending? Just what kind of world is this?
Jeux vénitiens (Venetian Games) was influenced by the chance elements in John Cage's Piano Concerto, which Lutoslawski first encountered on the radio in March 1960. Describing his technique as "controlled aleatorism" (controlled chance, or rolls of the dice), Jeux vénitiens begins with a series of strikes that may at first remind you of a modern take on Verdi's Anvil Chorus. As the strikes continue, however, you will probably sense that they're actually like a series of pistol shots or hammer blows that signal the beginning of the games . . . except that, in this case, each time one of these blows occurs, the nature of the game changes. There's a lot of chaos here—lots of rolls of dice that the composer carefully dispenses to his players—and, once again, a lot of mystery.
Lutoslawski conducted the opening of his Symphony No.4 in Los Angeles in February 1993. A year later, he was dead of cancer. Composed without specific movement divisions, you may find Symphony No.4 positively disorienting. Lutoslawski indisputably knows exactly where he's going, but that doesn't mean that he's going to tell you, or that you can possibly envision the way ahead. At one point, I felt as though I was seeing the bombed out ruins of Warsaw, as depicted in Roman Polanski's film, The Pianist. First I heard a solo violin, whose sound rose above the smoke and ashes. Then there will little cries for help. And then . . .
I've been wanting to review a Lutoslawski recording music for a long time—ever since I became fascinated by his music when I heard Esa Pekka-Salonen, Conductor Designate of the San Francisco Symphony Orchestra, perform one of Lutoslawski's symphonies with the Los Angeles Philharmonic several decades ago. I waited far too long. As with the music of Anna Thorvaldsdottir and other contemporary Icelandic composers, which creates a sound world and landscape all its own, there's a richness and urgency to Lutoslawski's compositions that must be heard. The more you take the plunge—the more you risk free-fall—the higher you will fly.