A Magic Flute Delights and Surprises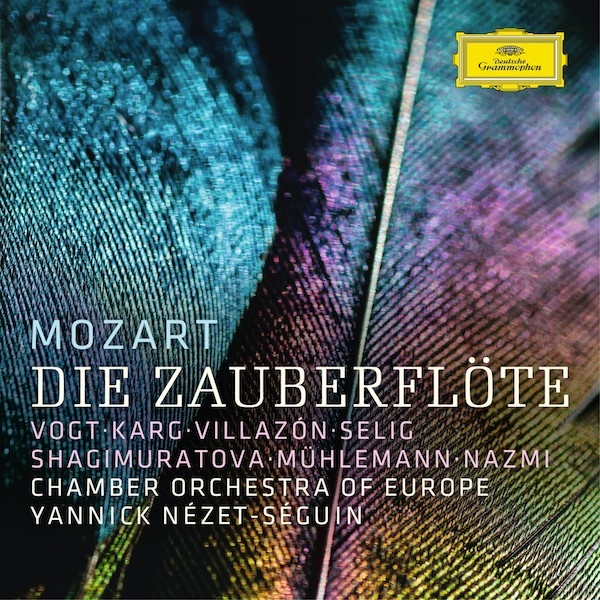 A divine amalgam of joy and solemnity and one of Mozart's most spiritually elevated creations, Die Zauberflöte (The Magic Flute) brings each generation's finest conductors and singers to the microphone. Now, Metropolitan Opera conductor Yannick Nézet-Séguin and tenor-cum-baritone Rolando Villazón and the Chamber Orchestra of Europe add to their series of Mozart recordings for Deutsche Grammophon with a star-studded version that includes some of the best young and veteran artists of our time.
The lively overture's carefully judged dynamic swings attest to the care that Nézet-Séguin lavished on the production. While he clearly has been influenced by period instrument research and practices, he rarely allows forward pace to overwhelm the opera's heart-touching, profound, and childlike passages. Even when he sticks mostly to strict time, as in Pamina's tragic aria, "Ach, ich fühls" (Ah, it has vanished), he allows his singer (Christine Karg) to slow down at the end. He includes all the spoken dialogue, an essential that many recordings omit. In addition, the recording—which I auditioned in 24/96 WAV (it is also available on CD), impresses with its beautifully saturated colors, transparency, and depth.
And yet, Nézet-Séguin makes some questionable choices. Foremost is choosing Klaus Florian Vogt, a tenor most associated with Wagner, as Tamino. In all but his highest passages, he may fool you into believing that he is a young innocent Mozart singer in his '20s, but his choice to always opt for naïve sweetness over passion robs his Prince of some of his humanity. Tamino's aria "Dies Bildnis ist bezaubernd schön" ("This portrait is most lovely and enchanting")—one of the greatest musical statements of exalted love and purity ever written—comes across as a tune suitable for a sing-along. Despite a few passages where Vogt seems to forget how "Vogt" should sound and instead allows himself to become Tamino, he is a major disappointment.
The other disappointment is that most of these artists are far better at singing than at reciting dialogue. Too much dialogue sounds deadpan and lacking conviction. The brilliant exception is Villázon, as Papageno, who in his surprising assumption of a baritone role imbues every spoken line with character. Although his singing occasionally betrays a gruff aggressiveness that makes for a less an ideal Papageno, his characterization is so vivid that it must be heard.
Several other artists are exceptional. In the past decade, coloratura soprano Albina Shagimuratova (Königin der Nacht) has matured into a singer who melds impressive technique—her high F shines like few others—with thrilling dramatic conviction. Rarely will you find a Queen of the Night who (in all but her highest notes) sounds like the raging evil Queen she is.
At the other end of the frequency spectrum, bass Franz-Josef Selig (Sarastro) is one of the finest High Priests I've heard in a long, long time. As gratifying as it may be to hear a true bass plumb the depths, Selig's ability to imbue his character with a warmth that conveys kindness, compassion, and wisdom is more important. On record, at least, Selig's Sarastro bears comparison with recordings of the Priest's arias by the great Alexander Kipnis and Ezio Pinza.
Christiane Karg's Pamina grows lovelier as the recording progresses. Although she occasionally sounds harsh when singing loud with passion, her softer, more relaxed tone is near-ideal—especially when she controls her tendency to jump down from a note via a slight straight-voiced push that slightly disrupts the legato line. Absolutely no Pamina I've heard has ever approached Tiana Lemnitz's heart-breaking rendition of "Ach, ich fühls," but Lemnitz had as a conductor, Sir Thomas Beecham, whose romantic approach to Mozart's music allowed a depth of expression in this aria that strict time cannot.
Tareq Nazmi's all-too-brief turn as the Sprecher (Speaker) suggests that if his voice is big enough, major roles beckon. Ditto for Regula Mühlemann (Papagena), who is already a major star. The Three Ladies blend wonderfully, the Three Boys are delightful, and the Rias Kammerchor under Justin Doyle is exceptional.
I first came under the spell of this opera through the famed 1937/1938 Berlin Philharmonic recording in which Beecham conducts a mostly remarkable cast that includes two ideally voiced singers with Nazi affiliations—soprano Tiana Lemnitz (Pamina) and Gerhard Hüsch (Papageno)—and another clarion-voiced Nazi, Helge Rosvaenge, as Tamino. If you ignore the fact that Beecham axed two other ideal singers, Richard Tauber (Tamino) and Kipnis (Sarastro) because of their Jewish heritage, and replaced several orchestral players who were Jews, his recording remains a milestone. Yes, tempos are broad, and the playing and romanticism lack authenticity, but the spell that recording weaves is strong.
Ditto for this recording, save when Vogt is in the forefront. In addition to Beecham's audio-only version, worthy alternatives include Sir Colin Davis' love-touched video from the Royal Opera House, which includes Diana Damrau's fabulous Queen of the Night and Dorothea Röschmann's marvelous Pamina (although his Tamino isn't ideal, either), the classic Böhm with the Berlin Philharmonic and the great Fritz Wunderlich as Tamino, and perhaps Claudio Abbado's version with René Pape's Sarastro and Röschmann's Pamina. This new Flute doesn't replace them, but it deserves a place alongside them.