Listening #181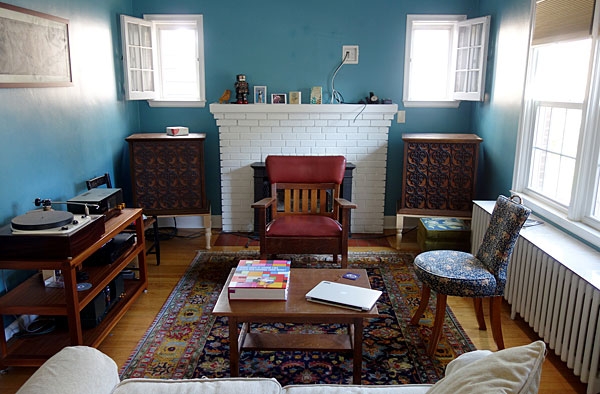 The company appears to be long gone, but throughout the 1970s, virtually every Sunday, there was an ad in the
New York Times Magazine
for a manufacturer of whole-house music systems—I recollect the name as Bolton, but that gets no hits on Google, so perhaps I've misremembered—with a headline that went something like: "ENJOY MOZART IN THE DINING ROOM, BEETHOVEN IN THE LIVING ROOM, AND THE ROLLING STONES IN THE CHILDREN'S ROOM." I remember wondering even then, as a distinctly unworldly teenager in upstate New York: Who in God's name would want such a thing? Why squirt background music everywhere—and make no mistake, any system in which the user has less than complete, hands-on control of playback media is a background-music system—when, for a lot less money, you could fill
one
room in the house with a collection of records and the best, most compelling record player money can buy?
That comes to mind because, in recent months, I've received two requests from people who wonder if I might take their money in exchange for consulting on a domestic playback system they hope to acquire and install. In both cases, I made it clear that as well as not being able to act as a paid consultant, I will have nothing to do with systems intended to provide background music. (Having expressed that condition, I have heard back from neither requester as I write this, but it's too soon to draw any conclusions from that.) I'm not immune to luxury's appeal, but I want nothing to do with senseless luxury—and, like putting a first edition of Don Quixote in every bathroom or painting the lawn gold, filling an entire house with superior-quality music playback gear is senseless, not to mention wasteful. Better to put your gear someplace in the house that's both logical and pleasant, so you can go to it when you want it—just as you go to the kitchen when you want something to eat, and to the bedroom when you want to sleep. It's so simple, I shouldn't even have to say it.
Home Sweet New Home
So it is in my compact but pleasantly open-feeling new house, whose living room is also my listening room. That room measures 16' long by 11' wide by 9' high. Centered in the short exterior wall behind the speakers is a brick fireplace, the tile hearth of which is higher than the hardwood floor by only a fraction of an inch: a slight but not deal-breaking limit to flexibility in speaker placement. Also on that wall, on either side of the fireplace, are two smallish casement windows: a nice architectural detail that seems typical of the mostly ca-1930 homes in my neighborhood. At the opposite end of the room, an archway leads to the dining room, itself just slightly larger than the living room.
On September 20, within minutes of the movers' departure, I set about setting up if not completely dialing in the most basic elements of my system: Garrard 301 turntable with homemade plinth and Auditorium 23 bronze tonearm board; EMT 997 tonearm and TSD 15 stereo pickup head; Auditorium 23 Hommage T2 step-up transformer; Haut-Brion stereo power amplifier; and vintage Altec Flamenco loudspeakers on homemade stands, plus a Box Furniture rack for source components and electronics, and cabling from Shindo, Auditorium 23, Audio Note, and Luna. Of those chores, installing the record player took the greatest amount of time, since, before moving, I'd had to remove not only the pickup head but also the tonearm and tonearm board.
My first impressions of my new space, compared to the one where I'd done most of my listening for the preceding 14 years: The sound is pretty well balanced, bass through treble, with no room-induced top-end harshness, although upper-midrange decays seem too generous. (This with a 6' by 10' area rug on the hardwood floor, no curtains on any of the windows, and minimal artwork on the walls.) There's a bit of added darkness—and a subsequent slight lack of clarity—in the two octaves between 40 and 160Hz, but that, too, is minor. The system communicates punch and drive very well—as well as in its previous setting—without the sense that it's working harder than before to do so.
And, unexpectedly, the floor beneath the rack on which my turntable now stands seems more stable—although to achieve this, I found I had to move the rack a few inches left of where I'd originally had it. In my new home, I haven't had a single problem with a record skipping, or other sonic disturbances caused by footfalls. As they say at the Clinique counter: your gift with purchase.
That said, already I've found that the sound of my system depends on whether the windows in the dining room are open or closed: It sounds better when they're closed. And the system sounds better when the casement window behind and above each speaker is open. But my system doesn't sound its best until the side-by-side sash windows on the long exterior wall—which together comprise a picture window 60" high and nearly 70" wide—are closed, and when the Levolor fabric shades I've installed on them are fully lowered.
So: with the dining-room windows closed, the windows on the short wall open, and the windows and shades on the long wall closed, my system sounds really, really good: colorful and tactile, with generous measures of momentum and drive and punch. Although most of my records are still in storage, awaiting installation of my new record shelves, I made sure to keep with me a hundred or so select titles—and Leroy Vinnegar's first plucked (as opposed to bowed) note in "Chelsea Bridge," from Gerry Mulligan Meets Ben Webster (stereo LP, Verve MG V-8343), told me that everything is going to be all right.
But . . . protests to the contrary, I'm just as much an audiophile as any of you. And just as in yours, there exists in my heart a conductive diaphragm that swings wildly between two stators. One of those stators is labeled: That baby is smiling at me and making cute faces: Babies love me! The other stator is labeled: The baby is smiling because he's taking a dump in his pants.
Thus, when we ask people to come over and help us tweak our hi-fi, we're not so much asking for their help as asking them to come by and tell us if we're delusional, and if our hi-fi needs tweaking. That's because we're insecure and reluctant to acknowledge when we do or don't like the sound in our home—although neither we nor anyone else has any compunction about stating, loudly and often turbocharged with drink, when we do or don't like the sound of a given performing space. That's a whole 'nother thing.
So I enlisted some help by buying and downloading to my iPhone the Audio Tools app ($19.95) offered by Studio Six Digital. In particular, my colleague Larry Greenhill has often written of his experiences with this suite of applications, which includes a real-time analyzer (RTA) and Fast Fourier Transform (FFT), and can be upgraded with such extra-cost additions as a utility for measuring loudspeaker impedance (although that requires the purchase of a hardware interface that sells for about $480). So far, the measurements I've made in my new home with Audio Tools are encouraging. Suffice it to say that I do indeed have a full-range room without serious acoustical flaw. But those measurements are also inconclusive, owing to the fact that I have so far taken them only with my iPhone's internal microphone. Better mikes are available, most notably Studio Six's own iTestMic2 ($199.99). If anyone's wondering what to get me for Christmas . . .
Irving Berlin's Gramophone
My friend Sasha Matson, a composer with a number of recorded works to his credit, is a member of the extended family of the great and long-lived American songwriter Irving Berlin (1888–1989), who divided his time between New York City and his retreat in the Catskill Mountains. At Sasha's invitation, I recently stayed at the latter, and it was there that I learned an unexpected lesson about recorded music.