Listening #176: MusiKraft Cartridge Bodies & EMIA Phono Transformer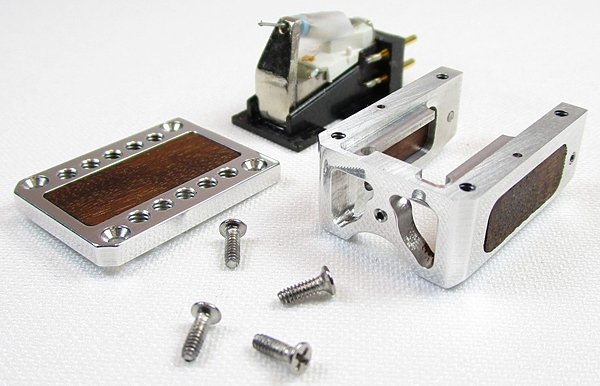 How can you tell a classic product from the hi-fi hoi polloi? One sure sign is when third-party developers spring up around the thing, offering parts and service intended to maximize its performance—or just to keep it on the road. Thus regarded, a few
true
classics emerge:
Quad's ESL
and
ESL-63
loudspeakers. Altec's 802 and 806 compression drivers. The
Linn LP12
and
Garrard 301
/401 turntables. The
Rega RB-300
tonearm and its direct descendants.
Younger than some of the above and a lot less British than most is the Denon DL-103 phono cartridge, which has been in continuous production since 1962—and which only recently seems to be getting its due from the consumer-audio rank and file. One reason for the lateness of Denon love may be the cartridge's technical idiosyncrasies: the DL-103 is a low-output (0.3mV at 5cm/s) moving-coil (MC) pickup with a low-compliance suspension (5 x 10–6 cu), yet it has a much higher internal resistance (40 ohms) than most such things—meaning the Denon won't do its best with a step-up transformer optimized for other low-output cartridges, such as the typical Ortofon SPU model (ca 2 ohms). Another reason is surely its affordability: with a street price that averages around $230, the DL-103 is simply too cheap for many high-end phonophiles to notice. So sad!
Too cheap and, in the minds of some, too plastic: whether our formative years were spent among the flat-earthers, who view the fastening of cartridge to headshell as an isometric exercise and thus insist that all cartridge bodies be made of either aluminum or aluminium (that's a joke), or among those who insist that only a cartridge body of semiprecious stone can allow one's system to be considered high end, we have been conditioned, rightly or wrongly, to mistrust cartridges with plastic bodies. Similarly, the audiophile of 2017 is likelier than the audiophile of 55 years ago to mistrust cartridge bodies that are formed not with bolt holes but with bolt slots, which confound all efforts at snugness—and the Denon is as slotterly as they come.
And yet.
Over the past 10 or 12 years, nonplastic, nonslotted replacement bodies for the Denon DL-103 have been brought to market by a number of companies. The first of these to cross my radar was Zu Audio, of Ogden, Utah, when, in our December 2007 issue, I reviewed their Zu DL-103. Phono cartridges are only a small part of Zu's business overall—their spécialités du chez are their high-value, high-sensitivity loudspeakers—but since I wrote that very positive review, at least a half dozen other, smaller, more cartridge-body–specific companies have emerged with Denon shells made of wood, stone, and metal. Some of these are even intended for installation by the consumer. Think of it!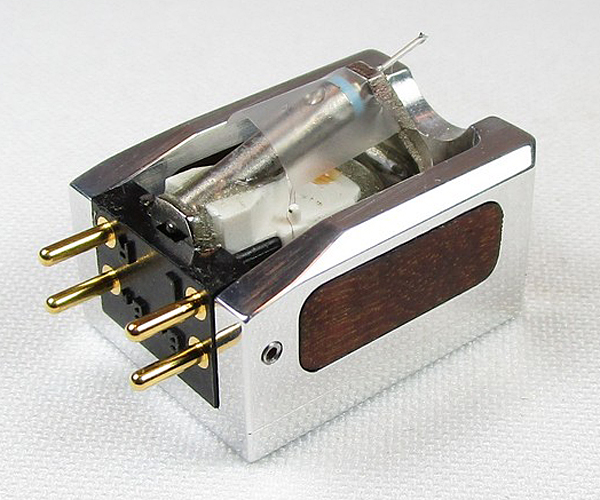 The most recent such cartridge body comes from a new Montreal-based company, Audio MusiKraft (footnote 1), whose principals I met at the 2017 Montreal Audio Fest. Their calling card is a precision-machined Denon 103 shell available in three different metals—aluminum, an aluminum-lithium alloy, or magnesium—and in various finishes. Prices for MusiKraft shells range from $229 for clear-anodized aluminum, up to $479 for chromate-coated magnesium. For $50, MusiKraft will install the cartridge for the user, a procedure that requires removing it from Denon's own glued-in-place plastic body (footnote 2). For an additional $30 the customer can add a set of three wooden inserts, designed to fill openings on the top (ie, the mounting surface) and the two sides of the otherwise skeletal MusiKraft shell. These very small, thin panels, available in dozens of different wood species and more than two different finishes, can be press-fit into place by the user—the proverbial sharp stick is included as an aid to installation and removal—and are offered as a means of fine-tuning the sound, which I'm told they do by attenuating resonances in the shell through a mechanical impedance mismatch with the surrounding metal.
Nor is that the only option for tweaking: The MusiKraft shell is also machined with three threaded holes—one on each side and another at the very front of the shell—that are fitted with tiny stainless-steel setscrews, used for tuning. In the MusiKraft shell as supplied, these setscrews don't contact the denuded Denon, which is held within the shell by means of a very precise, very snug friction fit. But they can be made to contact the shell by using the supplied 0.7mm Allen wrench. Screwed in all the way, the front setscrew makes contact with the metal pole piece of the Denon's motor, while the setscrews on the sides contact the outer edges of the cartridge's own plastic rear panel—the structure to which the output pins are affixed—which remains in place after denuding. MusiKraft suggests that different degrees of setscrew tightness will result in different sorts of changes in sound—unsurprising in a transducer that is electrically sensitive to groove modulations a fraction of the size of a red blood cell—and they advise the user to exercise restraint and common sense in effecting them.
Lithium treatment
MusiKraft kindly supplied me with a sample of their polished aluminum-lithium shell, model S-AlLi103-PO ($429), fitted with ipe (a South American wood species, pronounced EE-pay) inserts ($30) and pre-fitted ($50 service charge) with a Denon DL-103 cartridge (MusiKraft sells these at retail for $229) that had already been run in: in total, a $738 phono cartridge suitable for comparison with my own stock DL-103. I used both in a detachable aluminum headshell of the usual sort, fitted to my EMT tonearm.
Two setup observations are very much worth noting: First, not only is the MusiKraft shell very precisely drilled with threaded M2.5 x 0.45 bolt holes (bolts included) rather than slots, it's drilled with five pairs of holes, making it easy in the extreme to install the cartridge and adjust its position. Second, my MusiKraft review sample, fitted with denuded Denon cartridge, weighed 12.02gm, compared with the 9.04gm of my stock DL-103: not as big a difference as I expected, but there you are.
Only recently have I noticed a semi-subconscious listening habit of mine: When a product first comes my way, I tend to audition it with recordings that are on the dry side— ie, with less-than-average reverb, natural or otherwise. Generally speaking, such recordings seem to me to sound more direct and, under the best of circumstances, more vivid—and, ultimately, are more to my taste than more reverberant recordings. So it was with the MusiKraft Denon, which began its time in my tonearm by playing a 1960 recording of Vivaldi's The Four Seasons by the Societa Corelli and solo violinist Vittorio Emanuel (RCA Living Stereo LSC-2424). With the MusiKraft in place, that record was a delight from first note to last. In Summer, the solo and ensemble violins alike had wonderful texture and color; their melodies came across with a thrilling sense of momentum—and without the slight treble glare added by my stock Denon (and which, I suppose, I've learned to listen around). The cello's sustained low G (ca 98Hz) in had clear intonation, believable vibrato, and excellent tonal richness—and elsewhere in the piece, in more energetic passages, the cello had a fine sense of drive.
From the moment stylus touched groove of the collection Henry Purcell—Music for the Chapel Royal, with Neville Marriner leading the Academy of St Martin-in-the-Fields, the Choir of St. John's College, Cambridge, and various soloists (Argo ZRG 5444, a record given me by Herb Reichert!), the MusiKraft Denon's musicality was confirmed: Pitches and pitch relationships were steadily, solidly right, and supported by instrumental and vocal textures and tones with real meat and color. This modified Denon was detailed and precise but not the least bit sterile. And in "Adam and Eve," from the Incredible String Band's Liquid Acrobat as Regards the Air (Island ILPS 9172), the electric bass was colorful but tight—notably tighter than with my stock Denon, which made the notes bigger, blowsier, and longer lasting, probably unrealistically so—as was the very fine drumming of Gerry Conway. (This album hasn't strayed far from my turntable since April, when I found my copy on eBay. It is as well recorded as it is original, creative, and evidently heartfelt.)
The word that came to mind while listening to "Tanya," from Dexter Gordon's 1964 album One Flight Up (Blue Note/Cisco 84176/BLP-4176), was tight: The snare drum, which Art Taylor uses to great effect in this song, was snappy and forceful, and his kick drum was punchy and just deep enough, without sounding overblown. The lowest notes from Niels-Henning Ørsted Pedersen's double bass were also satisfyingly deep—but I wouldn't have wanted an iota less depth—and the walking lines he plays to propel the choruses had excellent drive and texture. The MusiKraft also pulled a decent amount of color from this recording, Gordon's tenor sax having believable tone with just the right amount of bite—and Kenny Drew's piano, in particular the chromatic chordal run at the beginning of his solo, was just plain wonderful.
At the end of the song, I switched over to my EMT TSD 15 cartridge ($1950) for comparison's sake, and the differences were all in favor of the more expensive pickup. The EMT found more force in the snare drum, more power in Ørsted Pedersen's bass (especially his double-stops behind Donald Byrd's trumpet solo), and a warmer, more natural-sounding ratio of bite to body in the sax. It also made the choruses sound significantly louder than the verses, which I imagine more accurately reflects the way things sounded in the studio. However, the MusiKraft Denon was on the same page, and not all that far behind. In fact, for a $738 cartridge being compared to a $1950 model, it was downright brilliant.
---
Footnote 1: Audio MusiKraft, Saint-Jean-sur-Richelieu, Quebec, Canada J2W 2Y6. Tel: (514) 266-2441. Web:
www.audiomusikraft.com
Footnote 2: As I believe I've already mentioned in this space, last year I accidentally damaged the cantilever of the Denon DL-103 I'd been using for the past few years, requiring me to buy a new cartridge. Someday soon I'll set about trying to remove the plastic shell from the one I ruined, if only to see how difficult it is or isn't.