Listening # 172: Music First Audio MC Step Up 632, Vinyl Cleaner Pro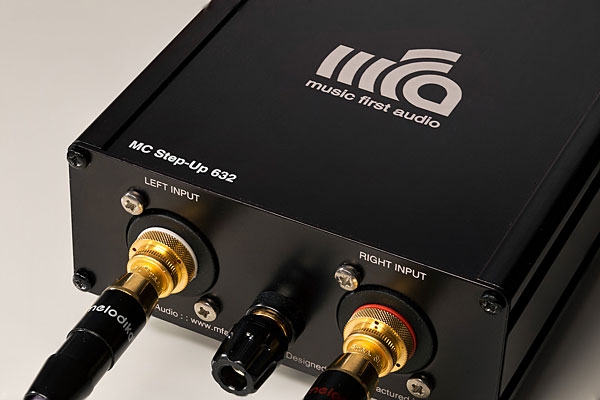 Before I revert to form and leave the subject for another nine or ten months, I'll pick up where I left off in last month's column to focus once again on step-up transformers (SUTs) for moving-coil cartridges. There's yet another choice you should know about—in this case, a thoroughly brilliant, handmade SUT that sells for well under $1000.
Music First Audio MC Step Up 632
Introduced in 2015, the MC Step Up 632 ($715, sold direct) is the most affordable phono transformer offered by Music First Audio, of Hastings, UK (footnote 1). Music First is run by Jonathan Billington, a member of the family that owns Stevens & Billington, specialists in the design and manufacture of light-duty transformers. Indeed, given that he began plying the family trade when still a schoolboy, it's possible that the 50-something Billington has been winding transformers for at least as long as anyone else in perfectionist audio.
The MC Step Up 632 is supplied in an extruded-aluminum case measuring about 4.3" wide by 1.7" high by 6.2" deep (including RCA jacks at both ends) and available in black, silver, or red. There's a ground lug at the input end, and a two-position ground-lift mini-toggle at the output end, and the two can-style transformers inside are hand-wired to the various contacts and physically damped with a small piece of what appears to be acoustic foam. The transformers themselves are custom-wound to suit the buyer's phono cartridge—although, as pointed out on MFA's website, the 632 is usually available off the shelf (which is to say, promptly) in a 1:10 ratio. At the Chester Group's 2015 Westchester Audio Show, where Jonathan Billington first showed me the then-new 632, we talked about my reviewing it, and I almost brought the 10:1-ratio display unit home with me—but we decided that that would suit neither my high-output EMT pickups nor my low-output Ortofons. As often happens, there followed some communication misfires until, finally, near the end of 2016, we settled on my trying a 632 wound with a 5:1 ratio, to suit my trusty standby, the EMT TSD 15 pickup head, with its 1.05mV output and 24 ohm internal resistance.
Once received and installed in my system, the MC Step Up 632 impressed me as one of the more delicately nuanced SUTs I've heard in terms of communicating timbral colors—delicate not in the sense of being pallid, but of being able to communicate the subtler timbral distinctions among various instruments and voices. Listening to the recording of Purcell's King Arthur made by Anthony Lewis, the Saint Anthony Singers, and the Orchestra of the Philomusica of London (2 LPs, L'Oiseau-Lyre SOL 6008/9), I found it easier than usual to distinguish otherwise similar voices from one another—I'm far from an expert opera listener—and the choral passages were brightly colorful, generously textured, and altogether wonderful. Similarly, the instruments in the lovely instrumental "Trio," from King Crimson's Starless and Bible Black (Discipline Global KCLP 6)—Robert Fripp's Mellotron (flute version), David Cross's effects-treated viola, and John Wetton's electric bass, picked and chorded in the manner of a six-string guitar—were full of color and touch and, as I scrawled in my notes, "great, clear beauty." My only disappointment while listening to that LP was that Bill Bruford's drum taps at the beginning of the following number, "The Mincer," didn't have the same impact as through the Hommage T2 transformer, which is also intended specifically for the EMT TSD 15 (although offering much higher gain).
During its months in my system, the Music First 632 never evolved into quite so impactful an SUT as the Hommage; rather, it became something different but no less enchanting—as I noticed one very cold, dark night while listening to the Ensemble des Solistes des Concerts Lamoureux's recording of Milhaud's Les Quatre Saisons, conducted by the composer (LP, Philips 6504 111): I began to focus on the piano, which figures prominently in the third movement, Concertino d'automne, and noticed that its sound was coming closer than I'd ever before heard to loading my room in the manner of the instrument itself. It was, and yet was not, a spatial thing: Yes, there was a distinct sense of depth to the instrument, and even a sense of the angle at which it might have been placed relative to the other instruments and to the microphones. But this had less to do with locating, with pinpoint precision, the position of the piano than simply feeling the instrument's presence.
I got out of my seat, and even got down on the floor to feel the sound. It was delightful—and it made me wonder: After hearing and feeling this, why in heaven's name would anyone choose to listen through headphones? (I luxuriated in the wonderfulness of my opinion, willfully ignoring the whole family-neighbors-roommates thing.)
Last December, I was in the audience when mandolinist and singer David Grisman and singer and guitarist Del McCoury performed together at the Rensselaer Polytechnic Institute (footnote 2) in Troy, New York, on the 50th anniversary of their very first gig together, also at RPI. It was a magical concert: two seasoned pros from very different backgrounds whose affection for each other and shared love of bluegrass music have brought them together on stage from time to time throughout the last half-century. That prompted me, in recent weeks, to schlep out my copy of Grisman's Early Dawg (LP, Sugar Hill SH 3713), much of it recorded live in 1966 and featuring McCoury's guitar and voice. I tried it with the Music First trannie in the system, and paid especially close attention to "Dark Hollow," which they also performed at the 2016 concert. The recorded version isn't the most technically accomplished thing you'll ever hear, but the Music First lit it from within, its passive coils making active sense of how different 21-year-old Del sounded from 71-year-old Del: a slightly chestier tone, but not as easy or as identifiably reedy in his slides into head tone.
Speaking of concerts—and of 1966, and of differences—last year I also attended the Metropolitan Opera's amazing new production of Wagner's Tristan und Isolde, with soprano Nina Stemme and tenor Stuart Skelton in the title roles and conducted by Sir Simon Rattle. That experience led me to spend lots of recent time with the recording of the 1966 Bayreuth production of the opera, with Birgit Nilsson and Wolfgang Windgassen and conducted by Karl Böhm. I listened to my set of the complete opera (5 LPs, Deutsche Grammophon 2713 001) and the single disc of highlights, which I have in a German pressing (LP, Deutsche Grammophon 136 433). I credit the Music First SUT with letting me hear how the latter is the superior mastering: more dynamic and clear, and with a more exalted sense of the same, otherwise indescribable quality in which melodies are allowed the flow and musical believability and purposefulness of the real thing.
During its time in my system, the sound of the MC Step Up 632 underwent the sorts of subtle changes I've come to associate with signal transformers, perhaps to a greater degree and in a more positive sense than usual. Two weeks in, recordings played through the Music First sounded more open and a little less dry than when I'd first installed it, and voices and solo instruments seemed to step away from their recorded surroundings and closer to me. Some sounds—especially those of string and reed instruments—were slightly more tactile after two weeks of run-in. After a while, I got brave and tried it with a few high-intensity rock recordings, including: the title track of Blue Öyster Cult's Fire of Unknown Origin (Columbia FC 37389); "ME 262" and "Flaming Telepaths," from the same band's Secret Treaties (Columbia KC 32858); "Alex Chilton," from the Replacements' Pleased to Meet Me (Sire 25557-1); and even "Well Well Well," from the indispensable John Lennon/Plastic Ono Band (Apple SW 3372).
---
Footnote 1: Music First Audio, Highfield Drive, Churchfields, St. Leonards on Sea, East Sussex TN38 9UH. England, UK. Tel: (44) (0)1424-858260. Web:
www.mfaudio.co.uk
.
Footnote 2: The show took place at RPI's EMPAC center, the acoustical design of which is a topic I hope to revisit in these pages.