Listening #154 Page 2
Every square millimeter of the case's interior had the same seamless finish as the exterior. The hand-laced wiring was neatly bundled, and tied to the inside of the case with red-leather straps that looked as if they might have been sliced from the interior of a late-'40s Jaguar. The soldering was the neatest I've seen anywhere—I doubt that even Dick Cheney's pacemaker is built this well—with not one stray speck of flux or solder visible. My favorite touch of all was hidden beneath the Bespoke: four felt feet of generous size and luxuriant thickness. No metal, no polymers—just dense, soft felt. I confess that, on occasion, I nudged the Bespoke preamp this way or that on the shelf of my Box Furniture rack, simply to feel how nicely and easily it slid: This may be the most tactilely satisfying audio product of my experience.
I learned that those feet are custom-made for Bespoke by the British Felt Company, of Milton Keynes, Buckinghamshire. (I am happy to live in a world in which there still exists something called the British Felt Company.) The preamplifier's cotton-insulated, 99.99% pure copper wiring is made for Bespoke by the Jupiter Condenser Company, of Hudson, Ohio. And those red leather straps come from the haberdashery where Lucy Gastall works one day a week.
Music was played
Thus informed, enlightened, and enriched, I finally set about giving the non-electronic Bespoke Audio preamplifier a tryout in my decidedly electronic playback system, concentrating on two line-level sources: my Sony SCD-777ES SACD/CD player and my favorite affordable USB D/A converter, the Halide DAC HD.
An alternate version of "Taking the Time," which appears as a bonus track on a reissue of Procol Harum's Procol's Ninth (CD, Salvo CD028), has a better, more physical feel than the original version, with a mix that favors B.J. Wilson's kick drum in particular; through either my Shindo Masseto preamp or a borrowed sample of the earlier Shindo Allegro 604 preamp, both that instrument and Gary Brooker's somewhat off-the-cuff singing add to the recording an edge-of-the-seat excitement. But that quality wasn't as evident through the Bespoke—beautifully detailed and realistically colorful though its sound was. Similarly, "Don't Do It" and "King Harvest (Has Surely Come)," from the CD layer of the Band's Rock of Ages (SACD/CD, Capitol/Mobile Fidelity Sound Lab UDSACD 2046), sounded a bit flat: On that record, the only advantage conferred by the passive preamp was that it gave a somewhat better idea of Allen Toussaint's interesting horn arrangement, played behind some verses of "King Harvest." Otherwise, the song had less kick and drive than when played through my active preamp.
And yet: The Bespoke fared better when I used it to enjoy newer, less compressed, less congested pop recordings. (Despite MoFi's considerable efforts, that live Band album, with all its overdubbed guitar solos and other manipulations, remains something of a mess.) The passive preamp did a good job with the percolating organ sounds in "Morning Train," from Lee Feldman's brilliant I've Forgotten Everything (CD, Urban Myth UM-114-2), and while the sounds of piano, drums, and electric bass weren't as propulsive as through my Shindo preamp, the results were engaging. Likewise, "The Lazy Projector," from Andrew Bird's Break It Yourself (AIFF file ripped from CD, Mom+Pop MP048), sounded sufficiently impactful, the brushed snare drum and twin electric guitars conveying a nice sense of momentum.
I then tried my preferred recording of Wagner's Lohengrin, with Rudolf Kempe conducting the Vienna Philharmonic, and the young American Jess Thomas in the title role (3 CDs, EMI CDS 7 49017 8). I was charmed, at first, by the lovely portrayal of the pianissimo strings in the Prelude to Act I: shimmery, sweet, decidedly pastel—timbral colors were slightly less saturated than through my usual electronics—and pleasantly dry, with really good texture. The Prelude builds in intensity through a series of plateau-like climaxes, the first of which kicks in at about 2:20; all were a little less apparent, and thus a little less dramatic, through the Bespoke than through my Shindo preamp, the one at 5:40 or so being especially bloodless through the passive preamp. On the plus side, those climaxes sounded cleaner than through my own electronics, and spatial performance remained consistently good, irrespective of volume—praise that, in my experience, is rarely earned by an active preamp.
Listening through the Prelude to the beginning of Act I and the entrance of the Herald (Otto Wiener), I heard the same very pleasant lack of strain in voices and horns. Spatial performance remained fine, with a slightly-more-generous-than-average sense of scale, and with good solidity to the images of the solo singers. Again, there was plenty of natural texture in the sounds of voices and reeds and strings—a quality that was even more evident in the solo violin in my top choice for best-sounding CD ever: violinist Marianne Rônez and the ensemble Affetti Musicali performing Biber's Mystery Sonatas (Winter & Winter 910 029-2). And that provoked in me a reflexive spasm of thinking: I had often worried, in secret, that abundant natural texture in the reproduction of recorded music might not be so natural after all, and might in fact be an artifact, a consonant distortion, a deception. Now I suspect differently: That something as unambiguously pure as the Bespoke preamp is so good at texture has enriched my point of view.
After two or three weeks of listening with only line-level sources, I gained an impression that the Bespoke preamplifier was more accomplished than any other passive design of my experience—yet that its mix of strengths and weaknesses nevertheless did not quite align with my own priorities. That impression changed somewhat when I played LPs—which involved, of course, the use of a separate phono preamplifier.
With one pair of its single-ended inputs driven by Leema Acoustics' high-value Essentials phono preamp ($749; see my review elsewhere in this issue), the Bespoke sang more sweetly, more colorfully, and, above all, more forcefully. That last quality was not limited to extreme force: Each little kettledrum tap in the hushed opening bars of Beethoven's Violin Concerto, with soloist Christian Ferras, Herbert von Karajan, and the Berlin Philharmonic (LP, Deutsche Grammophon 139021), could be felt—and each dripped with color.
The Bespoke's ability to convey sweetness, color, force, and sheer drive took another giant step forward with the addition of an even better phono preamplifier: a borrowed sample of Shindo Laboratory's Aurieges standalone phono stage. Pre-preamplified through the Shindo's mono input—and through its dedicated mono step-up transformer—then winnowed through the Bespoke passive preamp, the Chu Berry Ensemble's recording of "Body and Soul," from Prez and Chu: Tops on Tenor (LP, Jazztone J-1218), was meaty, colorful, and compelling. Al Casey's Django-influenced guitar chording, Clyde Hart's piano, and Artie Shapiro's bass were propulsive in the first portion of the song, and even more so in the double-time backing for the incandescent solo by Kansas City trumpeter Oran "Hot Lips" Page (whom the great Stanley Crouch describes as one of "the terrors of the territories"). As is said—prematurely, I'm afraid—when a fighter plane drops a bomb on the 300'-tall creature in the 2008 film Cloverfield: "Yeah, that's the shit!"
The cure wasn't complete. With the Bespoke handing off the phono-stage output to my Shindo Haut-Brion power amp, I still wasn't getting all the momentum, drive, and musical purposefulness I wanted, as I noticed when I played Sir John Barbirolli and the Philharmonia Orchestra's recording of Elgar's Enigma Variations (LP, EMI ASD 548). In that well-regarded record, orchestral swells—especially in the "C.A.E." variation—were clearly more dramatic with an active line stage in the system. Then again, doing away with that active line stage added to the sound quality in another way: Good old-fashioned clarity was sufficiently better through the Bespoke that some lines of notes were simply easier to hear.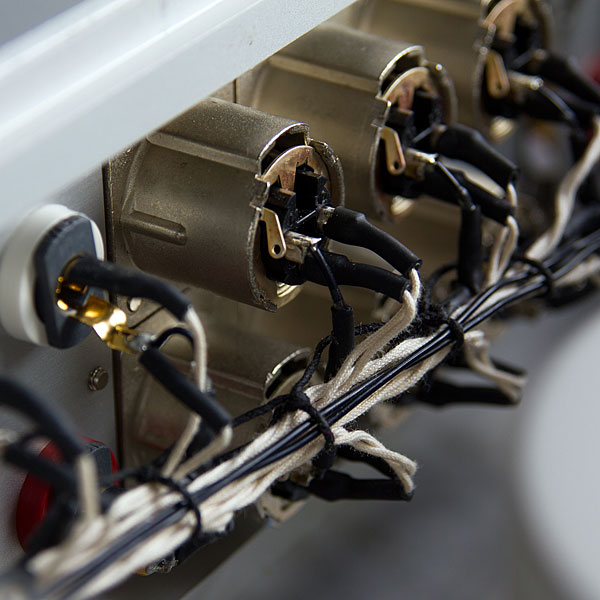 In the above-mentioned Leema Essentials review, I remark that outboard phono preamplifiers constitute a relatively new product category, having appeared on the scene a scant few years after the introduction of the Compact Disc. Much the same can be said of the passive preamplifier, the need for which wasn't apparent before the prevalence of domestic playback systems whose source components all had line-level outputs. Nearly 30 years later, both types of product endure, albeit for different reasons. In my admittedly cynical view, now that electronics manufacturers have learned that that they can sell to LP-loving audiophiles not just one product but two—a line-level preamp and a phono preamp—those same companies can't be expected to retreat to pre-1986 business strategies. On the other hand, the makers of passive preamplifiers, most of whom appear to specialize in only that category, are on a crusade to do things in their own, different ways. Although I'm unlikely to ever be converted, the Bespoke Audio Company's passive preamplifier offers the best justification yet for the latter approach. I'm awfully glad Harry O'Sullivan convinced me to have a look and a listen.