Listening #140 Page 2
The penultimate distinction is Firebaugh's latest choice in drive belts: He has switched from a flat neoprene belt—which usually was installed with an intentional twist—to a polyester filament only 0.004" in diameter. (Human hairs range in diameter from 0.0003" to 0.007".) A thread of any sort must be knotted in order to make a belt. So it goes; Firebaugh says that the grooves in his motor pulley—one each for 33 1/3 and 45rpm—have been sized and shaped to account for that.
The final distinction: In recent years, Well Tempered Lab, which is now based in New Zealand, moved all of its production to a factory in China, which is where my sample of the Amadeus Mk.II was made.
Settling in
I know how it sounds—nylon filament here, polyester thread there, wiggly arm here, tippy platter there—but the fact is, like every other WTL product I've tried, the Amadeus Mk.II was easy to install and adjust. That quality of ease was aided and abetted not only by the goodness of the aforementioned owner's manual, but by the fact that the Amadeus Mk.II is supplied in a professional-quality carton with three tiers of foam packing, in which all parts are sensibly laid out.
Naturally, a record player with a suspended tonearm and a semi-gyroscopic platter will do its best on a level surface, so I began by getting the plinth squared away on the top surface of my Box Furniture rack, right next to my Garrard 301 turntable. That done, I fastened a cartridge to the WTL tonearm's headshell—I began with my well-loved Miyabi 47—then set the arm aside while I installed the damping cup, the tonearm support, and the tonearm rest, and ensured that the platter bearing was properly oriented. With stylus guard in place, I looped the tonearm's suspension filament around its adjustment collar, slid the twin counterweights into place (the rearmost weight allows downforce to be dialed in precisely, while maintaining the ideal proximity between the pivot and the main weight), and aimed the pivot over the damping cup. Patience, caution, and the good sense to begin by lowering the damping cup out of the way all helped me get the thick damping fluid from syringe to cup.
The only chores that remained were installing the platter (easy), installing the belt (tricky, since the belt is difficult to see, but I got it right on the second or third try), plugging in the wall-wart power supply (as easy as it sounds), and setting downforce (challenging, as one would expect with any tonearm whose vertical movements are regulated by a substance with the viscosity of cold honey). Because overhang and offset angle are not adjustable, I was spared those chores—a point to which I'll return. On the other hand, I was astonished at the smoothness of the Symmetrex arm's azimuth adjustment, which I found could be easily done during record play.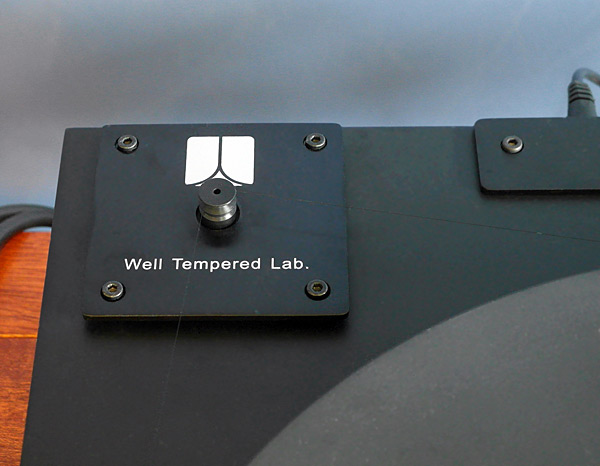 The Amadeus Mk.II was pleasant and easy to use, but not without idiosyncrasies. On rare occasions—usually after a record had been hastily set in place or removed—the platter would indeed tip away from the motor, but it always righted itself when powered up, and the polyester drive belt was elastic enough to survive such stress. Something else that augured against hasty record removal was the staticky foam mat, which clung to every record like a cattle rancher to the federal teat. That got old after a while, so I switched to an Auditorium 23 Hommage mat ($250) that WTL distributor Mike Pranka supplied for me to play around with. I preferred the sound with the latter on my platter, and never again had to peel a mat from an LP.
Most challenging of all, if hardly daunting, was the Symmetrex arm's behavior during cueing. Again, prescience is not required to see that an arm that hangs from a loop of fishing line yet also rests in a cup of silicone will have a distinctive feel, especially to those used to more traditional record players. I acclimated quickly, my only concession to orthodoxy being my insistence on bolting in place the headshell's optional finger-lift—this in contradiction to the recommendations of Mike Pranka, who has posted YouTube videos of the finger-lift-less cueing technique he prefers (footnote 3).
Music
Like other WTL products of my experience, the Amadeus Mk.II had a musically involving sound—good timing, very good momentum and flow—combined with the sorts of spatial accomplishments and lack of obvious colorations that I associate with more traditional high-end audio products. The WTL player was, in many ways, a fine all-arounder, and while it didn't have all the drive and touch and sheer grunt of my combination of Garrard 301 turntable, Auditorium 23 arm mount, and EMT 997 tonearm, it nonetheless managed to sound compelling with every record I threw at it.
Examples? A new reissue of Glenn Gould's performance, with Vladimir Golschmann and the Columbia Symphony Orchestra, of J.S. Bach's Keyboard Concerto 7 in g (Columbia ML 7001, part of a nice new boxed set of Bach-Gould recordings from Speakers Corner), sounded especially nice on the Amadeus. Listening to the well-known Andante, I was impressed by the way the WTL player communicated the power of Gould's left hand, and by its portrayal of the scale of the piano and orchestra. The strings, though chuffier and less sumptuous in this mid-1960s Columbia release than in the finest Decca and EMI recordings, had an acceptably good sense of drive, and the Amadeus pulled just as much color from the groove as my Garrard 301-based player.
During the Well Tempered player's time here, I was also in the throes of a Brit-rock nostalgia fest, spending lots of time with such guilty pleasures as the Stranglers' "Skin Deep" (extended single, Epic TA 4738), the Belle Stars' "Sign of the Times" (extended single, Stiff BUY IT 167), Sparks' Kimono My House (Island ILPS 9272), and, perhaps most shameful of all, Electric Light Orchestra's II (United Artists UA-LA040-F). None is a very good-sounding record, the last having an especially annoying crunch (footnote 4)—yet the Amadeus Mk.II had a combination of qualities that made their high-frequency sins in particular just a bit easier to take, without seeming to exert an overall dulling. My inner geezer was impressed.
Throughout my listening, I heard nothing untoward that might have been laid at the doorstep of tracing distortion. That said, and with respect, I admit some qualms regarding the Symmetrex arm's lack of adjustability for lateral tracking angle. For example, after installing my Miyabi 47 cartridge—which exhibits a fairly typical stylus-to-mounting-hole dimension of 9mm—I observed an overhang of zero mm. That was unsurprising in light of my observation that the Symmetrex's effective length (arm pivot to stylus) and mounting distance (arm pivot to record spindle) were precisely the same (footnote 5). Judging from remarks on the blog portion of the Well Tempered Lab website, Bill Firebaugh considers minimal overhang a reasonable approach to minimizing tracking-angle error at the innermost part of the groove; as for the high tracking error such an alignment will inevitably produce at the outermost portion of the groove, Firebaugh suggests that there is an inverse relationship between the tracing distortions and the linear velocity of the groove being traced. In other words, in the view of WTL, high tracking error is of little consequence toward the outer edge of the record.
Be that as it may—and I confess some doubt as to the magnitude of the relationship—I'm more comfortable when a phonograph designer provides a reasonable means of making tracking error as small as possible over most of the record surface. I have a considerable interest in this topic—kindled, in large part, by the original research of fellow Stereophile contributor Keith Howard (footnote 6)—and it is my understanding that only through a combination of overhang and offset angle, both values having been precisely determined in accordance with the tonearm's effective length, can playback of consistently low distortion be achieved. As it is, I'm troubled by the Symmetrex's combination of zero overhang with an offset angle that is more or less correct for a traditionally aligned arm of this length. Furthermore, this perceived shortcoming could be addressed simply enough by making the length of the Symmetrex's arm wand adjustable at the point where it intersects with the damping mechanism—perhaps by using a grub screw at that junction.
A final note
For the Amadeus Mk.II—and for all other turntables they currently offer—Well Tempered Lab offers an optional premium power supply called the DPS ($400). This nice-looking outboard box, more or less the size of a small meat loaf, has a single 100mA, 12V DC output for a Well Tempered turntable, and a pair of 500mA outputs for whatever other 12V accessories the user has on hand. In my system, I was hard-pressed to hear much difference between the stock power supply and the DPS: The latter may have increased the focus of the sound by a small degree, but that's a big may. In my opinion, the extra-cost Hommage mat made a bigger improvement for less money, so that toy would top my list.
Bill Firebaugh, who retired from Ford Aerospace in 1988, remains one of phonography's most notable innovators—and a manufacturer of exceptional integrity and humility. As evidence of the former, I offer the fact that there has never been a Well Tempered CD Player; as for the latter, Firebaugh's reputation is well summed up by something he told me earlier this year: "A phonograph record is one of man's greatest inventions; I consider myself to have found one tiny piece of the puzzle."
---
Footnote 3: For more video documentation of Mike Pranka's leisure pursuits, click
here
.
Footnote 4: That's a shame: Apart from a bit of dullness in the sounds of some instruments—probably the result of Ping-Ponging tracks on an older tape machine—the ELO's first, eponymous LP sounds quite good, especially in its UK version (Harvest SHVL 797).
Footnote 5: To the best of my ability to measure such things—which, given a tonearm whose exact pivot point is difficult to locate, is somewhat dodgy.
Footnote 6: Keith Howard, Arc Angles: Optimizing Tonearm Geometry," Stereophile, March 2010, Vol.33 No.3;.