Listening #202: Altec 604 & Audio MusiKraft Denon DL-103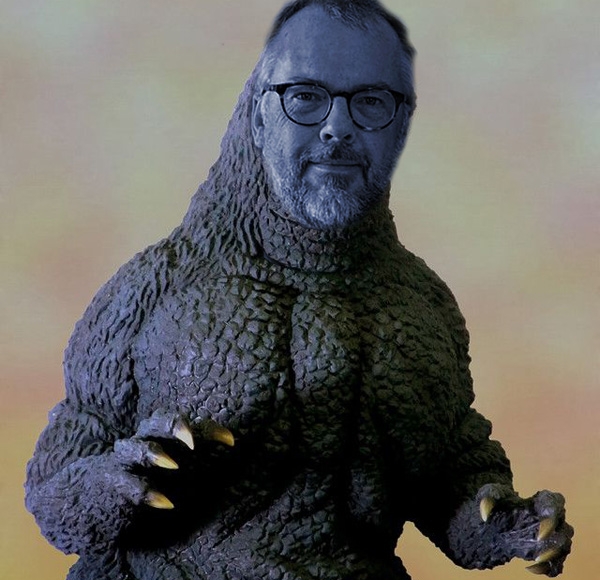 Godzilla and I are precisely the same age: We were both born in 1954, Godzilla as an expression of the postwar fears of a nation uniquely aware of the horrors of nuclear armaments, I as an expression of the postwar comfort felt by an American veteran fresh from foreign wars. We both dislike being awakened from our slumber, and we're both unusually handsome.
Like so many Americans of my generation, I love Godzilla—along with Mothra, Rodan, Tobor the 8th Man, Speed Racer, and the Panasonic transistor radio my dad gave me in 1965. During more or less the same stretch of time, Japanese baby boomers came under the spell of Mickey Mouse, The Durango Kid, Elvis Presley, and virtually any piece of audio gear designed and made by Western Electric and that company's descendent, Altec Lansing.
The suggestion that American and Japanese consumers spent the second half of the 20th century buying each other's castoffs overstates the case, yet it contains a grain of truth. Truer still is the observation that Japan has done a better job of preserving, even curating, certain products of America's techno-cultural history than the other way around. That's well known by any audio enthusiast, in the United States or elsewhere, who has tried to buy an original Western Electric 300B output tube or 555 compression driver, or an Altec 604 dual-coaxial loudspeaker. Almost all the best-condition examples of those and other coveted products now reside in Japan (footnote 1).
Why? Because just as British teens in the 1950s understood American rhythm-and-blues records better than most white American consumers of the same era, so did Japanese audio enthusiasts understand the earliest and coincidentally best-engineered products of the American audio industry far better than anyone else, virtually from the start. What is it about these island nations?
Cabinets of curiosities
As I explained in the June 2017 Stereophile, I own a pair of Altec 604 drivers—a version called the 604E, made from 1965 to 1972, which was designed with both a higher-compliance bass diaphragm and a treble horn that's better at dispersing high frequencies than previous versions. In other words, it made a little more bass, and a little more treble, and was thus a little more modern.
My 604Es may well have spent time in Japan: Before they came to me, these drivers were owned by the late Tadataka Uchida, an influential amplifier designer who was active in the New York SET scene of the 1990s, and whose company, April Audio, Inc., located at 206 East 6th Street in New York, first imported Tango and Tamura transformers to the United States. After Uchida-san's death, my 604Es went to another distinguished amp designer, Noriasu Komura. Then they were owned by yet another amplifier designer/builder, my friend and colleague Herb Reichert. If these speakers could only speak!
When I last wrote about them, they had scarcely rediscovered their voices after a longish silence: In early 2017, I laid my 604Es out on the floor, connected them to their crossovers and, in turn, to my Shindo Haut-Brion amp, put on a record, and let 'em rip for less than an hour. What I heard would fit best in the file folder labeled Encouraging but Bassless, the latter quality owing to the fact that they were not attached to baffles. As the laws of physics remind us, unless you use a baffle to cordon off a driver's front wave from its rear wave, any tone whose wavelength exceeds the driver's radius will suffer antiphase cancellation—ie, you won't hear it.
I did what I usually do: I got a column out of it and moved on. But later on, when that column appeared on stereophile.com, something interesting happened: A reader posting under the handle grantray appended this comment:
You know, Art, just for kicks, you can stuff those 604s in your [Altec] Flamenco cabinets as long as you seal the massive port left by the removal of the 811B with a board that reduces the port volume to 2 x 10 x 0.75.
If you look at Altec's dimensional specs for the 846A, on the far left, kinda small, you'll notice a "B" version of the front baffle with a high-mounted 15" LF speaker and a 2Ê10 port underneath, called the 859A. Now, the 859A speaker cabinet Altec offered in the fall of 1965 (only in Valencia finish, not Flamenco but same diff) just so happened to house the 415 Biflex, as well as the 602/604/605 Duplexes. Well fancy that, right?
So if you're really dying to give a proper listen to those freshly restored 604Es before you've had the new cabinets built up, you've got a nearly factory-spec option already sitting in the room... ;)
An excellent idea—and one I elected to act upon as soon as possible. Unfortunately, the definition of as soon as possible was hindered and hampered by a string of 60-hour work weeks, punctuated by such life events as the move to a new city, major surgery, the death of a sibling, a changing of the editorial guard at Stereophile, and, finally, the sale and emptying of my old house—things I mention only in case you thought I was just sitting around listening to mono records and grumbling about how electricity ruined everything.
But in July of this year, I was ready. Within a week of the day when the very large Klipschorn AK6 loudspeakers were collected by a freight company, I and my daughter, home from college, set about retrieving my Flamencos from their temporary layover in my garage, setting them back up in my listening room, listening to them for one day, and then pulling out their precious Altec 416Z woofers and replacing them with my peripatetic 604Es. That last step was where my daughter's help proved essential: In recent years I've developed strategies for moving large speakers between my house and my garage (they are not connected) and even for getting my Flamencos onto and off of their 14"-tall stands—but holding the 604Es in place with just one hand, while keeping the other free to apply the bolts, proved impossible: Those things are heavy!
Another slight challenge was that either Uchida-san or Komura-san had rewired the speakers' companion Altec N-1500-A crossovers with twisted-trio solid-silver wire, yet in doing so had not labeled the leads in a manner that I could readily understand: The original wires had color-coded insulation, with a color-coded hookup guide printed on the crossover casework, but all of the replacement wires were in bundles that had the same insulation colors as each other. When I tried out the speakers a couple of years ago, after spending much time to determine which wire went where, I attached to those wires bits of masking tape on which I had written labels of my own. But now, a few of those masking-tape labels had dried up and fallen off; I had apparently smudged some of the labels while packing the drivers for storage; and some of the wires remained unlabeled. The latter were the ground wires, which I had to be reminded were interchangeable with each other—but it would have been nice if the 63-year-old me had left a little note to that effect for the 65-year-old me.
---
Footnote 1: A very nicely curated if small collection of late-1950s Japanese tin toys is maintained at the Epcot Center in Walt Disney World, in Orlando, FL.