Listening #126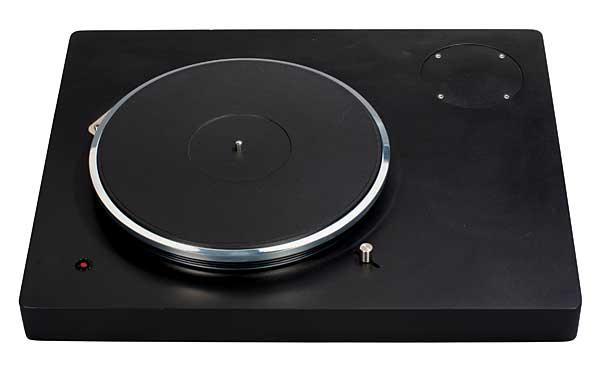 Swiss Precision: The Story of the Thorens TD 124 and Other Classic Turntables
(2007), by Joachim Bung (reviewed in
April 2008
) also tells the story of Fritz and Marie Laeng, the couple who founded Lenco, Switzerland's other turntable company. Thanks in equal parts to Fritz's engineering talents and Marie's business acumen—her idea to sell turntables through a popular book-and-record club is remembered as the company's turnaround point—Lenco swiftly became one of the most successful and well-regarded makers of hi-fi turntables through the 1960s and early '70s. Then, almost as swiftly, Lenco went from having three factories in two countries to vanishing from the scene with scarcely a trace . . . but that's another story for another day.
Lenco's calling card was an idler-drive system with two distinctions: Rather than driving the inner rim of the record platter with a horizontal idler wheel, every Lenco model used a vertically oriented wheel to contact the platter's underside; and every model eschewed a stepped motor pulley in favor of one far longer than average, yet smoothly tapered from near to far ends. The benefits of a conical pulley are especially obvious: It allowed users user to fine-tune playback speed and pitch; eliminated the need to make and to stock different-size pulleys for different markets; and, most significant, eliminated the need for a complex, clunky, and ultimately costly speed-change mechanism. Changing the speed of a Lenco's platter is accomplished by sliding that vertical idler wheel—held in place by a simple if somewhat flimsy carrier mechanism—from one end of the pulley to the other.
Lenco's drive system held the promise of a product that could sell for considerably less than the top-of-the-line Garrards and Thorenses, yet had the potential for comparable performance. Whether the company succeeded at the latter can be answered only by those hobbyists who've actually owned and used a Lenco turntable (footnote 1) Until this year, the only Lenco I'd experienced was the one inside my early-1980s Keith Monks RCM Mk.II, that British manufacturer having bought and used Lenco drive systems, bearings, and platters as the basis for its record-cleaning machines from day one. Nevertheless, opinion prevails that even the most upmarket Lenco 'tables were hobbled by overresonant platters and top plates, and by the fact that most Lenco models were bundled with Lenco tonearms of underwhelming design, materials, and manufacture.
I don't know the official stats, but it's a safe guess that total production for all Lenco turntables is well into six figures. Some of those models had only a flimsy sheet-metal platter—as with the Lencos that were used to make the Keith Monks RCMs, where such a shortcoming matters little—yet one must assume that remaining in the field are literally tens of thousands of so-called "heavy-platter" Lencos: plentiful, affordable, essentially high in quality, and just waiting for the right DIY hobbyist to come along and snap them up.
The missing linkage
This is where Netherlander Peter Reinders comes in: "My first Lenco, which I had when I was eight or nine years old, was an L70 that belonged to my grandfather. But it was many years later that I decided to try a Lenco again, when I bought a secondhand L75, just for fun. I didn't know if it would be very good or not, but I paid only €20. For that price, I'd be happy if it sounded good; if it didn't, well, I would have had a fun afternoon trying to fix it up."
As it happened, that €20 L75 sounded very good: Like other contemporary hobbyists, Reinders was surprised and impressed by the level of musical energy and drive that the combination of high-torque motor and idler wheel uncovered in his records. But he was dismayed by the L75's too-resonant top plate: the structure to which the platter bearing, the idler carrier/speed-change mechanism, and the motor assembly are all attached. Putting to use his professional experience as an industrial designer and his familiarity with CAD software, Reinders set about designing his own top plate and having it laser-cut from stainless steel by an outside firm.
Reinders's idea was to divide the Lenco's structural requirements between two distinctly separate and notably sturdy top plates, which could then be fastened to the plinth of one's choice. The smaller of the two plates supports the Lenco's asynchronous motor—itself contained within a kite-shaped, die-cast cradle that perches on three isolation springs, rather like the subchassis of a Linn LP12—and contains the rectangular opening through which the top-mounted idler makes contact with the motor pulley. The larger top plate supports the platter bearing—which is less substantial than average, though apparently well made—along with the mechanism that both supports the idler carrier and allows it to slide back and forth for coarse or fine adjustments of platter speed.
Naturally enough, in the wake of his success at designing a better top plate, Peter Reinders decided to have a few made for his fellow Lenco enthusiasts. An initial production run of 15, offered via the Internet in 2005, sold out in very little time, and there followed a flurry of e-mails, all asking: Do you have any more? Seemingly overnight, Reinders's hobby evolved into a sideline that he eventually named PTP Audio (for Peter's Top Plates). The PTP Audio plate has become the gold standard in Lenco circles (footnote 2), and Reinders can be thanked for the success of various other small manufacturers who now advertise "PTP-ready" Lenco plinths.
But not everyone who longs for a rebuilt Lenco is interested in doing the work her- or himself—or, as Reinders bluntly puts it, "Sometimes you get an e-mail from someone who wants the plate but doesn't have a clue." For those and other customers who've wished for a turnkey solution, PTP Audio offers for sale two completely finished and ready-to-use turntables: the Solid9, for use with the 9" tonearm of the owner's choice; and the Solid12, designed for 12" arms.
As with the Anatase turntable offered by Oswalds Mill Audio (footnote 3), both PTP players are built with reconditioned components from original heavy-platter Lencos: motors (along with their suspension cradles and wiring blocks), platter bearings, platters, platter mats, idler wheels, and idler-support mechanisms. Reinders cleans and lubricates each motor and platter bearing, replacing worn parts where necessary, and cleans the idler wheel and checks its concentricity—though he's found that a Lenco idler wheel almost never needs resurfacing. He also wraps the idler-support rod with a Teflon-like damping tape, and uses three round rubber belts to help tame the otherwise very lively alloy platter.
All of the above are built into a heavy, solid plinth made of Corian, the polymer-plus-mineral compound used to make kitchen counters and other such things. For the Solid9 and Solid12, channels for wiring and mechanical linkage are CNC-machined into a rectangular sheet of Corian, as are openings for a bolt-in circular tonearm board (also of Corian) and for the PTP top plate itself, to which all of the reconditioned Lenco components are fastened. While the original Lenco turntables had a mechanism that prevented contact between platter and idler when the player was not in use (it was mechanically linked to the On/Off switch), Reinders omits that from his 'tables, in what he describes as an effort "to maximize contact between plinth and top plate and to avoid any possible rattles. Most idler wheels don't suffer at all. After hundreds of PTP projects all over the world, I can safely say it is not a problem." The thinness of the Lenco idler, compared to most other idler wheels, may well add to its resilience in that regard.
---
Footnote 1: A community well represented on the distinctly civil LencoHeaven.net.
Footnote 2: PTP Audio, Amsterdam, The Netherlands. Web: www.ptpaudio.com
Footnote 3: The OMA Anatase uses its own platter bearing and idler mechanism in concert with the Lenco motor and platter.